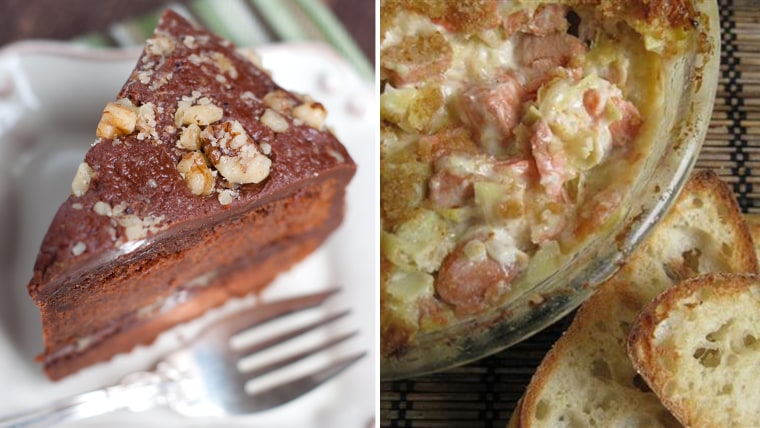 As the Seattle Seahawks and Denver Broncos brace for battle in Sunday's Super Bowl, food lovers everywhere deserve to know: Which city dominates when it comes to game-day munchies?

Oh, it is ON.
In what just might be the food fight to end all food fights, TODAY.com writers Laura T. Coffey, who hails from the Pacific Northwest, and Amy Eley, a Denver native, are serving up Super Bowl party menu ideas. Let the games begin!
Seattle: Armed with an arsenal of local, fresh fare
Seriously, people — when it comes to food, SEATTLE RULES. We have everything: wild Pacific salmon, Dungeness crab, mussels, clams, wild mushrooms, the finest artisan cured meats, locally grown hops and fresh berries and apples.

No wonder the Seahawks' 12th Man is so loud. We're brimming with energy from noshing on all the locally grown goodness!
And not only is the food here good for you, it's delicious. I mean, what would you rather snack on with a glorious craft beer: small Pacific oysters with their signature sweet-and-salty cucumber notes — or Rocky Mountain oysters? (Alert! Alert! Rocky Mountain oysters are not seafood! I repeat: NOT! SEAFOOD!)

"We're just blessed here with an environment that has so much physical diversity in terms of layout and moisture and elevation that we can have delicious food here year-round," said longtime Seattle resident and food writer Cynthia Nims, who has authored numerous cookbooks that celebrate the bounty of the Northwest. "And then, of course, we've got the ocean. Which Denver doesn't have. I mean, I guess they can fly seafood to Denver in a couple of hours?"

Because a football party isn't really a football party without a dip of some sort, try Nims' hot artichoke and salmon dip from her e-book, "Appetizers." Wash it down with a great Washington beer: If you're lucky enough to live here, swing by Georgetown Brewing Co. and get yourself some Manny's Pale Ale or visit Maritime Pacific Brewing Co. and pick up some Portage Bay Pilsener. If you need to buy bottled beers where you live, though, you can't go wrong with Redhook. Try some Audible Ale and turn up the noise!

Here is Nims' recipe: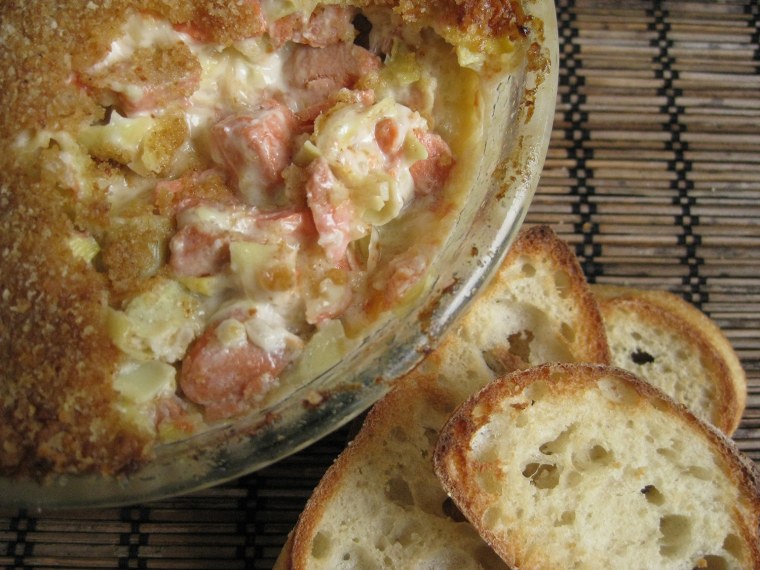 Hot Artichoke and Salmon Dip
From "Appetizers" in "The Northwest Cookbooks" series, copyright Cynthia Nims
1 tablespoon vegetable oil
1/2 cup minced onion
8 ounces salmon fillet, skin and pin bones removed, finely diced
Kosher salt or flaky sea salt and freshly ground white or black pepper
1 cup prepared mayonnaise
1 cup finely grated Parmesan cheese
1 can (14 ounces) artichoke hearts, drained, rinsed and chopped
2 tablespoons dried breadcrumbs
Crackers and/or baguette slices, for serving

Heat the oil in a medium skillet over medium heat. Add the onion and cook, stirring often, until tender and aromatic, 2 to 3 minutes. Add the salmon and cook, stirring often, until it is just cooked through, 3 to 5 minutes, separating the salmon pieces as best you can to ensure even cooking. Transfer the mixture to a medium bowl and set aside until fully cooled.
Preheat the oven to 400 degrees F. Generously butter a 1-quart baking dish.
Add the mayonnaise, Parmesan cheese and artichoke hearts to the bowl with the salmon and stir well to thoroughly blend. Transfer the mixture to the prepared baking dish and sprinkle the bread crumbs evenly over. Bake until the mixture bubbles around the sides and the bread crumbs are lightly browned, 25 to 30 minutes.
To serve, set the baking dish on a large plate or platter and surround the dish with crackers and/or baguette slices for scooping or spreading.
Makes 8 servings.
Denver: Bringing the heat with bison, beer and bourbon cake
Oh Seattle, that was cute. Keep leaning on your seafood crutch while Denver continues to hit it out of the park with homegrown breweries, free-range meats, perfectly-picked peaches and green chili worth any heartburn that follows. 

"When it comes to locally-grown food, Colorado is a food heaven, offering food that ranges from classics like bison, chili and lamb to creative global-fusion cuisine with Latin or Asian inspirations," said Denver resident Michele Morris, author of "Tasting Colorado: Favorite Recipes from the Centennial State." 
"And here in Colorado, you can enjoy your dining experience with 300 days of sun a year." That's something rainy Seattle could never claim. 
Join the winning side this Sunday with a spread of bison meatballs or add a hefty dose of green chili to your nacho plate (visit Bonnie Brae Tavern for your green chili fix if you're a local), and don't forget the brew. The area between Denver, Boulder and Fort Collins is home to some of the nation's most popular breweries and is often referred to as the Napa Valley of beer. Try Tommyknocker Brewery's Alpine Glacier Pilsner Lager, Breckenridge Brewery's Vanilla Porter or pick up a pack of New Belgium Brewing Company's Fat Tire, its flagship beer made in Fort Collins, Colo.
After Peyton Manning brings the Broncos to victory this Sunday, join the Mile-High City in the celebration with a fudgy slice of Chile-Chocolate Bourbon Cake, a popular dessert served at The Fort in Morrison, Colo. It's a tradition to eat the cake while celebrating a special event, so it's only natural. 
Chile-Chocolate Bourbon Cake
As featured in "Tasting Colorado: Favorite Recipes from the Centennial State"

For cake:
1 to 2 tablespoons ground red chile powder, mild or hot, to taste
2 cups water, divided
1 tablespoon vanilla extract
1 cup plus 2 tablespoons flour
1 cup plus 2 tablespoons cake flour (not self-rising)
2 cups sugar
1 teaspoon baking soda
1/2 teaspoon salt
1/2 cup unsweetened, non-alkalized cocoa powder
1 cup butter, cut into pieces and softened
1 cup water
1/2 cup buttermilk
2 cups large eggs, at room temperature

For frosting:
3/4 cup (1 1/2 sticks) unsalted butter, softened
3/4 cup unsweetened, non-alkalized cocoa powder (see note)
1/4 cup plus 2 tablespoons buttermilk
4 to 5 cups powdered sugar
2 to 3 tablespoons bourbon
1 tablespoon vanilla extract
1 1/2 cups chopped walnuts, lightly toasted (optional)

For the cake:
Preheat the oven to 350 degrees and place a rack in the center of the oven. Butter two 9-inch round cake pans and lightly dust the sides of the pans with flour, tap out the excess, and line the bottom with circles of parchment paper. Cook the chile powder in 1 cup of the water in a medium saucepan over medium heat until simmering. Remove the pan from the heat, stir in the vanilla and set aside.
Using an electric stand mixer with a wire whip attachment for best results, combine the flour, cake flour, sugar, baking soda, salt and cocoa and beat on low speed until well mixed. Add the softened butter to the dry mixture and beat thoroughly on medium-low speed. The mixture should have a uniform grainy texture.
Increase the speed to medium and gradually add the remaining 1 cup of water and the buttermilk. Add the eggs, one at a time, beating well after each addition. Slowly add the hot water-and-chile mixture to the batter and continue to beat just until well combined. Pour the mixture equally into the pans and bake until a toothpick inserted in the center of each layer comes out clean, about 35 to 40 minutes.
To cool, set the pans on a wire rack for 15 minutes, and then turn the cakes out onto the rack. Remove the parchment paper and immediately invert the cakes so that the risen tops don't flatten. Let the layers cool completely before frosting.
For the frosting:
Combine the butter and cocoa in a large saucepan and melt over medium heat. Remove from the heat and stir in the buttermilk. Add the powdered sugar, a little at a time, stirring with a wire whisk between additions. Stir in the bourbon and vanilla and continue to whisk until the frosting is smooth and glossy. The frosting will stiffen as it cools, but in warm weather you may need to refrigerate it. Cool to a spreadable consistency.
To assemble:
If necessary, trim the tops of the cakes so that they are level. Place one of the cake layers on a 9-inch round cardboard cake circle. Spread 1 cup of the frosting over the layer. Sprinkle 1 cup of the chopped walnuts evenly over the frosting. Place the second layer of cake on the frosted base. Use the remaining frosting to cover the top and sides of the cake. Press the remaining walnuts into the frosting, covering the sides and top of the cake. 
Note: Cocoa powders like Hershey's, Nestlé, or Ghiradelli are non-alkalized. Do not use Dutch process cocoa in this recipe. This cake is best when made 1 to 2 days before serving, as it gives the flavors time to blend.
Connect with Laura T. Coffey on Facebook, follow her on Twitter or read more of her stories at LauraTCoffey.com. GO HAWKS!
Follow Amy Eley on Twitter as she cheers Peyton Manning, Knowshon Moreno and the rest of the Broncos (hopefully) to victory this Sunday.