Chef notes
Whether you're having a casual weeknight nacho-moment at home or are entertaining a crowd, shredded rotisserie chicken makes the most delicious nacho topping! Add tortilla chips to a sheet tray with rotisserie chicken and black beans, then top with your favorite cheese and place into the oven on broil until melted. Top your homemade nachos with quick-pickled red onions, avocado, sliced radish and pickled jalapeños. Drizzle with a delicious three-ingredient cilantro-lime crema and you have a fun after-school snack or dinner option for the whole family to enjoy.
Special Kitchen Equipment Required: For this recipe, you'll ned a broiler, food processor and cheese grater.
Technique Tip: To make it easier to grate the cheese, place the block of cheese in the freezer for 10 to 15 minutes before grating. To get a beautiful drizzle of crema, place the crema into a plastic bag and use it as a piping bag to drizzle over the nachos before serving. 
Swap Option: Combine Greek yogurt with a couple teaspoons of water in place of sour cream. Use pinto beans instead of black beans. Use fresh jalapeños instead of pickled. Use pepper jack cheese instead of cheddar.
Ingredients
For the Pickled Onions
1/2

cup white vinegar

2

teaspoons kosher salt
1

teaspoon granulated sugar

1

medium red onion, thinly sliced
For the Cilantro-Lime Crema
1

cup sour cream

1

cup fresh cilantro, leaves and tender stems
juice of 1 lime
kosher salt, to taste
freshly ground black pepper, to taste
For the Nachos
2

(8- to 10-ounce bags) tortilla chips

2

(8-ounce) blocks cheddar cheese, shredded

3-4

cups diced rotisserie chicken, from about 1 chicken

1

(15-ounce) can black beans, drained and rinsed
1

medium avocado, pitted, skinned and diced

1

(12-ounce) can pickled jalapeños

2-3

radishes, thinly sliced

1/2

cup fresh cilantro leaves, for garnish
Preparation
1.
Preheat the oven to broil.
2.
In a mason jar, combine vinegar, salt, and sugar. Seal and shake until the sugar and salt dissolve. Add the onions and submerge in the mixture, seal and set aside.
3.
In a food processor, combine sour cream, cilantro, lime juice and 1/2 teaspoon kosher salt. Add freshly ground black pepper to taste and blend until smooth. Set aside.
4.
On a baking sheet, add one layer of chips. Top with half of the shredded cheese, chicken and beans. Add the rest of the chips and top with the remaining shredded cheese, chicken and beans. Place into the oven and broil until the cheese is melted.
5.
Remove from the oven and top with pickled onions, avocado, pickled jalapeños, and radishes. Drizzle with crema and garnish with cilantro. 
How to shop TODAY recipes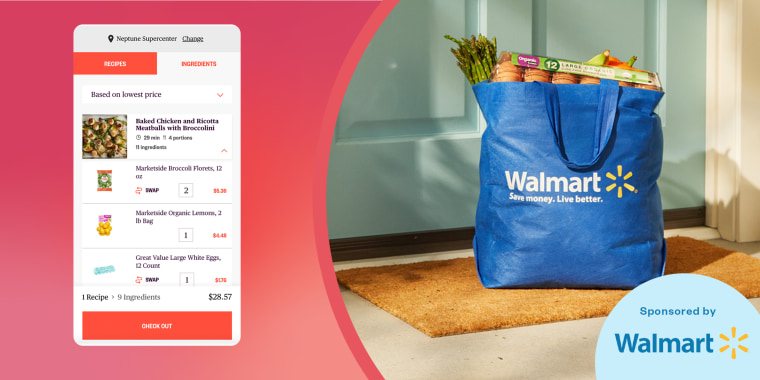 How to shop TODAY recipes
Here's everything you need to know about the cool new feature.
Learn More