Chef notes
Say goodbye to the days where making burgers at home would just leave you craving your favorite restaurant burger. We're giving the at-home cheeseburger a major makeover with this recipe. This unconventional recipe will have you breaking up with your favorite drive-thru option in no time. 
For this cheeseburger, Will Coleman played around with all of the usual burger components — the bun, cheese, bacon and condiments — but elevated each piece just a smidge, to bring the whole dish to the next level. Coleman believes that life is a bit more fun when you break the rules, and with this double cheeseburger recipe, he did just that. 
The first unexpected ingredient in this burger stack is the candied bacon. Not only does it add a smoky and sweet bite to what is otherwise a savory, umami explosion, but candying the bacon protects its crispy texture and prevents it from becoming soggy. Coleman then adds another twist by making an easy tomato and onion jam in the place of classic ketchup to bring a new depth of flavor to this dish. 
The final, show-stopping stack comes together when the candied bacon is piled high with two(!) kinds of cheese, a thick and juicy patty and the irresistible tomato-y jam. 
Technique Tip: Turn these burgers into the perfect game day sliders by using eight slider buns and eight two-ounce patties.
Swap Option: Try nixing the beef for ground turkey, ground chicken or your favorite meatless burger alternative.
Get Ingredients: If you don't have everything you need on hand, you can easily purchase all of the ingredients (just click the orange button below that says 'Get Ingredients'). You can pick and choose exactly what ingredients you need based on what's in your pantry and they'll be on your doorstep before you know it.
Ingredients
For the Candied Bacon
1/4

cup brown sugar

1½

teaspoons freshly ground black pepper

1

teaspoon crushed red pepper flakes
1

teaspoon garlic powder

1

teaspoon smoked paprika

8

slices bacon
For the Caramelized Tomato and Onion Jam
2

tablespoons olive oil

1

small red onion, sliced

4

small tomatoes, sliced
2

cloves garlic, chopped

3

tablespoons balsamic glaze

1½

teaspoons kosher salt
For the Blue Cheese Spread
1

cup crumbled blue cheese

1/4

cup chopped chives
1/4

cup mayo or Greek yogurt
For the Cheese-Crusted Buns
1

cup shredded cheese (provolone, mozzarella or cheddar)
4

brioche buns, sliced in half
For the Burgers
1

pound 80% lean ground beef
kosher salt, to taste
freshly ground black pepper, to taste
Preparation
For the candied bacon:
1.
Preheat the oven to 425 F.
2.
In a small bowl, mix the brown sugar, black pepper, chile flakes, garlic powder and paprika.
3.
Place the bacon onto a parchment-lined baking sheet and coat evenly with the brown sugar mixture.
4.
Bake for 15 minutes, or until the bacon is golden-brown. Once finished baking, remove from the parchment paper and place on a wire rack or paper towel-lined plate to cool completely.
For the caramelized balsamic, tomato and onion jam:
Place a medium saucepan over medium-low heat and add in the olive oil to heat. Add in the red onions, tomatoes, garlic, balsamic glaze and kosher salt. Stir together as you cook down the onions and tomatoes for 20 minutes. Once the onions and tomatoes have caramelized and taken on a jam-like consistency, remove from heat and cool completely. Set aside for later use or refrigerate for up to 7 days.
For the blue cheese spread:
In a medium bowl, mix the blue cheese, chives and mayo. Once thoroughly combined, set aside for later use or refrigerate for up to 7 days.
For the cheese-crusted buns:
Place a large nonstick skillet over medium heat and add in the shredded cheese over the bottom of the pan. Add in the buns on top of the cheese and cook for 3 to 5 minutes or until the cheese begins to look golden-brown.
Remove the buns from the pan and place them onto a cooling rack to cool completely.
For the burgers:
1.
In a large bowl, mix the ground beef with salt and pepper. Form into four 4-ounce patties.
2.
Preheat the grill or a skillet to medium heat (approximately 350 to 400 F).
3.
Cook the patties for 3 to 4 minutes on each side for a medium burger. Once finished cooking, remove from the grill or pan and allow to rest for 5 to 8 minutes.
To serve:
Place the burgers on the buns and assemble with the candied bacon, tomato and onion jam and blue cheese spread, and top with the cheese-crusted bun.
How to shop TODAY recipes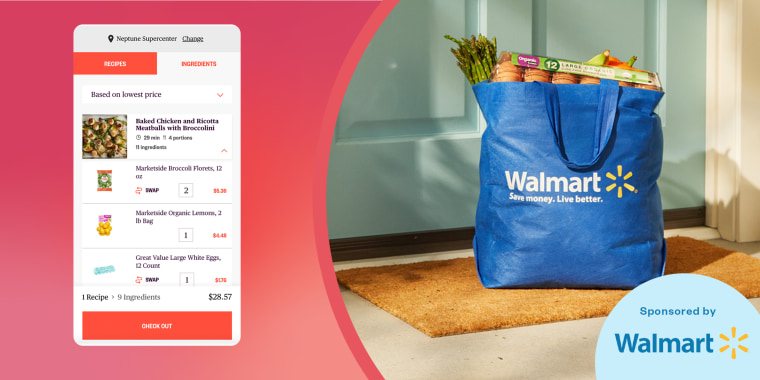 How to shop TODAY recipes
Here's everything you need to know about the cool new feature.
Learn More