Leather pants and their faux equivalents have been popping up in different crops, colors and styles in the past few years. With all the other nostalgic trends we're seeing in fashion right now, it's only fitting that these edgy fashion staples have found their way back into our wardrobes.
What's especially noteworthy about this resurgence is that leather and faux leather pants are now being worn in a variety of settings and scenarios that they might not have been in previous decades.
"In the past, leather has had this rebellious, rocker connotation and definitely a sensual vibe. Now, leather pants feel appropriate for most settings, from work to brunch to even a family occasion — as long as you style the rest of your look to match the dress code," says New York-based stylist Gloria Cospito.
"There's really something for everyone," she adds.
So if leather pants are the confidence-booster you've been looking for in the new year, now is the time to add a pair (or more!) to your closet. From faux-leather leggings to genuine leather pants, we rounded up the 25 best options in a range of styles and budgets — including editor-loved picks and those with a stylist's seal of approval.
Click the links below to jump to a specific category.
Editor-loved faux leather pants | Best genuine leather pants | Best faux leather pants | FAQs | Meet our experts
Our editors' favorite faux leather pants and leggings
"I think the leather legging gives them an elevated option versus the typical knit ones that you would wear," says professional stylist Gianna Nucci.
A perfect example: Spanx's bestselling (and often sold out) faux leather leggings, a pair that Shop TODAY photo editor Kara Birnbaum calls a triple threat.
"I think the biggest highlight is that they are an easy way to elevate an outfit while being comfortable and making you feel more comfortable in your skin," she raves.
Like many of the brands' shapewear, these leggings, have a contoured "power waistband" and proprietary faux leather fabric that shapes and compresses for a flattering silhouette.
For a more classic leather look, go for this straight-leg faux leather pair that screams '90s rock star.
"I was influenced by the Shop TODAY team and their love of Abercrombie & Fitch jeans, so I tried these pants," says Jen Birkhofer, Vice President of Commerce for NBC News and Shop TODAY. "I wore them over break and my friends all told me they looked like they cost thousands of dollars," she raves.
She does, however, share the following caveat: "They are super cozy and lined, but this also makes them very, very warm." So, perfect for winter, but not so much for warm days.
These fit true to size.
"I have worn these an ungodly amount of times. ... They're SO comfy," gushes Shop TODAY commerce editor Julie Ricevuto.
Associate editor Emma Stessman was quick to rave, "I have heard so many good things about these Aritzia pants."
We can see why these are getting so much love: The Japan-crafted Stretch Vegan Leather material has the sheen and suppleness of real leather, plus a high, wide waistband that smooths and makes you look like you have legs for days. And unlike actual leather, these are machine washable.
The one caveat is that it'll start to show wear after years of frequent use, according to Ricevuto. After three years, "the faux leather finally started cracking and flaking off," she says.
Stessman also loves her pair of these classy yet easy-breezy faux leather pants from Target.
"They fit like a trouser so they're a little oversized, but I think they're still flattering," she says.
Indeed, these are the epitome of stylish yet practical, with their slightly structured but still casual silhouette, roomy front pockets and high-rise waist — perfect for French-tucking button-downs into.
Best of all, they're made of a lightweight fabric, "so they're a little more breathable than the other pair that I have," Stessman adds, though she also notes that you'll probably need to size down.
She sold Birkhofer: "Buying these! Love them."
Shop TODAY associate editor Kamari Stewart is a "big fan" of these straight faux-leather pants from H&M, which are available in inclusive sizing, from 0 to 20 (we love to see it!). But a note: They're hot (literally).
"They're lined inside and are very warm, so I wear them mostly during the winter. I've had them for over a year and they're holding up really well so far," she says.
While they're available in both white and black (Stewart has the latter), only the white is currently available, though you can sign up to be notified once the black is back in stock.
Fellow associate editor Fran Sales is so keen on staying stylish while warm in New York's sometimes unforgiving winter weather that she's gone ahead and bought a white pair.
"I don't know who needs to hear this, but vegan leather from Mango is the best vegan leather around," Birkhofer raves, pointing to this elastic-waist, straight-leg pair that manages to look super chic effortless at the same time.
And we love that they work for many shapes, as well as for pregnant and post-partum bodies. "These pants are great for work and super cozy. I wore them all through my first pregnancy, too," she adds.
The half-jogger, half-trouser pants have a convenient elastic draw-string waist and two useful side pockets, and are available in Black and Burgundy. Plus, you can snag them in sizes ranging from XXS to 4XL.
Shop TODAY Editorial Director Adrianna Brach posed a popular question about faux leather pants: Do they make that "swish" sound when you walk? Birkhofer assures us all her Mango pairs don't.
"I will go ahead and buy the Mango ones because those are my lazy-mom vibe!" Brach adds.
Shop TODAY associate editor Danielle Murphy is also in love with Aritzia's vegan leather bottoms, pointing to the Melina pair that's available in 25 shades and sizes up to 16. Aritzia fan Ricevuto also has this particular pair — "so good!" she raves.
No wonder they're in love: This high-waisted pick has the same just-like-leather sheen and drape as the other Aritzia pair on this list, and the straight-leg cut is super flattering. Plus, it comes with (count 'em) five pockets and are available in Short, Regular and Tall.
And they even remind Birkhofer of Agolde's pricier leather pairs: "I was about to buy vegan leather pants from Agolde that were about three times this price, but I'm 10,000,000 percent buying these Aritzia ones instead," she says.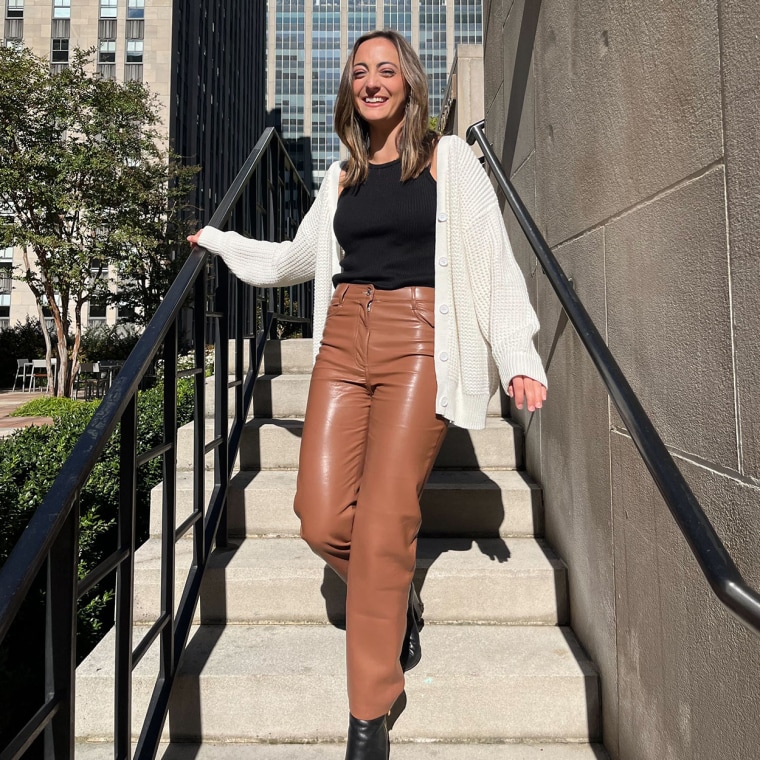 These faux leather Express leggings are Sales' first pair, and she's never looking back.
"I've been eyeing a pair of almost-$100 faux leather leggings for a while now, and I just couldn't stomach the price. I'm glad I bought these; they are actually comfortable!" she says.
If you need more proof, she wore this out dancing for New Year's Eve. The pitch-black pair has a very high waist, which successfully "sucked in my little muffin top without rolling," she says.
She adds: "Some reviewers say they make sounds when you walk, but my pair doesn't seem to do that," — though after a few weeks of having them, she found that there is a very light swish when she walks. It's "more like a light whisper though," Sales says.
Sales paired this with a black latex bandeau and a black puffer for a more night-out look, but she's looking forward to wearing this with her turtleneck and Chelsea boots for the office.
Shop TODAY editorial assistant Sierra Hoeger, also a first-time leather pants wearer, looked to TJ Maxx for her inaugural pair. (Note: It's now only available at Lord & Taylor at the time of publish.)
"I wanted to see how well I liked them and how often I wore them before purchasing a more expensive pair," she explains.
And we're happy to say these vegan leather flair pants do not disappoint.
"Not only are these pants high-waisted and loose-fitting around the calves, but they're also cropped, meaning I can show off a pair of sneakers, or better yet: my cowboy boots," Hoeger says.
These pants have a zipper closure and come with useful side pockets. Perhaps best of all: They're machine washable.
Best genuine leather pants and leggings
If you're going to bite the bullet and get a pair of genuine leather pants that harken back to the '90s, go for this high-wasted pair that's made of recycled material from Agolde.
Carrie Cramer, a celebrity, wardrobe and personal stylist based in Los Angeles, is a fan of a similar style. She says she picked up the fitted version of Agolde's recycled leather pants for herself.
"Yes, I may have worn them in the '90s, but the cut is timeless and so is my mindset," she says.
Indeed, if our editors' picks are any indication, the high-rise waist, straight-leg cut and '90s shape are here to stay. So why not go for the real deal while it's on discount?
These pants are available in six colors and sizes up to 32 (and they fit true to size, though size up if you're in between sizes). However, like the fitted version, these are bound to sell out quickly (some sizes are already). So act fast.
Rave review: "They are so beautiful in person — leaps and bounds better than any other pleather pant I've seen." — Revolve reviewer with curvy body type
Nasty Gal is one of the few retailers we found that offers reasonably affordable genuine leather pants. Take this high-rise, straight-leg pair. We like that their cut and drape make them work equally for edgy, going-out looks as well as softer, more casual settings (like in the office).
Why not go all in on the '90s vibe and pair these with something like Doc Martens for going out, or comfy loafers that are more suitable for work?
"High-waisted leather trousers can be styled the same as you would a regular trouser, [and they're] a great option for work that can translate from day to night," Cramer tells us, confirming what we've always thought about these versatile bottoms.
This lambskin leather pair from Smart Universe is one such trouser, which looks more like a cross between a culotte (with its below-the-knee cut) and the more modern wide-leg pant. These are fully lined and are available in sizes from XS to XL. For styling, we'll point you to Cramer's advice:
"Daytime can be a silky camisole with a fitted blazer over the leather trousers; take off the blazer for a night out and throw on a pair of heels," she explains.
Rave review: "They are lined and I like the pockets sewn to the outside to reduce extra bulk at the hips. Very flattering and the wide leg is so on trend." — Amazon reviewer
Not a fan of the knee-length cut? Luckily, Smart Universe has a longer option -- these straight-leg, high-waist pants that have a little more of a casual silhouette. These are also made of genuine lambskin leather, and we like the pleated waist detail and slightly tapered cut of the leg. Note, however, that they're now only available in sizes XS to Medium.
Rave review: "These genuine leather pants are a beautiful, soft lamb leather, fit is perfect (purchased a large) and they smell so rich and leathery. I love this company's product and price points and I'll be back for a leather skirt." — Amazon reviewer
If a price tag over $200 just isn't a possibility for you, it may be hard to find a genuine leather trouser that's still good-quality and checks off the highlights of the two Smart Universe picks above.
Luckily, these trousers from Etsy (made by Pristine Studios) are now 70 percent off, meaning they're now priced at an affordable $134.70.
What about quality? If the average rating of 4.5 stars out of 129 purchases are any indication, you won't be disappointed.
Not only are these made of 100 percent lambskin leather, but they're also satin-lined (read: comfortable) and available in a wide range of sizes, up to 3XL.
Rave review: "Beautiful pants. Quality leather, and materials, best zippers and fully lined. Craftsmanship is impeccable!" — Etsy reviewer
Here's another pair of authentic leather pants that are under $200, and this time it's a little more fun and flirty with its red hue and flair-leg cut that calls to mind '70s fashion.
Also crafted from lambskin, these pants feature a zipper and button closure, five pockets and full lining. Bonus: It's available in sizes from S to 4XL.
We never thought we'd find 100 percent leather leggings that aren't over $300 and actually feel as comfortable as knit leggings, but AllSaints' Cora pair, luckily, are now $200 off at Bloomingdale's.
These soft leggings also have a wide, elastic waist to help cinch everything in and are currently available in sizes 4 through 12. A note from reviewers, though, is that they run snug, so size up if you can.
Rave review: "I love these pants. Super soft. I love the wide band, which camouflages the belly area. The leather also withstands basic wear, sitting, etc., with no piling or cracking." — Bloomingdale's reviewer
Another lucky find: This $120 (it's half off!) stylish pair in Tan from the aptly named Urban Tannery.
These leather jeans are handcrafted from 100 percent soft sheep leather and features flattering side seaming, as well as an effortless straight cut that will pair equally well with either a sneaker or a heel. This pair has a zipper and button closure and is available in sizes 26 to 42 inches.
If you've arrived at the end of our list of genuine leather pant recommendations, you'll see that we saved the most expensive for last. So if you're of the mind to make a big investment in a quality pair of pants, this sleek suede pair from Vince Camuto (a brand approved by stylist Cospito) fits the bill.
A highlight is this quality pair's more casual fit, Cospito points out.
"If a skin-tight leather legging or skinny leather pant doesn't feel like you anymore," she says, "try a high-waisted straight-leg pant ... for more room and comfort, but just as much style."
Best faux leather pants and leggings
Zara is one of the top brands people are pairing with "faux leather pants" when they're searching on Google, and we can see why.
Exhibit A: These straight-leg mid-rise pants that come in colors Beige (pictured) and Khaki and in sizes 0 to 12. We like that the straight-cut legs have a slight flare, which somewhat call to mind a '70s style when you tuck a dressy, long-sleeved button-down into it.
Get a pair while they're almost 30 percent off!
Alert: We also found a pair of pants that can get you in on the leather trend for just under $20! (The Small is already sold out, so you may want to add this to cart ASAP.)
Another comfy high-rise pair with a hidden side zipper, these cool flare pants are actually a knit material with a faux leather overlay, and they feature a neat seam detail and are available in Coffee and Black.
Rave review: "Great fit. Look much more expensive than they are. I'm very happy I tried these out." — Forever 21 reviewer
If you're not ready to ditch your sweats just yet (or ever) but still want that comfort in settings that aren't your couch, go for these faux leather joggers by BlankNYC. This cool but effortless pair comes in two super-sleek colors: Grape Shake and Night Crawling.
The wide draw-string waistband and elastic cuffs not only spell versatility and comfort, but they also add an interesting textural detail that, when paired with a classy shoe like heels, feels very modern.
One thing to watch out for if you're petite: They do run a bit long.
Rave review: "These leather joggers are so fun, and I always get compliments on them. I wish they were a tad shorter. ... Super cute paired with a graphic tee and sneakers or dressed up with a fun top and heels!" — Amazon reviewer with petite frame
High waist, lightly tapered legs, fashionably cropped and all that with a some stretch — what's not to love?
These vegan leather pants from Lulus come in two neutral colors: Black and Cognac. They're sleek with a bit of give, so you can wear them comfortably all day long without ever wanting to take them off, whether you're at the office or on a night out with the ladies. The center seaming on the leg and darting on the back also give these an elevated look.
Available in sizes XS to XL.
Rave review: "Material is a little hot when wearing, but it is so worth it. Leather is in high demand right now and these are such a beautiful (and good price point) option. The fit is so great, AND the wine color is to die for." — Lulus reviewer
Introducing: A pair that has the feel of suede, the look of a classic tapered trouser — and unique shade combinations of either Black-Gray-Brown or Brown-Black-Plaid to make you truly stand out, wherever you wear these.
With the right shoes, these T Tahari high-rise pull-on bottoms are easy to dress up or down. They feature a straight-enough pant leg that you can wear them with flats or loafers at work, or maybe with heels for a night out.
We're loving the elegant sash belt and front pleating details of this faux leather pair, which gives it the perfect mix of elegance and edge. Plus, it's available in a caramel-like Cognac color and a show-stopping Ivory.
The statement-making pants are perfect for both casual wear (maybe with low-top sneakers or stylish flats) and dressier occasions (perhaps with some high-heeled ankle boots).
Rave review: "I got the pants in white and they are perfect!!! True to size, super comfortable and stylish! It is nice to touch, one of my favorite pairs from now on." — Bloomingdale's reviewer
With a super high-rise and contour waistband, as well as a fitted thigh but tapered leg, these faux leather pants are sure to flatter any figure. Cospito called them out for their classic fit and slimming look.
These are available in sizes 14 to 28.
Rave review: "A great four-season pant. The material is soft, stretches and is dressy. A silk blouse, waist-length cardigan or blazer and 3-inch pumps with a sophisticated necklace will garner you attention wherever you go. The fit is great for my full figure and true to size." — Eloquii reviewer
Questions about leather pants and leggings, answered
What styles of leather pants and leggings are popular right now?
Stylist Gianna Nucci says there are two variations that have come to the forefront. "Over the past few years, we've seen a new take on leather in the forms of coated pants and faux leather, and this is great for those who want the leather pant look but can't necessarily afford the price points," she explained. "And it's also great for those who are a little bit more environmentally conscious."
Much like the denim trend that is leaving skinny jeans in the dust, leather pants are also taking on the form of flares, bell-bottoms and wide-leg styles, according to Nucci. "I think seeing leather in those new ways is making it feel fresh again," she adds.
How do I style leather pants or leggings?
When it comes to styling, consider leather and faux leather bottoms a multitasker: You can pair leather pants with anything in your closet.
"You can wear leather pants for every season; just think of them as another pair of jeans," says Cramer. While it's timely for fall, you can work leather bottoms into your wardrobe during every season. "If it gets really hot, you could always throw on a pair of leather shorts," Cramer said.
When it comes to leggings, Nucci finds them great to style with the heavier pieces you see in the winter season.
"I think leather leggings are a staple of the cold weather season, especially as we start seeing more long, bulky sweaters and boots, and I think it's a great pairing with those baggier, cozier pieces," she says.
Meet our experts
Gloria Cospito is a wardrobe and personal stylist, costume designer and image consultant based in New York. "I believe in the foolproof wardrobe: one that lasts, focuses more on personal style than trends, and makes you feel confident in your body and proud of your appearance," she says on her website.
Carrie Cramer is a celebrity, wardrobe and personal stylist based in Los Angeles. Her career spans 20 years, with clients that include musicians, celebrities and TV personalities, as well as "body shapes of all sizes," according to her website.
Gianna Nucci is a personal stylist who has clients in the New York and DC Metropolitan areas. She describes her approach to styling as approachable, fun and practical. "Personal style is a powerful tool that everyone has to ability to take control of and use to empower themselves — not just the rich and famous!" she says on her website.