New Year's Eve is quickly approaching, which means you may be looking for something more special (or festive, or sparkly, or loud, or fun) to wear to the party than your usual going-out garb. We are, after all, closing out a long, eventful year, and we want to do that with a bang.
But if, like us, the busiest shopping time of the year hit your wallet pretty hard, leaving little to spend on yourself (not to mention on that show-stopping outfit you're yearning to party in), have no fear. We rounded up several bestselling looks that won't break the bank — in fact, we found some on sale for under $25, and most of them ring up at under $75.
(Fair warning: We couldn't resist including a category of bangin' dresses with an under-$100 sticker price, in case you do have a little more moolah to spare).
How did we choose? You may ask. We did the following:
We looked at the top-selling holiday party dresses among multiple dress retailers, from Amazon to Aritzia to TJ Maxx, and scoured dozens of reviews;
We tapped Shop TODAY's own style-minded editors for their go-to holiday pieces or those they're excitedly eyeing for the upcoming big event;
And we researched the top-searched New Year's Eve dress styles you're searching on Google, as well what you're clicking on from our other dress roundups. (Yes, those styles include everything from sparkly sequins to lacy long-sleeved looks to feather trims — and everything in between, with several plus-size picks.)
Keep reading to see these festive but affordable dresses that you'll want to strut and shimmy in way past when the ball drops. Use the links below to shop by budget or keep scrolling to see all 41.
Under $25 | Under $50 | Under $75 | Under $100
Holiday party dresses under $25
Yes, you can strut in sequins, Bejeweled-style, for under $20 with this pink mini dress with a cute lace-up detail on the back that's adjustable. Add a pair of black knee-high boots to balance out the shiny pink, and you'll make that dance floor shimmer!
Speaking of jewels, this stunning Emerald Green body-hugging dress from PrettyLittleThing, available in sizes L to 5X (12 to 26), caught our eye. Not just for its luxurious color (fitting for the big event) and classy one-shoulder style, but also for its sticker price: under $17!
There's nothing "nasty" about this bright and floral strapless dress from Nasty Gal that's now under $10! The body-hugging silhouette of this mini is nicely counterbalanced by the ruffle detail in the bandeau area. That detail, combined with the vibrant but blurred flowered pattern, will make a statement at your next bash.
Like the brand, we also recommend pairing these with a neutral platform heel and perhaps a simple necklace to elevate it a bit more. Available in sizes 0 to 14.
Any dress with pockets is a win in our book — yes, even for New Year's Eve galas. With 3,700-plus verified five-star ratings, this simple style makes for a great layering piece that you can wear with sparkly patterned tights, for example.
For something that has a similar amount of coverage but is more body-hugging than the pick above, this bodycon dress has a mock neck and long sleeves, but the mini length and shiny crocodile print give it just the right amount of oomph. Lest you fear it'll be too hot and restrictive to dance in for hours, reviewers say it's actually thinner than it looks and has a good amount of stretch.
We can see why this flirty dress is the No. 1 Amazon bestseller in the cocktail dress category. The off-the-shoulder short sleeves, combined with the flared high-low hem, is not only flattering (we love the hourglass shape), but also very conducive to twirling on the dance floor. Just note, however, that some reviewers say the material is thicker than it looks.
Another thing to love: It's available in sizes from XS (25 waist) to XXL (35). The Midnight Blue (pictured here) and a few other colors ring up for under $25.
This Nasty Gal long-sleeved pick has everything you'll need for that NYE celebration: A luxe velvet material in a royal purple color, subtle but sassy cut-outs at the waist and faux diamond trim for an extra shot of glam (what party would be complete without rhinestones?).
Speaking of glam, you can now confidently channel your inner Brigitte Bardot with this long, figure-hugging maxi dress with sexy but subtle mesh inserts that somewhat peek out, as well as its off-the-shoulder design. This glamorous velvet stunner is available in sizes 0 to 10.
Looking for glitter in addition to the glam? This plus-sized wrap dress from H&M has both: A glittery but not too in-your-face jersey construction (aka, comfortable!) combined with an elegant tie belt to secure the wrap-over front, plus the long sleeves. We suggest taking a page from the pictured model and pairing this number with a cute and classy kitten heel. Choose from two colors and sizes from L to 4XL.
Holiday party dresses under $50
Looking for a black dress with rhinestone details? So are plenty of other people on Google searching for a last-minute dress for their upcoming parties. We found this sleek one-shouldered number from Princess Polly that has a faux diamond detail that flares out from the shoulder to the waist; it's unique enough but doesn't scream "diamonds!" And don't worry — this dress is stretchy.
This deceptively simple sheath dress is a Shop TODAY top seller, and even on Amazon, it's garnered a five-star rating among over 2,400 verified reviewers. It's a truly versatile piece, with many reviewers saying it can go from wedding receptions to office parties to black-tie events. And yes, we argue you can even wear the body-hugging dress to a New Year's Eve party. It's stretchy but not see-through, and the waist-cinching detail and ruffles along the slit are nice touches.
All that glitters isn't gold — but they can certainly be both flattering and comfortable. Case in point: This plus-size cut-out mini dress on Amazon that's made from stretchy, glittery polyester. We also love that the V-neck and cut-out details are nicely complemented by the long, fitted sleeves and pencil-skirt design.
One reviewer raves: "I purchased this dress for my 35th birthday. ... This dress was amazingly beautiful. ... I loved the material. It was stretchy and comfortable." The one caveat is that, if you have a bigger bust, you may need to use some fashion tape, as the chest area is a crossover design.
Tassels and fringe are set to take the fashion world by storm in 2023, at least according to Pinterest's predictions.
"This rising trend is a low-effort, high-impact fashion choice that's anything but rigid," the report says.
Why not kickstart the trend with this sequined and fringed dress from Altar'd State that's both low-effort (it's got adjustable straps and some stretch) and high-impact (did we mention the sequins and fringe?).
If that's not enough of a draw, take it from the reviewers, who've bestowed this dress an average rating of five stars. One raves, "This dress is absolutely beautiful and it fits perfectly. I love that it reminds me of the 20's style dresses, just shorter."
If you're following Pinterest's 2023 fashion trend forecast (see: above), you know lacy long sleeves are becoming popular. If you want that frilly, dainty touch to your NYE party dress, this one by PLT is it. It offers both enough coverage with the high neckline and sleeve length, but just enough flirty vibes with the bodycon fit and slightly see-through design. May we suggest pairing this with a neutral or gold heel?
If the princess vibe is what you're going for, go for this mini tulle number from ASOS, which is now 57% off and is available in plus sizing from 12 to 24. One reviewer describes it as "sassy and cute," and we agree: It's got the cuteness in its ruffles and tiered layers, and we like the see-through short sleeves and keyhole in the back, which serve up the sass.
Shop TODAY associate editor Danielle Murphy was so stoked to find a dress on Amazon that was both cozy and chic (not to mention affordable), that she wrote an entire ode about it.
"My goal was to find something that will withstand dancing, dart throwing and then a few catnaps and late-night couch crashes," Murphy recounts of her search for a dress to wear at her sister's New Year's Eve party. And this one didn't disappoint, she concluded, as did a lot of other reviewers — over 3,600 gave this a five-star rating. Murphy's highlights include the empire waist, the soft velvet fabric, and (her favorite) the openness of the ruffled flared sleeves.
This number is marketed as a maternity dress, which proves how versatile it is for every body, including those who are postpartum. And before you worry about the actual wrap part being fake, rest assured: It's a real wrap dress!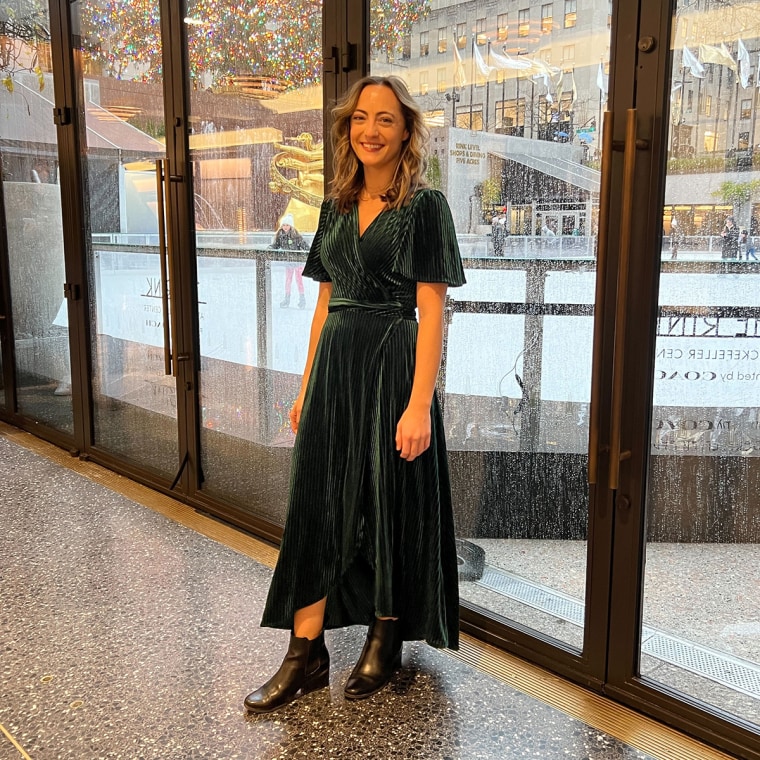 Cut-out details are also still having their moment in the party dress scene, and this plus-size pick from Eloquii has a sized-just-right slit on the front to give it a bit of sass. And this dress has the "sparkle" you're looking for from a New Year's Eve dress, but not from sequins: Its eye-catching sheen is from the metallic sheen of the subtle and chic rainbow pattern. Add to that the off-the-shoulder and thigh-high slit details, and voila — you're ready to celebrate.
Venus is one place Jannely Espinal, Shop TODAY's SEO writer, likes to frequent when it comes to looking for a party dress.
"Venus has many affordable options," she raves, highlighting this sensual yet classy red number that she wore to a cocktail event recently, which highlights curves in all the right places.
Like the Eloquii pick above, this one has a flattering small slit in the midriff area, as well as a crisscross neckline that creates the tiniest of keyholes in the chest area. Those details, combined with the long, see-through mesh sleeves and the bright red color, make this the perfect bombshell dress for a holiday party or any special event. (And we're giving her bonus points for the stylish velvet boots and shiny gold clutch Espinal paired it with.)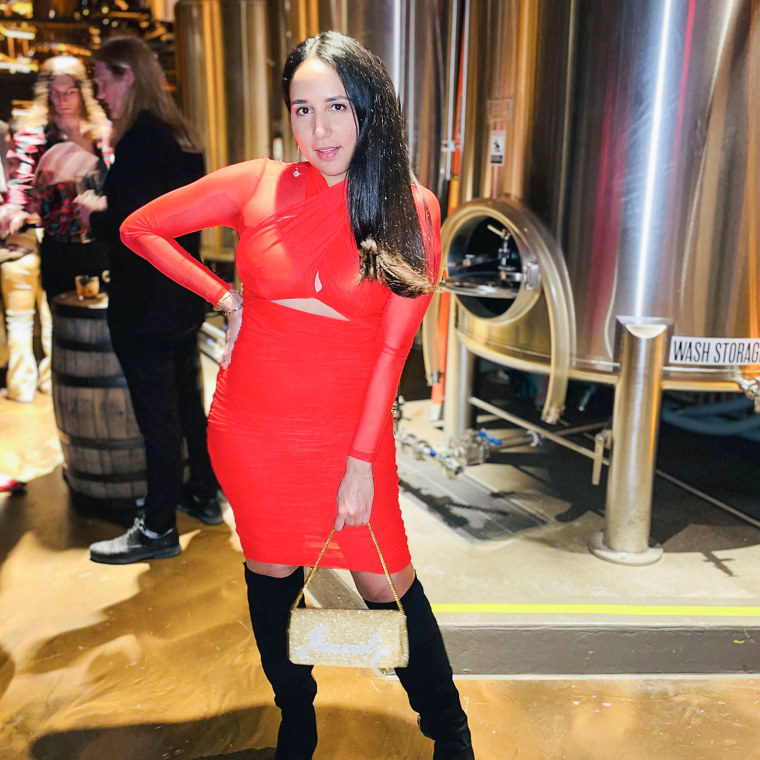 This one-shoulder, two-piece maxi dress from Lulus will check off two major requirements for partying: comfort and impact. It's made from a comfortable jersey knit fabric, and the thigh-high slit gives enough sexiness in the maxi length without you having to keep pulling your outfit down like you would with a mini. Speaking of sexiness, the exposed shoulder and midriff mean just enough skin peeks out of the dress while not skimping on coverage.
Simple, flattering and classy: This plus-size dress checks off those boxes — and rings up at under $35. Available in sizes 1X to 3X (14W to 24W in US sizing), this piece boasts sophisticated details thanks to the unique lace details and sheer cap sleeves. But it's also comfortable due to the nylon-cotton fabric blend and lack of zipper (it's pull-on!).
Who says casual and comfortable can't also be chic and elegant — not to mention affordable? At under $30, this super-soft pull-on swing dress is fitted at the top with a slightly higher neckline, and flowy at the bottom, so it feels both elegant and flirty at the same time. Plus, sizing goes up to 2XL. We love the Elegant Blue or Wine Red for a classy New Year's Eve soiree.
Possibly the opposite vibe of the swing dress above, this risqué split maxi dress from PrettyLittleThings is one of its most popular evening dresses: As of this writing, almost 200 customers were eyeing the sensual bombshell maker. The silky-looking fabric (which is Champagne-colored!) is actually lightweight because it's made of polyester, and the high slit gives it all the impact you could want for your NYE gathering. (If the slit is a little too high, a sheer tight gives coverage while still giving that peekaboo effect.)
This stunning floral option from Merokeety is the bestselling cocktail dress on Amazon right now. It comes in 19 different colors that all feature the same eyelash lace design, which means you can find styles for more than just the holiday season. Almost 13,000 verified Amazon shoppers have given it a five-star rating, with many calling it out for being a great wedding guest dress. (Note that some sizes have a slightly over-$50 sticker price.)
Get ready to party all night long in this wrap bodycon dress. Made with a lightweight stretch velvet, it's available in six different colors, including a sultry maroon. Finish the look with a pair of black heels and you'll be ready to hit the runway … or the dessert table! We don't judge.
Another customer-loved belted sweater dress is this piece from PrettyGarden, which comes in a whopping 25 colors. The lantern sleeves give it some extra style points, but the tie-waist makes it both stylish and figure-flattering. And the material is soft and stretchy enough so you won't be restricted on the dance floor.
Holiday party dresses under $75
Simple, sleek, flattering — and now half off: There's plenty of things to love about this Babaton slip dress from Aritzia. Made from a flowy Japanese satin (kinji), this minimalist dress features a flattering bias cut, and the unique ombre color and just-high-enough side slit elevate it for a New Year's Eve celebration.
This dress is called "Light Up the Night" — have you seen anything more aptly named? This Champagne-hued T-shirt-style slip dress, available in plus sizing, has a simple silhouette, but the sparkling sequins, along with the deep V-neck and mini length, make it party-ready. Wear it with a pair of tie-up heels to add an extra flirty detail.
Looking for a sleeker silhouette without compromising on the sparkles? Go for this long-sleeved, figure-fitting mini dress from Express. Available in two colors and sizes ranging from XS to XL, this dress is sure to make a statement alone (check out the strong shoulder structure!) or with a complementary structured blazer. More important: You'll be able to move in this, several reviewers say. One says, "Love that it's not super short or tight. Very comfy!"
Craving something a little more edgy? This Nasty Gal off-the-shoulder mini dress has a hardcore structure, but the feather trim (a dress trend we stan) adds some flirtiness to it. But hurry — because it's so steeply discounted, there are only a few left!
(If you're afraid of it selling out but want a similar vibe, Nasty Gal also has this strappy black mini dress in Large and XL, or this black bodycon dress that's got both feathers and lace — a win-win!)
OK, we know, this devore-patterned pick from PLT isn't technically a dress, but like other people searching from NYE outfits, we are trying to make jumpsuits happen! But seriously, you'll be the talk of the party in this wide-leg mocha-colored jumpsuit with spaghetti straps and a cute cup detail.
If your speed is less champagne sequins and fringe, and more black and leather, this edgy black maxi dress from Zara will fit the bill. But while the corset-like structure of the dress and the black faux leather material give this look a hard edge, it still has the details we've been raving about: a subtle midriff slit, a not-too-high thigh-high slit and a cute crisscross strap pattern on the back.
Floral patterns aren't getting enough love compared with sequins and feathers, so we're including this maxi pick from Altar'd State that has an average customer rating of 4.9 stars. It has a flattering fit-and-flare flowy structure (you won't be able to stop twirling), and the flower stitching has that metallic sheen you'll want for your New Year's Eve gathering. It's also lined, so no itching here!
Take it from one ecstatic review: "To say this dress is beautiful is an injustice. The dress is stunning and really favors any body type. It is elegant, comfortable and will make you feel special the minute you put it on."
Sometimes sparkly sequined dresses feel like a once-in-a-blue moon type of garb (unless you can justify wearing it to an office Christmas party). But this sequined midi from Banana Republic Factory, we think, is more versatile than that. The midi length, simple silhouette and classic not-too-deep V-shaped neckline, combined with the fact that the sparkle is more of a subtle shimmer, spells versatility. There's also enough sass in the thigh-high slit without being too revealing. What's more, it's fully lined and has adjustable straps for maximum comfort.
Available in regular and tall sizing.
One of Espinal's favorite formal dresses is a bandage-style gold piece that looks like this scoop-necked stunner from TJ Maxx. "It's very very flattering when you wear it," she raves.
But that pick, while steeply discounted, still rings up at over $200. So we found a similar look from the ever-reliable Lulus: This shiny gold maxi dress that's also available in a purple color. The piece has a similar cowl neck as the TJ Maxx dress, and the lightly ruched bodice gives a similar bandage effect.
But if you insist on an actual bandage dress, don't fret: We found one that has a color that's just under $75 from Venus, one of Espinal's go-to dress sellers. The dress has three details we love for New Year's Eve: The bandage detail, body-hugging fit and a flirty fringe hem. Unfortunately, the Tan is now only available in the 22 and 24 sizes (so hurry, ladies!).
There's also an equally sultry black option that has an $89 sticker price if you're willing to splurge.
Something about holiday season just calls for velvet in our wardrobes. We love the gorgeous look of the velvet nap dress, but if you need something a little more formal for your New Year's Eve gathering, this V-neck option, which has a long but flirty flared hem, should do the trick. It's a pull-on dress, so you don't have to worry about zippers sticking out or buttons coming undone.
This half structured, half flowy satin shirt dress is available in an elegant black and a metallic gray color — but with a third color called Champagne Toast, we think that last one's meant to be worn at your countdown party. Plus, you can tuck this satin shirt dress for a more daytime look (maybe for New Year's Day brunch?).
This shirt dress is available in standard, tall and petite sizing.
Holiday party dresses under $100
"Some arms and some leg," is how Aritzia begins its description of this svelte mini dress. Indeed, it shows just enough skin to be sultry, but the mock neck offers a nice balance. The dress, available in nine colors, may look simple, but it's actually crafted from Aritizia's proprietary supportive fabric called Contour, a doubled fabric that acts as shapewear — the brand says it gives a "smoothing effect and second-skin feel." What's more, it's available in sizes ranging from 2XS to 2XL (though hurry: Some colors, like the bright pink pictured, is selling out quickly).
Maybe the bodycon dress shape is old news for you. If so, we suggest going for something like this ruffled, hot pink attention-getter, something Shop TODAY editorial assistant Sierra Hoeger has been eyeing for her upcoming celebration.
"While it's a bit young, they can look like a present," she says.
Indeed, you'll look like a present in this youthful, strapless mini dress, which makes up for its ruffled, tiered silhouette with the flattering cinched detail at the waist.
Pinks and blacks are nice, but for something that is truly going to steal the show, Lavish Alice offers this plus-size mini dress in a bright and youthful Mango Orange. And it's not just the color that's going to make a statement: It's also got a cute cut-out waist, a flirty pleated hem and a one-shouldered look that's balanced out by — our favorite part — the theatrical drape sleeve. People will think you've just walked off the runway.
This dress is currently available in sizes 16 to 22.
How can we not end this roundup with a fun, flirty and shimmery number? That's why we chose this ruffled, puffy-sleeved dress from Altar'd State, complete with "shimmer" in the name. What's not to love? The short but flared skirt and double-ruching in the waist give this such a delightful, flattering shape. What's more, the iridescent purple color, puff sleeves and irregular hemline will ensure that you'll be "shining" confidently on the dance floor. This is also available in Silver and Fuschia, and in sizes XS to L.