One of the world's most divisive shoe brands just released a brand-new style that'll have you croc-odile rocking the dance floor.
Crocs is known for its love-it-or-hate-it clogs and epic collaborations with companies like Taco Bell and KFC. Now, the brand is giving its customers something they've apparently been asking for forever: cowboy boots.
On Oct. 5, the brand unveiled its latest innovation — the Crocs Classic Cowboy Boot — and we're not going to lie, the shoes are pretty rad.
Described as "one of the most widely requested Crocs shoe designs in brand history," the Crocs Classic Cowboy Boot has a "high shine croc-embossed texture and bold western-inspired stitching," according to a press release. It's even decorated with metallic Jibbitz charms and a spur charm that spins.
Other notable features include ventilation holes and a Crocs logo with a cowboy hat.
Find out how to get a pair and what fans think below.
How to get your hands on Crocs cowboy boots
Crocs cowboy boots went on sale on Oct. 23 (aka Croc Day), and are being sold online and in certain Crocs stores for a limited time.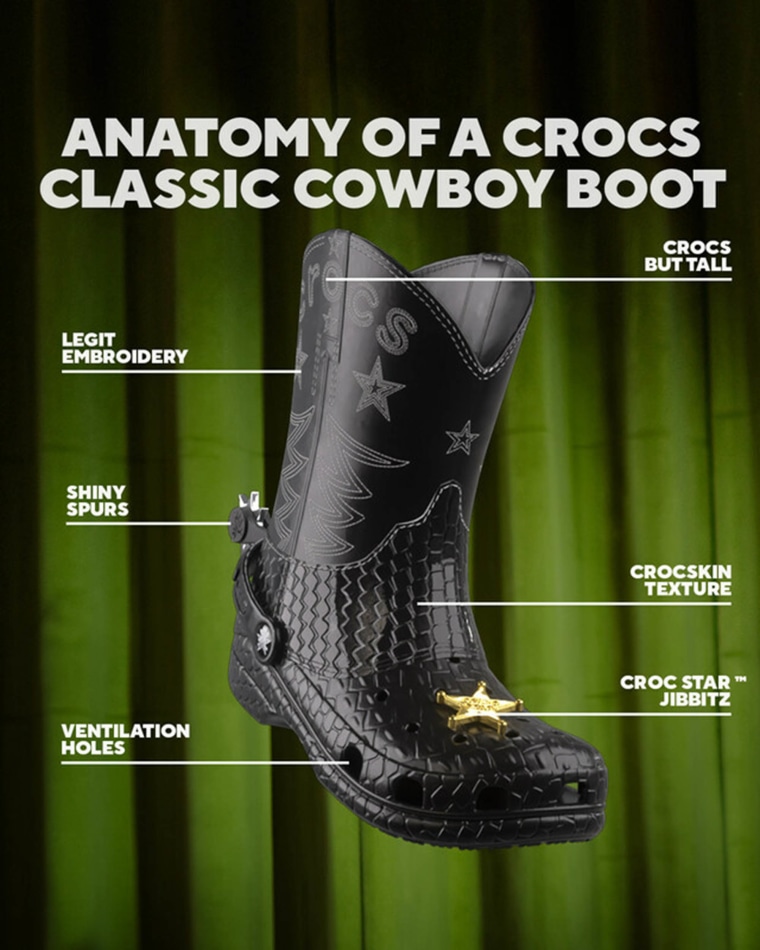 Fans have mixed feelings about the new style
Crocs fans are used to limited-edition collaborations since the brand has teamed up with a plethora of brands like Vera Bradley and Alife in recent years. But social media users seem to be a bit divided about the new cowboy boots.
Enthusiastic fans are calling them "croots" and sharing their excitement on Instagram.
"Just when I couldn't have dreamt up another croc variation. 🔥," one commented on the brand's post.
"I'm very fragile rn, pls tell me this is real and yall aren't kidding bc I need these in my life expeditiously," another wrote.
However, not everyone was ready to strap on their boots and hit the dance floor.
"No now y'all have gone too far," one skeptic commented.
Another shared this short but sweet sentiment: "Please don't release this."
In response to a second Instagram post from Crocs, social media users shared even more amusing reactions.
One Instagram user said the brand needs "to be stopped" and another joked that they "reported this post."
Still, there were just as many people who were intrigued by the boots.
"Can't believe i'm saying this but why do i kinda like these," one person wrote. Another shared the following comment: "I definitely need a pair to go line dancing in!!! 💚💚."
Model Tess Holliday even weighed in, writing, "These boots were made for all kinds of things & I need them!!!!"
Crocs has definitely branched out of their clog box and released several shoe styles in recent years, including sandals and heels.
And whether you love them or hate them, you have to admit that the latest innovation is pretty creative.