Slide into summer in style with nacho average fashion collab.
On June 13, Taco Bell announced that it's teaming up with Crocs, the brand famous for its once-divisive, now-fashion-forward casual footwear.
In a first-ever Mellow Slide limited-edition collaboration, the two brands have reimagined Crocs' Mellow Recovery Slide, described as having a "roomy fit" and "deep, cupped footbeds."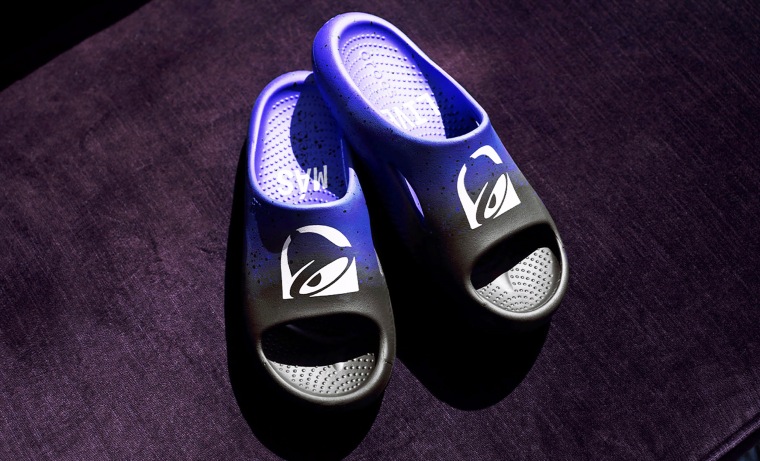 "With a simple, yet modern design, Crocs Mellow Slides boast a mood-boosting silhouette and blissful design to allow your feet to melt into the footbeds," Taco Bell wrote in a news release, adding that the slide design is inspired by Taco Bell's signature colors, black and purple.
The Taco Bell x Crocs Mellow Slides also feature an ombre-like fade with "Live" and "Más" printed on each footbed in sour-creamy white.
"The slides are perfect for a beach trip, park hang — or a quick trip to Taco Bell when a craving strikes," Taco Bell wrote, missing a huge opportunity to suggest that you can also take your Enchirito directly to the sandy shores of your local hotspot.
"This collaboration delivers on what both of our brands do best—listening to our fans and bringing their ideas to life in fun and unexpected ways," said Heidi Cooley, chief marketing officer for Crocs, in a news release. "We know it doesn't get much better than kicking back in comfort with a Cheesy Gordita Crunch, so pairing our Mellow Slide with Taco Bell is the perfect combo!"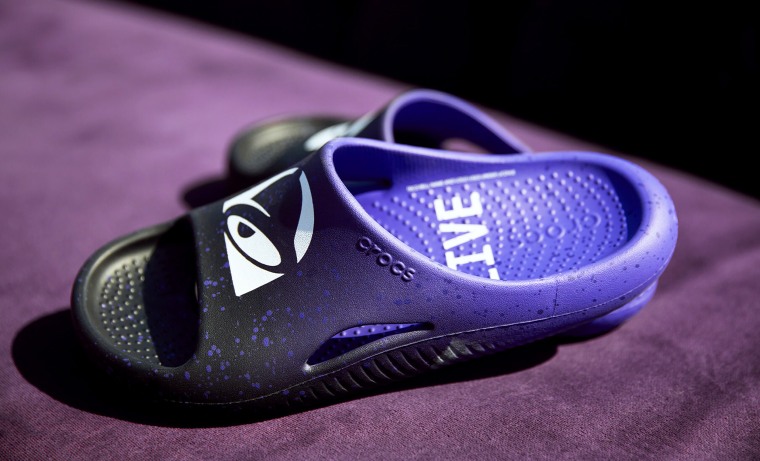 Taco Bell says that although it's the first time its iconic bell has emblazoned a Croc sandal, it's not the brand's "first rodeo in the retail space," mentioning its 2019 Palm Springs pop-up hotel that offered themed rooms for a limited time, in addition to swimwear, sunglasses, lifesize sauce packet pool floats and other merch in its gift shop.
And like Taco Bell, Crocs boasts an impressive roster of collaborations with other brands like Hello Kitty, Minecraft, the NBA and more.
The shoe brand has even partnered with another Yum! Brands juggernaut: KFC, going viral in 2020 for a chicken-scented Croc collab complete with a fried chicken Jibbitz charm. No word on whether Crocs and Taco Bell will ever collab on a shoe that smells like Baja Blast or a Mexican Pizza, but stranger things have happened.
"Like Taco Bell, Crocs is all about tapping into culture and allowing their passionate fans to express themselves," said Taylor Montgomery, Taco Bell's U.S. chief marketing officer.
"We tapped into that link between the two brands and we're pumped to be able to share this exclusive Taco Bell x Crocs Mellow Slide with our fans," Montgomery said. "We're always looking for unexpected ways to give back to our Rewards Members and giving them early access to order their own pair of slides feels perfect as everyone gears up for the summer."
Taco Bell x Crocs Mellow Slides drop nationwide on June 28, available exclusively on the Crocs website at a retail price of $60. Taco Bell app members who have reached FIRE! Tier status get early access to buy the slides on June 20 and will receive an exclusive link for priority access to get their own pair in-app.