Fans of Mexican-inspired portmanteaus should run — not walk — to their nearest Taco Bell.
On May 25, Taco Bell announced the return — well, the latest return — of the fan-favorite Enchirito. The enchilada-burrito hybrid last came back to the Tex-Mex fast-food chain back in fall 2022 and just like "Brigadoon," fall foliage, Girl Scout cookie season or solar eclipses, it's only here for a limited time, while supplies last.
The Enchirito is a soft flour tortilla loaded with seasoned beef, beans and diced onions, which is then rolled up and doused with red sauce and topped with melted, shredded cheddar cheese. The popular item returns to menus for $3.79 and is solely available for order on Taco Bell's digital platforms.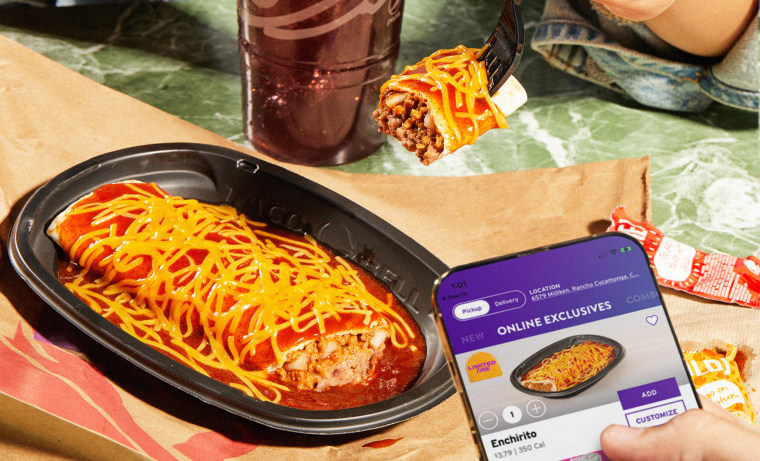 The Enchirito was first introduced all the way back in 1970, making the menu item as old as Leonardo DiCaprio. And just like the "Wolf of Wall Street" star, the item was in high demand for years. Luckily for Leo, though, only one of them was discontinued in 2013 (poor Enchirito).
And then on Oct. 7, 2022, Taco Bell announced the results of a poll to bring back a menu item for a limited time: The Enchirito beat the Double Decker Taco with 62% of votes. All in all, over 760,000 Taco Bell Rewards members voted. But, this time, they didn't have to cast a vote for its return.
Along with the return of the Enchirito comes the debut of an all-new menu item: the Steak Chile Verde Fries. This debuting treat features the chain's spiced fries topped with a new chile verde sauce containing jalapeño, lime and herbs, along with Taco Bell's signature nacho cheese sauce, a three-cheese blend, reduced-fat sour cream, Fiesta strips and marinated and grilled steak — all for $4.49.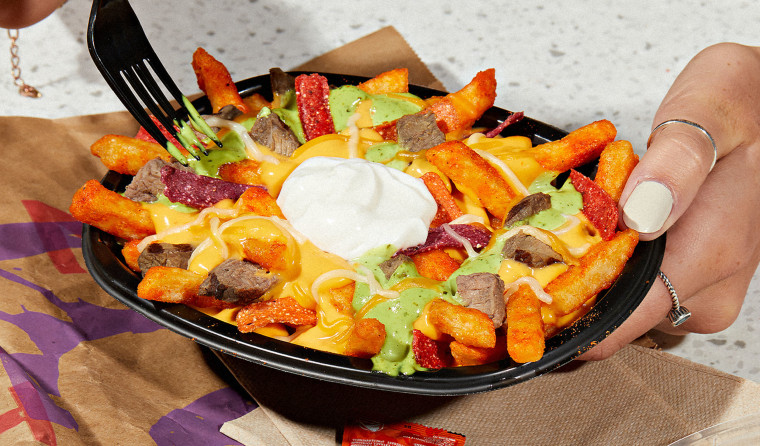 Customers who want a wrapped version can also go for the Steak Chile Verde Fries Burrito, which the chain says contains the same flavors and ingredients as the Steak Chile Verde Fries, but in a warm tortilla instead, for $3.99. Vegetarians can score the topped fries and burrito without steak for $3.79 and $3.49, respectively.
And if you need something to wash it all down with, go for the Watermelon Berry Lemonade Freeze or the lemonade-less Watermelon Berry Freeze, which "will roundhouse kick even the most diablo scorched taste buds," the company says. Get a 16-ounce for $2.99 or a 20-ounce for $3.19.
If you're more of a breakfast person, you can score a free Breakfast Crunchwrap every Tuesday throughout the month of June, starting June 6 (so June 13, June 20 and June 27) if you're a Taco Bell Rewards member.
The Enchirito wasn't the only menu item put to a vote in the past year. On March 30, Taco Bell held a cheesy election, so to speak, to see which of two other discontinued items would come back — and this time, the Beefy Crunch Burrito won the campaign. The chain says that the item will return to menus for a limited time this August.
The Beefy Crunch Burrito, which features seasoned beef, reduced-fat sour cream, rice, nacho cheese sauce and speckled with Flamin' Hot Fritos was suddenly discontinued in 2011, inspiring an actual grassroots movement to bring the item back to the menu. It looks like the movement's 66,000 members have something to celebrate this summer.