John Stamos' two marriages have played out in the public eye. He's poised to open up about his first and second wives even further in his new memoir.
Stamos says his split from Rebecca Romijn in the early 2000s was absolutely "shattering."
The "Full House" star, who remarried in 2018, writes about the painful breakup in his new memoir, "If You Would Have Told Me" and he describes the aftermath of their 2004 divorce in a new interview with People.
"My first marriage was shattering to me. I was shattered for way too long, too," Stamos told the publication. "I mean, a year, OK, good. But it went on (for) years and years."
The 60-year-old said he hasn't seen Romijn since their last meeting with their divorce attorneys, and that it was "really difficult" to relive his former mindset while writing the memoir.
"In my mind back then, she was the devil, and I just hated her," he said. "I couldn't believe how much I hated her, and it ruined my life." Now, he's come to realize that he was "as much to blame as her."
Stamos married model and actor Caitlin McHugh in 2018. The couple has one child together, a 5-year-old son named Billy.
Here's a look back at Stamos' two marriages and what he has said about both relationships.
Rebecca Romijn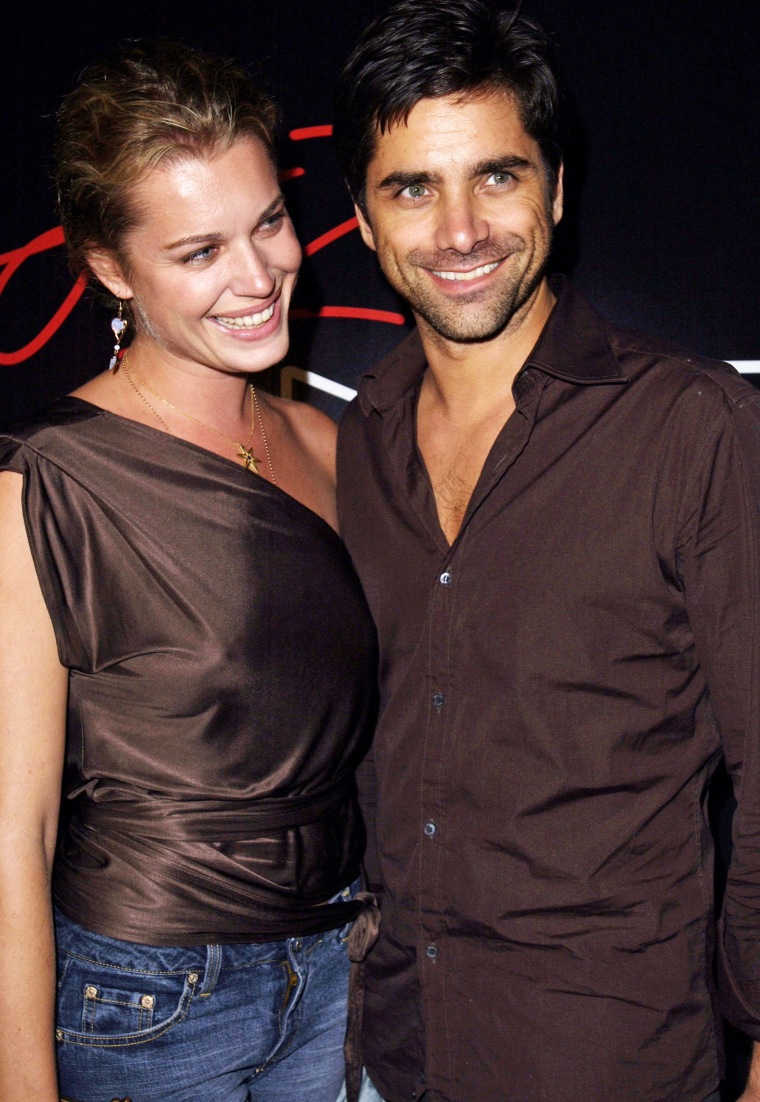 Stamos met Romijn in 1994 at a Victoria's Secret fashion show, where she was modeling. In his memoir, the "Full House" star details the day they met and reveals that he showed up to the fashion show with his co-star Lori Loughlin. They were both single at the time. 
Stamos writes couldn't resist Romijn, who he describes as "a free spirit." 
"We travel the world together, spend holidays with family, and grow closer and closer. The glam stuff gives way to an intimate relationship, the kind of comfort that feels like home. Less Victoria's Secret catalog lingerie and more topknot-and-sweats. She is my best friend; someone I genuinely care for," he writes.
Stamos proposed on Christmas Eve after they had dated for two years. 
"It's a spontaneous moment, so I don't have a ring," he writes. "She gets a cigar band around her finger." 
In 1998, the couple tied the knot and Stamos recalls proudly watching his new wife thrive in her career.
"My team is watching me pour a lot of creative energy and time into Rebecca's career, but they remain supportive, waiting for me to wake up and get back to my own thing," he writes. 
Something eventually gives, however, and Stamos says the couple began to grow apart.
"Years go by with ups and downs. We party and get healthy when we need to be. But through all that, there's zero talk about having kids and starting a family. This was always our plan. Our dream. It feels as though she doesn't share that dream with me anymore," he writes. "Rebecca doesn't notice me slipping away and I don't notice myself adrift. She's busy with her career and new friends. We're trying new things and growing, but not together."
Although he initially thought they would find their way back to each other, Stamos and Romijn secretly separated in 2003. A few months later, he says, Romijn decided to "take me back."
"Rebecca has a list of, not demands, but thoughts on how things should change. How I should change. She's now the one in charge, and I feel like I've forgotten what I wanted out of this marriage. Just to be happy?
News of the couple's split broke in 2004. "The split is amicable and they have asked that the media please respect their privacy regarding this situation during this difficult time," publicist Lewis Kay told the Associated Press at the time.
"I'm heartbroken and feel like a failure. I thought I'd be the dad of three kids by now and grow old with Rebecca. I'd spent a lot of time being single and a good amount of time being married. I like marriage. I want that soulmate by my side through thick and thin, happy and dark times, for better and for worse. This is thin, dark, and the worst," Stamos writes in his memoir.
Months later, Stamos officially filed for divorce.
"I never knew I could be so angry and hate-filled toward another human being, much less one I had been dedicated to for a decade," he writes.
Shortly afterwards, Romijn met actor Jerry O'Connell at a pool party in Las Vegas. In 2019, he recalled their second encounter during a joint appearance on "The Wendy Williams Show."
"I saw you in the VIP section and you were newly single and I was like, 'I got to get some of that, right there.' It was a pool party, so I took my shirt off, I did some pushups right there and got some oil. I was super flexing. I had met my wife once before that at the time. But through the rope I was like, 'Hey, Rebecca!'" the actor recalled, as reported by People.
The couple got engaged in 2005 after a year of dating and tied the knot in 2007. They went on to have two children together.
When asked if she kept in touch with Stamos after their divorce, Romijn offered the following response to US Weekly in 2013.
"I have no idea what is going on with him these days," she said.
However, Romijn spoke fondly of her ex-husband during a joint interview with O'Connell on "The Talk" in 2022. O'Connell confirmed the two met as she was going through the divorce. "I saw flashes of depression," O'Connell said. Romijn characterized that period as "awful" and "terrible."
"I was with him for 10 years. Divorce feels like a failure and there were a lot of things I had to let o over that were really sad," she said.
O'Connell also added that his wife still speaks positively about Stamos.
"When I'm with you personally, and I hear you talk about your ex-husband, it sounds like it was fun," he said. "You always have really fun memories."
Romijn agreed with O'Connell's statement.
"A lot of things about him that I miss," she said. "But yeah, it's tricky. It's a very hard decision to come to when you decide to end a marriage. It was heartbreaking."
In his recent interview with People, Stamos said he hasn't seen his ex-wife since their divorce and said it their "very public" divorce was "very painful."
"It was very much the opinion that she dumped me because her career was going great and mine wasn't, and that's humiliating," he said. "I don't blame her for it. It was just the perception that people took, and maybe they weren't wrong. She was doing great at that time and I wasn't."
Following the divorce, Stamos said he turned to drinking to cope, adding that it "was not healthy."
"But without that, I never would've known what a real love is, and I would've never straightened up to get someone like Caitlin in my life," he said.
In his memoir, Stamos also details the moment he forgave his ex-wife. It happened after his 2015 DUI incident.
"It's in my moment of greatest shame that I let go and forgive Rebecca and myself," he writes.
Caitlin McHugh
Ten years after his divorce from Romijn, Stamos found love once again when he started dating model and actor Caitlin McHugh. At 38, McHugh is 23 years Stamos' junior.
Stamos recalls meeting his future wife in one passage of his memoir.
"When you meet the woman who will be the love of your life, your future wife, the mother of your child, it's like getting shot through the heart. You see her, BANG! She smiles, BANG! And if she opens her mouth and she's smart, funny, and kind, BANG, BANG, BANG!" he writes.
When they first met filming an episode of "Law & Order: SVU", McHugh was engaged and living across the country. That didn't mean Stamos didn't have a "crush" on her, he writes. "I want to ask her on a date, talk about the future, and convince her to run away with me," he says. He even goes as far as to tell McHugh not to get married. She does.
Five and a half years of "trying to get over" McHugh, the two crossed paths again. Stamos learned that she was divorced and dating. When she was finally single, he made his move.
"I find myself being more romantic with Caitlin than with any woman I've ever been involved with. I guess that's what happens when it's real. You get starry-eyed and downright sappy," he writes.
The new couple moved in together after six months of dating and started to discuss their future, including children.
After nearly two years of dating, the "Full House" star proposed to his girlfriend at Disneyland in 2017.
The following month, Stamos told Entertainment Tonight he was eager to start a family with McHugh.
"I hope (to have kids)," he said. "That's always been my plan. It's just taken me a lot longer than I anticipated. It would be a tragedy if I didn't have children and I finally found the right woman — the perfect woman."
In December, the couple shared the news that they were expecting their first child. "I always wanted to be a dad," he told People Magazine at the time.
During the interview, Stamos revealed that when McHugh got pregnant, he decided it was time to make things official between them.
"The (pregnancy) happened. Then I said I better have a ring on her finger because it's the right thing to do, and I wanted to marry her anyway," he said. "So I called her parent to ask, and it was like, 'You better!'"
In his memoir, Stamos reveals that he and McHugh experienced fertility issues while trying to conceive.
The lovebirds tied the knot in 2018 and went to Walt Disney World to celebrate their one-week wedding anniversary.
Stamos announced the birth of their child on Instagram in April 2018.
"From now on, the best part of me will always be my wife and my son. Welcome Billy Stamos (named after my father)," he captioned the post. 
The following month, McHugh told Entertainment Tonight she and Stamos wanted to have more kids "ASAP."
In his memoir, the actor gushes over his son, writing, "I've always wanted kids of my own. I would have died regretful without him."
In 2019, Stamos and McHugh celebrated their first wedding anniversary.
The new mother penned the following message for her husband.
"One year ago today we read Disney-themed vows to each other in front of some of our most cherished friends and family members," she wrote on Instagram.
"Year one kept us busy — becoming new parents — lots of constant change, and changing diapers!" she continued. "But one thing hasn't changed, prioritizing our relationship. Knowing that if we work on keeping us strong all is good. Thank you for prioritizing us."
Stamos wished his wife a happy 33rd birthday in May 2019 and shared a loving message for her on Instagram.
"The most magnificent adventure I ever started was the day I met you," he captioned the post. "It doesn't matter where our journey takes us, so long as we're together. Thank you for the constant reminder of how blessed my life is. It is blessed because of you."
The following year, the happy couple celebrated their second wedding anniversary.
In 2022, Stamos gushed about parenting during an interview with TODAY.com.
"I'm very grateful to the gods or to the universe or whatever that I'm an older father. I couldn't have handled it earlier," he said.
"I've wanted kids my whole life. I figured, 'I can't wait to be a father, I've been a TV father,' but it's a whole different ballgame," he continued. "It's the greatest blessing of my life. I couldn't imagine my life without him, but it is challenging to do it right."
When it came time to send Billy to school, Stamos was pretty emotional and shared a sweet photo of himself with his son.
"One of us is starting his first day at school. And the other is doing everything in his power not to cry," he captioned the post.