John Stamos is getting a "Fuller House"!
Literally: The "Fuller House" star we know and love for a) being Uncle Jesse and b) posting totally hot photos of himself is going to be a father for the first time at age 54, he announced Wednesday.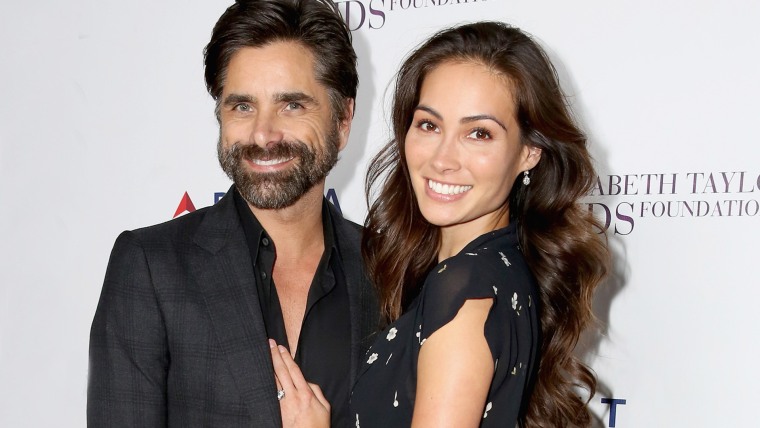 "I always wanted to be a dad," he told People magazine.
Stamos, who only announced he was getting married to Caitlin McHugh, 31, in October, added that he just wasn't ready until now.
"Clearly I had to do some work on myself, first. I have a youthful thing. People say, 'Oh, you look young.' You'll start believing you're gonna live to be 150. And then you wake up and go, 'No, man, this is it. This is not a rehearsal.'"
And he had thought he might be too old. "People would say, 'You should have a child.' I was like, 'That ship has sailed.'"
But then McHugh got pregnant. "Then, I said I better have a ring on her finger because it's the right thing to do, and I wanted to marry her anyway," he said. "So I called her parent to ask, and it was like, 'You better!'"
Since she loved Disneyland, he got on his knee at the park and asked her, after which he posted that beautiful drawing of them in front of the Sleeping Beauty Castle.
In November, the actor (who may have already known his wife-to-be was pregnant) mentioned that he'd like to have kids. "That's always been my plan," he told Entertainment Tonight at an event. "It's just taken me a lot longer than I anticipated. It would be a tragedy if I didn't have children and I finally found the right woman — the perfect woman."
And it's not like he won't be prepared.
"I'll be a fun dad," he predicted. "I've been practicing for a long time. I've done every shtick you can do with a baby on TV ... all the bits and jokes and diaper gags. I'll probably just do all that."
Still, Stamos does have regrets about waiting so long, since his parents won't be around for the joyful event. Bill Stamos passed in 1989; his mother Loretta in 2014.
"It kills me that my parents aren't here to be a part of this, but I know it probably wouldn't be happening if they weren't up there [in heaven]," he said. "You know how you put your father on a pedestal, and he's a superhero, and then as you grow older you go, 'Ah, he's just a man?' I never got to that point. 'Til the day he died, he was just bigger than life for me."
We suspect little Stamos, Jr. is going to have just as big a life ahead of him — or her. Congratulations, Caitlin and John!
Follow Randee Dawn on Twitter.