What's the opposite of cold feet? Hot feet? Whatever it is, John Stamos has it for fiancée Caitlin McHugh. In advance of the couple's TBD nuptials (they just got engaged at Disneyland last month), the "Fuller House" star is already looking ahead to their future family together.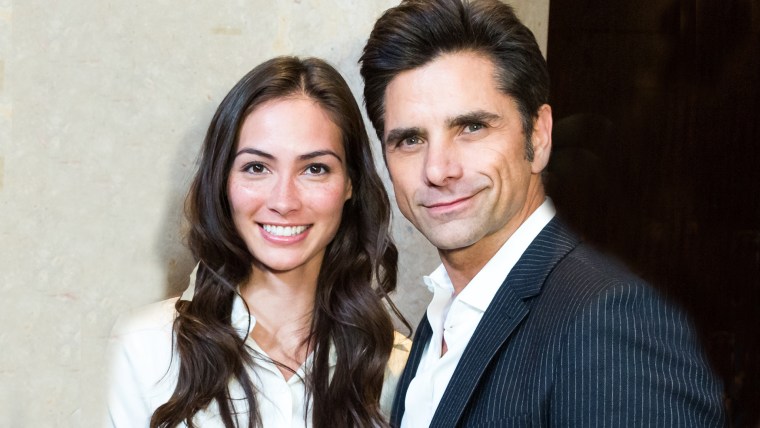 "I hope (to have kids)," Stamos, 54, told Entertainment Tonight Monday at the Garry Marshall Theater's First Founders Gala in California. "That's always been my plan. It's just taken me a lot longer than I anticipated. It would be a tragedy if I didn't have children and I finally found the right woman — the perfect woman."
The perfect woman. Have mercy, Uncle Jesse!
Stamos continued, "I know my parents are smiling down. I know they would love her. She's a gentle, kind, graceful soul who would be a good mother."
Well. We should have known we were in for some serious romantic gestures after this next-level illustrated engagement announcement popped up on Instagram.
According to a statement from Stamos' rep, he popped the question to McHugh, 31, by cutting together a film combining romantic moments from Disney and Pixar animation films, concluding with Sebastian from "The Little Mermaid" encouraging Stamos to "just ask the girl."
How do we think they would announce a pregnancy? A musical number? A Times Square billboard? A skywriting display?
Perhaps not another Disney cut. Stamos said of their wedding plans, "I'm done with Disney for a while. Maybe when we have some kids, we'll do Disney — but she's obsessed with it, so I don't know."
He did clarify that he was down for "whatever (McHugh) wants." "If she wants to get married tonight at the Garry Marshall Theater, I'll do it!" he said.
Wherever this magical wedding goes down, we can't wait.