During the cold winter months, when it's chilly outside and we're blasting dry, hot air inside, our skin can get pretty parched. Dry, cracked hands can be itchy and uncomfortable, dry cuticles can cause hangnails, and dry nails can become brittle.
Whether you get your nails done at the salon or do them at home, taking the time to moisturize your hands, cuticles and nails will make your manicure look better and last longer. There are so many great products on the market designed to strengthen your nails, moisturize your hands and cuticles, and perfect your at-home manicure, and I've tested a lot of them.
During the pandemic, I learned how to give myself a perfect, salon-quality manicure at home (thanks Olive & June). Over the past few years, I've tried products and polishes from dozens of different brands, amassed a nail polish collection in the hundreds, painted my nails several times a week, and spoken to nail influencers, professional manicurists and salon owners to broaden my knowledge.
How I chose the best products for hand and nail care
This lovingly curated list of products includes some of my all-time favorite hydrating products and at-home manicure essentials, plus a few product picks from a salon owner. I have painted my own nails well over 100 times in the last three years, tried dozens of hydrating products, and homed in on my everyday go-tos.
I also made sure to choose award-winning, fan-favorite products with glowing reviews, as well as well-known hydrating ingredients like jojoba oil, hyaluronic acid and coconut oil.
Keep scrolling to read about how I keep my hands and nails moisturized in the winter, and the top 10 products I recommend to help. You can also jump to a specific category by using the links below.
Nourish and strengthen your nails | Take care of your cuticles | Don't forget your hands | At-home manicure essentials
Nourish and strengthen your nails
For nails that are weak or ridged (or both), this base coat has you covered. It has both strengthening and smoothing properties, which will help any nail polish painted on top look smooth and even.
Orly Nail Armor can also be worn on its own for a more subtle look. A reviewer on the Orly product page noted that it "absolutely works" and is "the best product for strengthening and smoothness." They wore Orly Nail Armor on its own and said it stayed on for two weeks.
Rachel Apfel Glass, the founder of GLOSSLAB, a membership-based nail studio with locations in New York, New Jersey, Connecticut, Florida, Texas, Washington, D.C., and Maryland, is all about her brand's nontoxic, vegan and cruelty-free nail treatment.
"Our Superboost is the only nail treatment your nails will ever need," she says, adding, "It's a nail strengthener, nail hardener and provides a 'super boost' of vitamins for your nails, all in one bottle."
Its nourishing ingredients include biotin, hyaluronic acid, vitamin E, rosemary oil and safflower oil. Glass recommends painting a coat of this sheer pink polish on your nails in between manicures or using it as a base coat.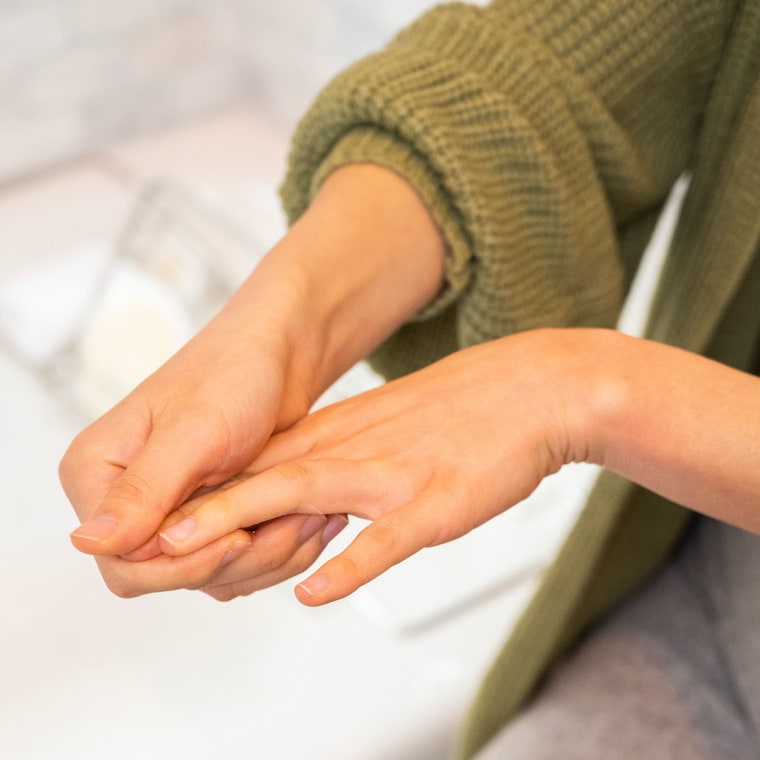 Give your cuticles some TLC
There isn't a single day that goes by that I don't use Olive & June's Cuticle Serum. It's an award-winning product that is absolutely worth the hype, and I keep the serum pen in my purse, on my desk, by my nightstand — you get the gist.
The pen design, with the foam applicator tip and non-greasy formula, delivers moisture just where you need it, and you can carry on with your day without waiting for the serum to soak in. The formula is dermatologist tested and fragrance-free, and includes hydrating ingredients like avocado oil, jojoba oil and cactus flower extract.
For an extra boost of moisture, I also recommend swiping on Olive & June's Cuticle Balm before bed.
Coconut oil is a classic hydrating beauty staple that traps water in your skin.
"I love coconut oil for hydrating hands and nails; it makes your mani last so much longer too!" Glass says.
She recommends applying coconut oil once or twice a day to reap its moisturizing benefits. With this big tub, you can go beyond hands and cuticles and moisturize your body from head to toe.
Don't forget to moisturize your hands
Another Olive & June product that I always keep on hand (ha!), this hydrating serum contains hyaluronic acid (to lock in moisture, revive and plump skin), cactus flower (to moisturize and smooth) and fruit extracts with AHAs that gently exfoliate and brighten skin.
Unlike other hand lotions on the market, Hand Serum is lightweight, non-greasy and absorbs quickly into the skin. If you want even more moisture, the brand's Overnight Hand Treatment is thick and luxurious, and it hydrates hands and cuticles while you sleep.
Editor's Note: Olive & June's Hand Serum is currently out of stock, but we'll update here when it's back (in the meantime, you can sign up for the waitlist on the product page). For similar products, we recommend Typology's Hand and Nail Serum for its HA and keratin formulation, as well as Thrive Causemetics' Defying Gravity Cream, which pairs HA with mango seed butter and sweet almond oil.
If you love a sheet mask for your face, this hand mask makes for a fun addition to your self-care routine. Slip on these peach-patterned hand masks and let your hands soak in the hyaluronic acid, peach extract, shea butter and vitamin E. They also make a matching foot mask in case your feet need some extra love, too.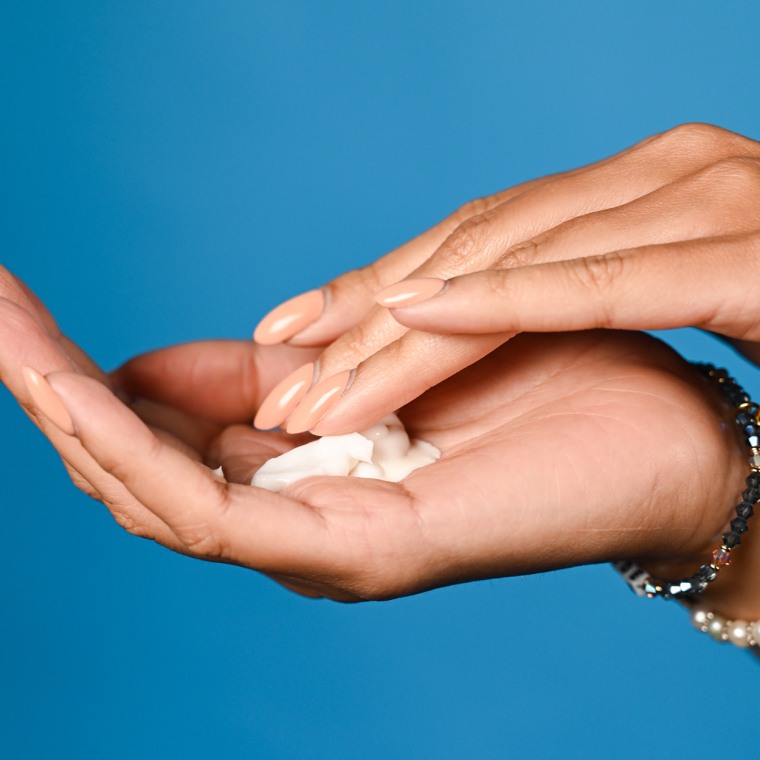 Nail your at-home manicures
A nail polish remover, nail prep and nail conditioner all in one, Zoya Remove+ is a staple in my nail care and at-home manicure routine — but you don't have to just take my word for it. It's won beauty awards in Allure, InStyle, Nylon and more; it's stocked in professional salons around the country; and reviewers rave about it.
"The smell is light and inoffensive, it doesn't strip your nail beds when removing polish, and the polish comes off easily," one reviewer wrote, adding, "I only have to use a couple of pumps on a cotton round and it perfectly cleans all 10 nails! I love this polish remover."
A quality, quick-drying top coat is one of the most important elements to a glossy, long-lasting at-home manicure.
I've tried at least a dozen top coats on the market, and the Cirque Colors Looking Glass Top Coat continues to be one of my all-time favorites. It seals in my manicure, protects it from chipping, adds a glossy shine and dries completely in just a few minutes.
As an added bonus, the formula is nontoxic, vegan and cruelty-free.
If you find that your standard nail files (aka emery boards) leave behind ragged edges or cause your nails to chip, you may have better luck with a glass nail file — I know I have. Glass files last longer, are more gentle on the nails and you can actually clean them.
This dual-sided glass file from Loud Lacquer can be used to shape and smooth your nails, and comes in a luxe velvet sleeve to keep it clean. The brand also has a glass cuticle pusher that can be used to remove dead skin and hangnails, and it exfoliates and pushes back your cuticles.
Promising "stronger nails in just three days," essie's treat love and color polish collection has a clinically tested vegan formula that's infused with calcium and camellia extract. From sheer to full-coverage colors, you can enjoy a beautiful manicure while strengthening dry, brittle nails.
These polishes are meant to be applied directly onto the bare nail — no base coat needed — which saves on application time.