Damaged nails can be a pain. When your nails aren't looking — or feeling — their best, it can lead to nail breaks (ouch), an uneven nail surface (bumps and ridges galore) and manicures that chip in just a few days.
Having your nails look and feel good isn't just important for aesthetic reasons. The condition of your nails could also signify that something is amiss with your overall health. If you're suffering from thin, breaking or brittle nails, there are simple steps you can take to understand why it's happening and get them back to a shiny, strong state.
Nail strengtheners can be an effective way to remedy weak nails. Dr. Kiran Mian, medical and aesthetic dermatologist at Hudson Dermatology & Laser Surgery, notes that they "can help reinforce structure in brittle nails, allowing them to be resistant to breakage."
Before we searched for the best nail strengthening treatments, we spoke with Mian and Dr. Angela Lamb, a certified dermatologist and associate professor at Westside Mount Sinai Dermatology, to share their top advice on what you should look for when shopping for nail strengtheners. They also answer some of your most common FAQs around nail strengthening, which you'll find after our list.
Based on our experts' insights and our own research, we've selected some highly rated products (recommended by both derms and consumers) that help strengthen brittle and thin nails. Whether you're a chronic nail biter, gel polish user or just looking to bulk up naturally thin nails, these 15 products have you covered.
What to look for | Best overall | Best budget | Best for peeling | Best base coat | Best pre/post acrylic | Best for splitting | Best cream | Best serum | Best for cuticles | FAQs | Meet our experts
What to look for in a nail strengthening product
Active ingredients. It turns out that there are two main types of nail strengtheners: hardeners and hydrators. Mian notes that nail hardeners contain cross-linking ingredients (like formaldehyde or calcium) or reinforcers (like nylon or sulfhydryl protein), while nail hydrators contain moisturizing ingredients like glycerin or mineral oil. "Nail hardeners will be good for people with brittle nails that break easily," Mian says. She adds that nail hydrators are great for people with peeling nails, as they make nails more flexible. "Your nail concerns will determine which will be best for you," she says.
Ease of use: Application-wise, there are several different types of nail strengtheners. Some are painted on like nail polish and can even be used as a protective base coat so that you can strengthen your nails while rocking a chic manicure. Others are topical serums and creams that you rub in. Every product will have different recommendations on how to use it, and how often, so you'll want to check those out before committing to a strengthening product. If you know you won't keep up with rubbing a cream onto your nail beds three times a day, maybe stick to something you can paint on under a manicure once a week.
Value: Nail strengtheners come in a range of price points––this roundup alone ranges from about $4 to $32. But a more expensive product doesn't necessarily mean it will work better, and a higher price tag might mean you don't use the product as often as is recommended. Check out product descriptions and consumer reviews to help you find a strengthening product in your price range that addresses your nail concerns.
Best overall nail strengthener
Key ingredients: Glycerin, hydrogenated jojoba oil | Usage: Daily | Size: 1 ounce
This bestselling nail strengthener has customers singing its praises (in the form of online reviews, that is). In addition to delivering results, this restorative cream is said to have a pleasant coconut scent, which is a welcome change from the strong chemical smell that often accompanies nail products.
FULL REVIEW: One former Shop TODAY editor, whose brittle nails were prone to splitting, says the Hard as Hoof cream strengthened them in less than a week.
Best budget nail strengthener
Key ingredients: Keratin amino acids | Usage: Every three days | Size: 0.55 fluid ounces
With more than 26,000 verified five-star ratings, shoppers clearly love and trust this No. 1 bestselling nail treatment on Amazon. Claiming to improve the state of your nails in just three days, this strengthener contains a keratin amino acid treatment that absorbs right into your nails.
One verified reviewer on Amazon reported that this product does everything the packaging claims, and that it smoothed out ridges (caused by long-term damage) on their nails.
Best nail strengthener for peeling nails
Key ingredients: Celery seed extract, flora complex | Size: 0.46 fluid ounces
Before going in with Olive & June's popular (and stunning) polishes, you can prep your nails with the brand's strengthener, which is said to increase overall nail strength by 77 percent (on average). The brand says it also acts as a primer and works to keep your manicure intact for an additional two to three days.
Key ingredients include celery seed extract (which is supposed to help heal and condition the nail surface, leading to less peeling, white spots and ridges) and a nourishing flora complex.
Best base coat nail strengtheners
Key ingredients: Glycerin, biotin | Size: 0.46 fluid ounces
If you frequent the nail salon or love painting your own nails, add this base coat to your collection to protect them! Some Ulta reviewers say it helped make their nail polish last longer in addition to strengthening their natural nail.
Key ingredients: Keratin, botanical extracts, sunflower seed extract | Size: 0.47 fluid ounces
This hardening treatment might be your ticket to achieving healthier looking nails. The formula is infused with keratin, which hardens and protects nails from splitting, as well as botanical extracts (including kale), which nourish and brighten. Think of this product as a green juice for your nails.
One Sephora reviewer said that this product revived their weak, peeling nails (a result of "too many gel manicures"), provided a "super smooth base" for polish, and has a brush that's is perfectly shaped and easy to use.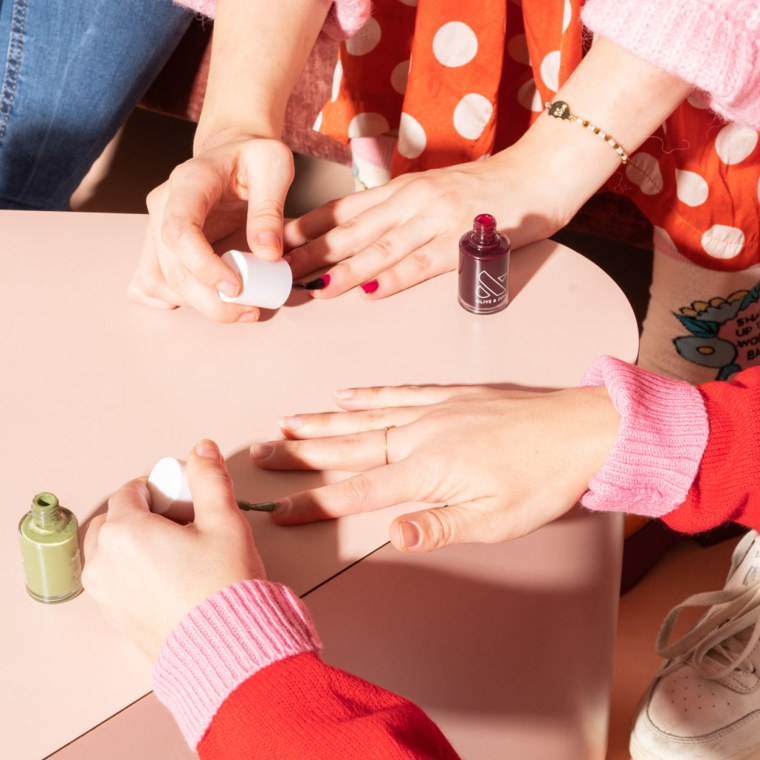 Best pre/post acrylic nail strengthener
Key ingredient: Tosylamide/formaldehyde resin | Size: 1.6 fluid ounces
OPI is a trusted brand in the nail scene, and its nail strengthener does not disappoint, according to many Amazon reviewers. This is a two-in-one base coat and nail strengthener, so it's like you're getting two products for the price of one. One verified reviewer on Amazon uses this product with OPI's cuticle oil to strengthen their brittle nails.
Key ingredients: Calcium, hydrolyzed wheat and soy proteins | Usage: Every other day | Size: 0.46 fluid ounces
If you can't bear the thought of naked nails, try swapping out your standard base and top coat with this multitasking product. According to the brand, this product can be used as a base coat to seal in moisture, collagen and fatty acids on your nail plate; it can also be used as a top coat to protect your manicure from chipping or peeling.
One verified Amazon reviewer, a chronic nail biter, described this product as a game changer for strengthening and growing natural nails. "It makes the nail thicker and harder and prevents it from breaking," they wrote.
Key ingredients: Biotin, vitamin B, calcium, horsetail extract | Size: 0.2-0.4 fluid ounces
Biotin, vitamin B, calcium and horsetail extract are just a few of the nail-loving ingredients included in this Butter London base coat, which is designed to fortify, restore and rescue weaker nails. One verified Amazon reviewer noted that this product has helped with nail damage after an extended time using gel manicures.
Best nail strengtheners for splitting nails
Key ingredients: Hydrolyzed protein actives, vitamins A, C and E | Size: 0.45 fluid ounces
This Sally Hansen nail strengthener comes highly recommended by Dr. Lamb, who's also an associate professor of dermatology. Its key ingredients help reinforce and resist damage to your nails.
Key ingredients: Hydrolyzed wheat protein, balm mint, horsetail extract, chamomile flower extract | Usage: Every other day | Size: 0.6 fluid ounces
If you suffer from peeling or splitting nails, this is the reparative nail strengthener for you. It's a protein-enriched product that can be used as a base coat or as the only coat on your nails. Orly's signature gripper cap and wide flat brush make application a breeze.
Key ingredients: Keratin, crystal resin tears | Usage: Two to three times per week | Size: 0.16 fluid ounces
Lamb highly recommends Mavala's products, including this keratin nail hardener. Promising to harden the nail plate by reinforcing it with crystal resin tears, this is a great product if you suffer from breakage. Amazon shoppers love it, too — it currently has nearly 5,000 verified five-star ratings.
Key ingredients: Vitamin E | Size: 0.45 fluid ounces
Formulated for weak, thin and splitting nails, this vegan, vitamin E-equipped nail strengthener has proven to strengthen and improve the health of a lot of shoppers' nails.
"This stuff is magic for my nails," one of them wrote. "It makes them look shiny, healthy, and also makes them feel stronger while they are healing post-acrylics. It's Iike having a pretty and natural shield on your nails."
Best nail strengthener cream
Key ingredients: Keratin, biotin, jojoba, vitamins B and E | Usage: Two-three times daily | Size: 1 ounce
If you prefer a cream over a liquid-based nail saver, try this strengthener from Barielle. This cream was originally formulated for the hooves of million-dollar racehorses, but was then reimagined for the jockeys — and is now available for everyone.
One reviewer who made a verified purchase on Amazon noted that this "effective nail treatment" absorbs quickly into their nails. "It lives on my desk now, and I rub it into my fingernails while on a long phone call."
Best nail strengthener serum
Key ingredients: Argan oil, vitamin E, apricot oil | Size: 0.25 fluid ounces
If you want to add some opulence to your nail routine, consider this active oil serum from Dior that protects and hardens keratin in your nails. It's jam-packed with active ingredients and has a soft precision brush tip that makes it easy to place a drop on each finger before gently massaging the product in.
Best nail strengtheners for cuticles
Key ingredients: Cationic hyaluronic acid, pistacia lentiscus gum (promotes keratin) | Size: 0.08 fluid ounce
People claim to have harder, more hydrated, less brittle nails within just 14 days of using this product from Isdin. It includes silanediol salicylate (which promotes silicon growth in your nails), pistacia lentiscus oil (which promotes keratin growth) and cationic hyaluronic acid (which helps moisturize your surrounding cuticles).
Key ingredients: Celery seed extract, rosemary leaf extract, tea tree and sunflower seed oils | Usage: Nightly | Size: 0.68 fluid ounces
Made with nourishing ingredients like celery seed extract and rosemary leaf extract, this nail and cuticle serum might just have it all. One reviewer mentioned how much this product helped their nails, noting, "My nails began feeling smoother and frayed less within three days. Now, I use it twice a day and my nails look and feel healthy for the first time in 40 years. I bought another bottle the next week just to make sure I don't run out."
Questions about nail strengtheners, answered by experts
What causes brittle nails?
According to Lamb, damaged nails can signify different things in different people. "Nails often manifest vitamin deficiencies or can be a normal sign of aging," she says, adding, "Eczema or psoriasis can be found in the nails, too. Often, when a patient has been diagnosed with psoriasis, the first place I look is their nails."
However, our nail thickness, hardness and growth is often determined by our genes. Lamb compares this to the way our hair grows since they're made up of a similar type of protein. "For the same reason some people have curly [or straight] hair, [and] some people grow long or short [hair], it's all dependent on genes," she explains. "But there can also be pathology problems with your nails: paronychia, fungus, yeast or eczema."
Be cautious not to misinterpret nail health with nail diversity, though. "Sometimes there are just normal changes," Lamb says. "For example, I have fast-growing thin nails, [while] some people have thick, durable nails [that] grow slow." If you're concerned about the growth or texture of your nails, a dermatologist can help steer you in the right direction.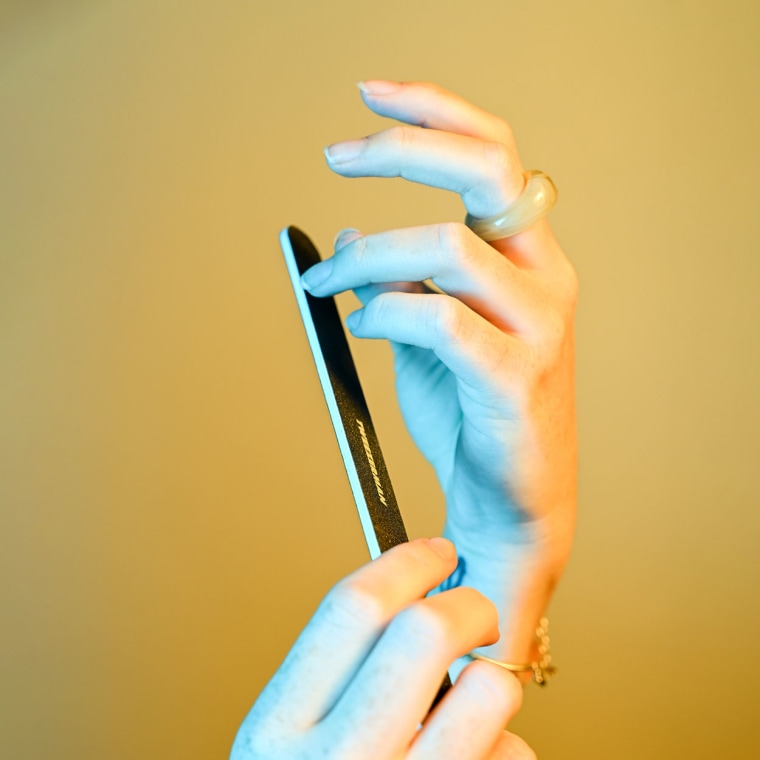 How can I make my nails stronger and thicker?
First things first, Lamb says to make sure you're not vitamin deficient. A diet that lacks key nutrients like biotin, iron or magnesium can result in brittle, thinning nails. Mian adds protein, vitamin B12 and vitamin D to the list of nutrients that can help make your nails stronger and healthier.
Additionally, Lamb advises ensuring that your nail technicians are keeping their equipment sanitized and clean. She also mentions that lacquers and nail hardeners are great for daily use. "Nail polish doesn't always thin your nails; it can act as a very good protectant," she explains. Castor oil, which is rich in vitamin E, can also be used to strengthen and moisturize nails at home, according to Mian.
How many times a week should I use nail strengtheners?
The answer to this question will depend on your nail concerns and the type of strengthener you use. In general, Mian recommends using nail hardeners just once a week, while nail hydrators can be used every few days. The reason? "Buildup of nail hardener can cause the nail plate to become too hard and lead to breakage," she says. (If you're looking for more ways to hydrate your hands and cuticles, check out our product picks.)
Meet our experts
Dr. Angela Lamb, MD, is a certified dermatologist and associate professor at Westside Mount Sinai Dermatology. She specializes in acne, hair loss, eczema, skin cancer detection and more.
Dr. Kiran Mian, MD, is a medical and aesthetic board-certified dermatologist at Hudson Dermatology & Laser Surgery. She specializes in hair, skin and nail concerns, but also has "a passion for total body wellness and science over trends."