When you're trying to save money, reduce waste, keep your food fresh for longer, or do some level of meal prepping for health or time-saving purposes, every season is leftover season.
If you've ever packed a school or work lunch, you know that having good containers is a game changer because they prevent leaks, spills, BPA contamination, melting in the microwave or dishwasher, mold accumulation in hard-to-reach crevices, and other unnecessary headaches.
Having good storage containers for pantry items is also important: The right containers will keep your dry ingredients in good shape for longer, whereas sub-par containers will allow dry goods to spoil or lose flavor and nutrition quickly.
So how do you separate the high-quality ones from the mediocre? Read on to find out how to choose the best storage containers for your needs, and see our 18 top picks for storing leftovers, meal-prepped food, pantry items and more. Or, use the links below to jump to a specific category.
How we chose | Best glass | Best for spices | Best plastic | Best plastic pantry option | Best glass pantry option | Most versatile | Best oven-safe | Best stackable | Best splurge | Best insulated | Best bento-style | Best universal lids | Best for meal prep | Best stainless steel | Best for baby food | Best for pet food | Best extra-large | Best long-term | Honorable mention | What to look for | FAQs | Meet our expert
How we chose the best food storage containers
To come up with our final list, Shop TODAY looked at trending options and trusted brands. We look at: affordability, user-friendliness, designed purpose, ease of storage, ease of cleaning and other helpful feature. I also made sure to factor in verified customer reviews and average star ratings.
Plus, our team also tapped trained professional chef, cookbook author and TV personality Carla Hall (of "Top Chef" and "The Chew" fame) to get her insights into how to best store food at home, as well as what she looks for in food storage solutions.
Finally, I used my several years of experience as a personal chef, caterer and recipe developer, as well as my lengthy stint in the restaurant industry, to inform my selection. As someone who's cooked and crafted recipes in small kitchens and cramped spaces all over the world, I know the importance of having quality food storage containers on hand.
Best glass food storage containers
What we love: Incredibly durable, oven-safe
Something to note: On the heavy side
Whenever possible, Hall says she prefers to use see-through containers that use either BPA-free plastic or glass — "I love using glass jars." One glass set we highly recommend is this set of on-the-go glass containers that are beloved by magazine editors and consumers alike.
They've been thoroughly tested — dropped, placed in bags on their side, heated and frozen — and they hold up every time with no leaks, thanks to the snap-lock tops. They are BPA-free and safe for the oven, freezer and microwave, so you can cook, store and reheat all in the same container, and then clean them in the dishwasher.
RUNNER-UP: Shop TODAY sales editor Rebecca Brown swears by OXO's similar Smart Seal glass container set: The pieces are also leakproof due to their snap-lock lids, but most of all, "I love this set because Lead Safe Mama tested it for lead and it's actually lead-free," she says.
Best spice storage containers
What we love: Affordable for such a complete set, come with helpful labels (some pre-written)
Something to note: Some say included funnel is not helpful, relatively small capacity
When it comes to storing spices, Hall also prefers glass — one reason being that she "[appreciates] finding products that creatively help me keep food stored and organized well — so items where I have a place to write/date food are fantastic," she explains.
For an affordable option that offers all the features Hall looks for, we recommend this 24-piece set — which has an average star rating of 4.8, and is the No. 1 bestseller in Amazon's Condiment Pots category.
Reviewers say the glass is quite durable, and the set comes with hundred of labels (some pre-printed!), a collapsible funnel, shaker lids and metal caps.
RUNNER-UP: We also love the rustic look of Target's Hearth & Hand 12-piece 3-ounce glass jar set, which features wooden clamp lids that a few reviewers say are tight and secure (though others say they wish they were larger). Or, if you have a bit more budget to splurge, these gorgeous Hold Everything Spice Jars from Williams Sonoma, which come in singles or up to 12 pieces, have a unique ash wood lid, are made of durable glass and stack neatly for easy storage.
Best plastic food storage containers
What we love: Free of BPA, BPS and BPF; very stackable
Something to note: Lid crevices can be hard to clean, questionable microwave safety
"The storage set for the refrigerator that I use most now has tops that pop open in places, so that the steam can be released when reheating food in the microwave," Hall says. Like her set, we like these microwave-friendly containers from Rubbermaid for their built-in microwave vents under the latches.
Plus, these have the benefit of being more lightweight and shatterproof than the typical glass container. Poor-quality plastic containers usually come with the downsides of staining easily, melting in the microwave or dishwasher, and containing BPA — but this particular set is BPA-free, leakproof and very airtight. It comes in a variety of sizes for carrying everything from dressings and sauces to mains and sides in their own containers.
STAFF REVIEW: "I have a bunch of the Rubbermaid Brilliance containers. I like to pack lunches for work in them because they're lighter than my glass storage containers. They also never leak." — Francesca Cocchi Zabloudil, Shop TODAY branded commerce editor
Best plastic food containers for pantry storage
What we love: Great for an organized, aesthetically pleasing pantry
Something to note: Unclear if plastic contains BPF or BPS
One of Hall's top criteria when looking for storage containers is that they're clear; "[they] ensure that I always know what is inside at a glance, and when I might need restocking of items," she explains.
OXO's set is high-quality and fits the bill. And before you scoff at the price, think about how many times you've found a bug in your sugar or flour, or had brown sugar harden from exposure to oxygen. This BPA-free plastic set includes 10 containers and lids in different sizes; the largest can hold a 5-pound bag of flour or sugar. They all have airtight seals, so they're perfect for keeping dry goods fresh for longer.
Best glass food containers for pantry storage
What we love: Takes up a very small footprint when stacked, ultra-tight seal (which makes them slightly difficult to open)
Something to note: The dressing inserts seem unnecessary since these likely won't be used for lunches much
These brightly lidded Beyond Jars from Pyrex are no ordinary jars, though they may seem it. Made of strong tempered glass, the containers (and their lids) are safe for the microwave, freezer and dishwasher. With the lids screwed on, the containers are extremely airtight and leak-proof — to the point where Shop TODAY associate editor Fran Sales has trouble opening them almost every time. (This is either a ding or a benefit, depending on how you look at it.)
The jars are also said to be odor-, flavor- and stain-resistant, and while Sales wasn't purposefully testing for these, after several months of regular use, they still check off all three boxes.
But the biggest advantage of these jars is that when stacked, they take up pretty small real estate in a pantry, fridge shelf or cupboard, so whether you're storing bulk goods like rice, flour or batch-cooked soup in a freezer, you'll have a more organized storage space and your items will stay protected and out of the way.
The brand says these jars are designed to be used for salad lunches; each lid comes with a detachable half-cup and quarter-cup inner container to hold dressings, toppings, sauces and more. In Sales' experience, these worked as advertised, but she didn't use these jars for lunches nearly as much as she did for food storage (not only are the mouth openings a bit narrow — even though they're wider than a regular mason jar — but they're also quite heavy).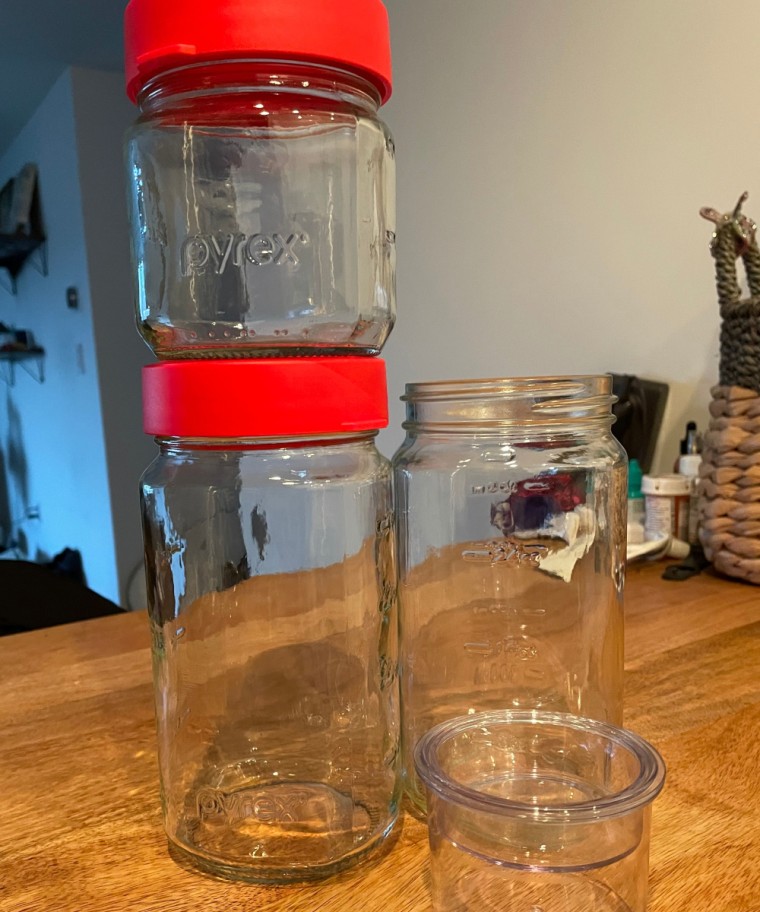 Most versatile food storage containers
What we love: Environmentally friendly, super versatile, actually leak-proof
Something to note: Expensive up front (but worth it); can be tough to open and fully close if you have mobility issues
In addition to glass and non-toxic plastic containers, "I also like re-usable silicone bags for food storage," Hall says. Stasher's bags, which come in varying sizes and shapes, has been raved about by pros and home cooks alike for a reason.
One is their versatility. Aside from being colorful way to store food in the fridge or to pack lunch and snacks to work, these BPA-free silicone bags are safe to cook with in temperatures of up to 425 degrees Fahrenheit (about 218 degrees Celsius) — and that can mean in the microwave, oven or even sous vide!
They're also safe for the freezer and dishwasher (though using a bottle brush for tougher stains is recommended), and they come in versions that stand up, and ones that open up into bowls.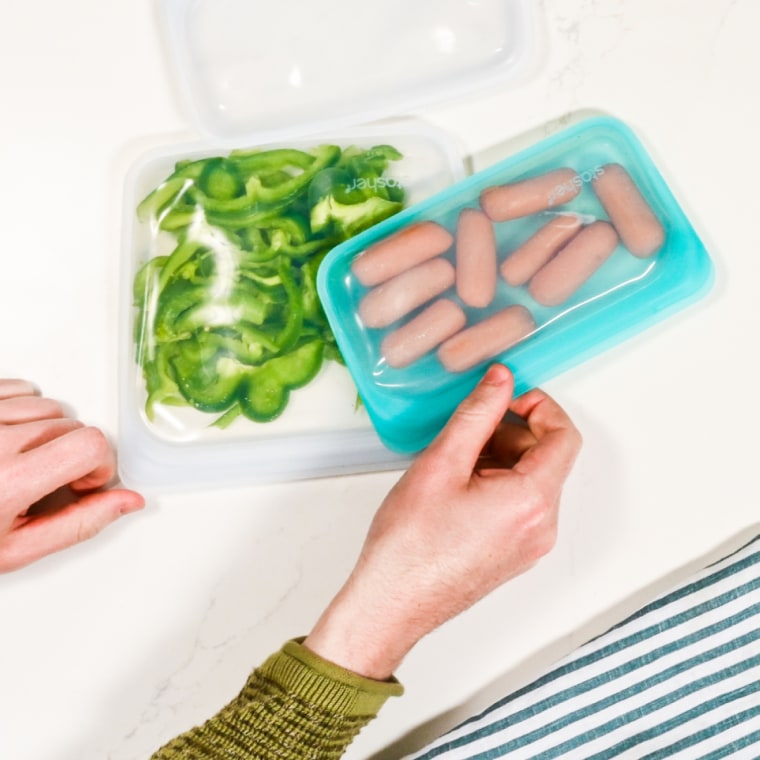 Best oven-safe food storage containers
What we love: Highly reputed brand for quality tempered glass
Something to note: Lids can sometimes come off
This set is a classic because it's so durable and high-quality. The tempered glass is safe in not just the microwave and dishwasher, but also the oven, so you can bake right in the same containers that you transport and store your food in. The lids fit snugly without being too difficult to put on and take off. I remember bringing these containers to potlucks as a kid, and I'd still gladly use them today.
If you need an extra-large container for bulk-cooking, there's a Pyrex for that, too, that Yang recommends: the 8-cup Freshlook Food Storage Container. "I like it since it's glass (easy to wash) and the lid is airtight, which I feel like makes the food stay fresh for longer," she says.
STAFF REVIEW: "Since storage is limited in my NYC kitchen, I needed food storage containers that could do more than your average tupperware. Not only do I use mine for leftovers, but I've baked smaller cakes and deserts in them in the oven and air fryer. Overall they are totally worth the money and I will have them for years to come!" — Camryn Privette, Shop TODAY production coordinator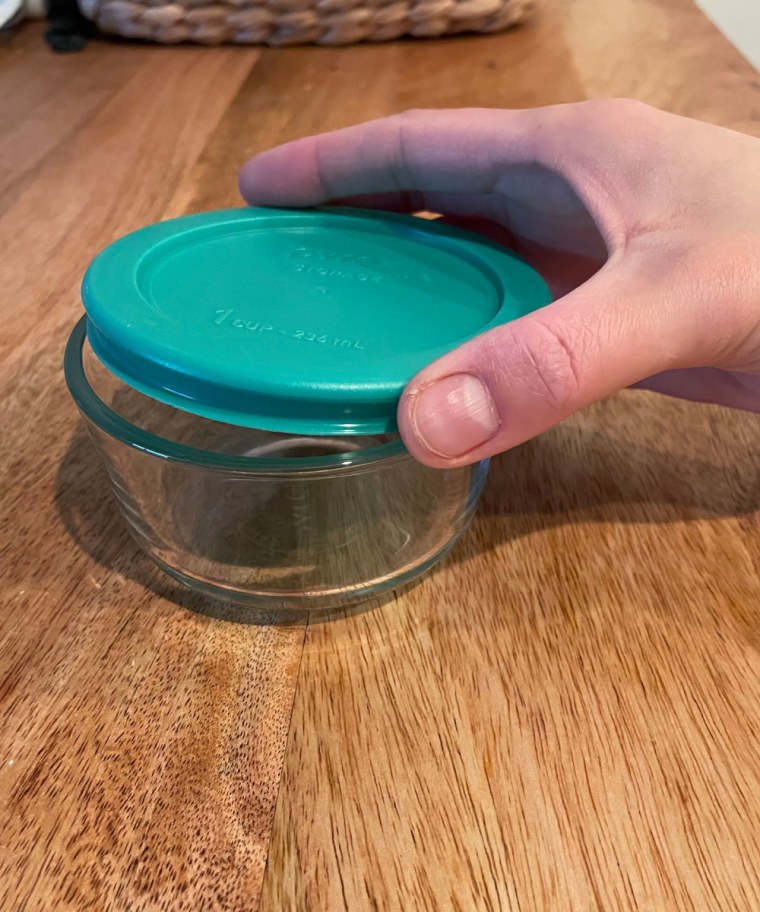 Best stackable food storage containers
What we love: Color-coded, comes with nesting ice pack
Something to note: Plastic may contain BPF or BPS
One of the most annoying things about food storage containers is storing them when they're not being used (not to mention finding their corresponding lids). This lightweight, airtight, dishwasher-safe and BPA-free plastic set nests together for compact and easy storage.
STAFF REVIEW: "These are surprisingly sturdy. I typically plate leftovers after heating them up in a Tupperware — but I'm literally eating out of one of these right now because it is as sturdy as a plate!" — Fran Sales, Shop TODAY associate editor
Best splurge food storage containers
What we love: Comes with storage organizers and inserts for smaller items like dressings; oven-safe; easy to clean
Something to note: Expensive, not suitable for liquids
For another fantastic nontoxic option that's free of bisphenols, PFTEs and PFAs, this ceramic-coated glass set is extremely high-quality.
I was concerned about the lids staying on while on the go, but the set comes with two container straps to keep things secure, and the lids themselves create a solidly airtight seal. You still can't use these to transport liquids like soups, which is their biggest downside, but they're still a beautiful option that's safe for the freezer, microwave, dishwasher and oven.
Best insulated food storage container
What we love: Easier opening and closing than a traditional thermos, perfect for soups
Something to note: Expensive for one container
Dread standing in line for the office microwave? Worry about your lunch getting stolen from the communal fridge? Skip all that with this thermos bowl, which keeps hot foods warm for up to seven hours and cold foods cool for up to nine hours. It's leakproof while still being kid-friendly and easy to open. Since its interior is stainless steel, it's BPA-free.
RUNNER-UP: It's not insulated, but we think it's an equally worthy lunch contender — Shop TODAY's commerce insights associate Anna Yang recommends Ello's 3-cup glass container: "The lid is leakproof and seems very durable (don't have trouble with it; dont see any noticeable wear and tear). I also like the silicone sleeves, so I dont worry as much about it slipping around or cracking easily." Plus, you get an extra 10 ounces of capacity.
Best bento-style food storage container
What we love: Convenient, keeps foods separated
Something to note: Not ideal for soups/liquids, unclear if plastic contains BPF or BPS
This helps transport all your lunch essentials in one sleek and lightweight unit. The Bentgo lunch box comes with two stacked containers, one of which has two compartments, as well as a fork, spoon and knife. It's a very compact way to pack to-go meals for kids or adults, and the components are held together by a carrying strap to prevent spills. The plastic containers are also microwavable, dishwasher-safe and BPA-free.
STAFF REVIEW: "I love my stackable Bentgo! The bottom compartment is big for the main part of my meal, and the top one is sectioned off so I can keep my foods separate. Also love that it's all microwaveable and comes with utensils! Perfect for my office lunch." — Emma Stessman, Shop TODAY associate editor
Best universal lids for food storage
What we love: Fits most container shapes and sizes, convenient for minimizing waste
Something to note: Can rip if stretched too thin
Turn regular bowls and even full-sized pots and pans into storage containers without wasteful foil or plastic wrap. These seven silicone lids provide an airtight seal on leftovers without creating more dirty dishes. They're dishwasher and microwave-safe, so they can stay on while reheating food.
Silicone is more food-safe and eco-friendly than plastic, and it's free of BPA as well as potentially harmful BPA alternatives. If you have any containers with missing lids, this is a much better solution than throwing them out.
Best food storage containers for meal prep
What we love: Uniform sizing for consistent portions, easy to grab and go
Something to note: Plastic may contain BPF or BPS
These are perfect for meal prep because they're uniform and lightweight, making it easy to cook a week of meals ahead of time and then store and reheat them in these double-compartment plastic containers. While they aren't meant to last forever, it's possible to get great mileage out of these stackable containers that are safe for both the microwave and dishwasher. They're also BPA-free and come in a set of 20 containers with lids.
RUNNER-UP: For something that's a little sleeker and has a less of a "food delivery" vibe, go for customer-loved Bentgo's pack of 10 — you get half as many pieces, but these have three compartments.
Best stainless steel food storage containers
What we love: Removable compartment divider, won't shatter like glass, lightweight
Something to note: Not microwave-safe, expensive for one container
Stainless steel has been very popular for storing and serving food in South Asia for years; it's durable, BPA-free, eco-friendly, freezer-safe, stain and odor-proof and easy to clean by hand or in the dishwasher. This container has two compartments for packing a bento-style lunch, and the airtight lid clicks on securely to prevent leaks and spills.
Best storage containers for baby food
What we love: Perfect for packing lunches, game-changer for making homemade baby food
Something to note: Lid crevices can be hard to clean
Whether you make your own baby food or often have store bought baby food leftovers, these glass containers are great for freezing, microwaving and packing baby and toddler-sized portions to go.
Full-sized containers can be frustrating for baby food because they don't allow you to thaw out the small portions you need at a time, so these containers are as useful as they are airtight and durable. This set of six containers with lids also works perfectly for portioning out dressings, sauces, snacks and desserts for all ages.
Best storage containers for pet food
What we love: Also suitable for cat litter, rolls on wheels for easy moving
Something to note: Some alternatives are more airtight
Pet food storage is unique because it often requires more space than standard containers offer, and it has to be incredibly secure to prevent pets from breaking in. This durable plastic container is both affordable and effective compared to other popular options, and it comes in three sizes, depending on how much pet food you need to store at a time. It's BPA-free and airtight for freshness and smell containment.
Best extra-large food storage containers
What we love: Stackable, keeps foods fresher than their original bags or containers
Something to note: Plastic may contain BPF or BPS
For avid home bakers wondering where to store flour, look for "something that is large enough to aerate the flour and fill a measuring cup," Hall advises.
We suggest looking to these two extra-large plastic containers, which big families and bulk buyers will also find use for. They can store up to 6.8 quarts each of pantry staples like rice or flour. They're BPA-free and airtight enough to keep your ingredients fresh for longer, while also being very easy to clean. They come with a set of labels so that you always know what's inside.
Best food storage containers for long-term storage
What we love: Great for freeze-dried or dehydrated foods, great for hiking and camping
Something to note: Can be chewed through by pets and rodents
Whether you're preparing for an emergency or living off the grid, you might want to consider utilizing these mylar bags with oxygen absorbers. Mylar bags are a lightweight and inexpensive way to keep food fresh by blocking out light, moisture, oxygen and bugs. You can either keep out oxygen by using the oxygen absorbers provided, or you can go a step further and vacuum-seal them.
Honorable mention: What we also considered
VERDICT: Pretty and lightweight, but don't feel as sturdy, roomy or space-efficient as some of our other similar picks
Associate editor Sales also gave this storage set from cult-favorite Our Place a whirl (pun half-intended: She can attest they're safe for the dishwasher). The three glass pieces range in capacity from 1.5 to 4.25 cups, and the translucent colors are pretty, but nothing else about them stood out in particular to Sales.
"I like that they're super lightweight so that I wasn't weighed down when I used them to pack lunch. But the lids aren't microwave-safe (at least in my experience), and they aren't particularly leak-resistant. I also don't find them as useful for things I tend to use regular Tupperware for: The smallest container isn't good for much besides maybe leftover sauces or a couple of bites of something you want to save for tomorrow, and the middle container isn't big enough for things I reached to it a few times for, like a few handfuls of chopped celery (I had to grab a larger Rubbermaid container for that).
"The large 4-cup container is good for maybe a big serving of pasta or rice for lunch, but it's also tall, so some things you may want to store in that amount of space, like maybe a couple slices of pizza, won't fit properly," Sales notes.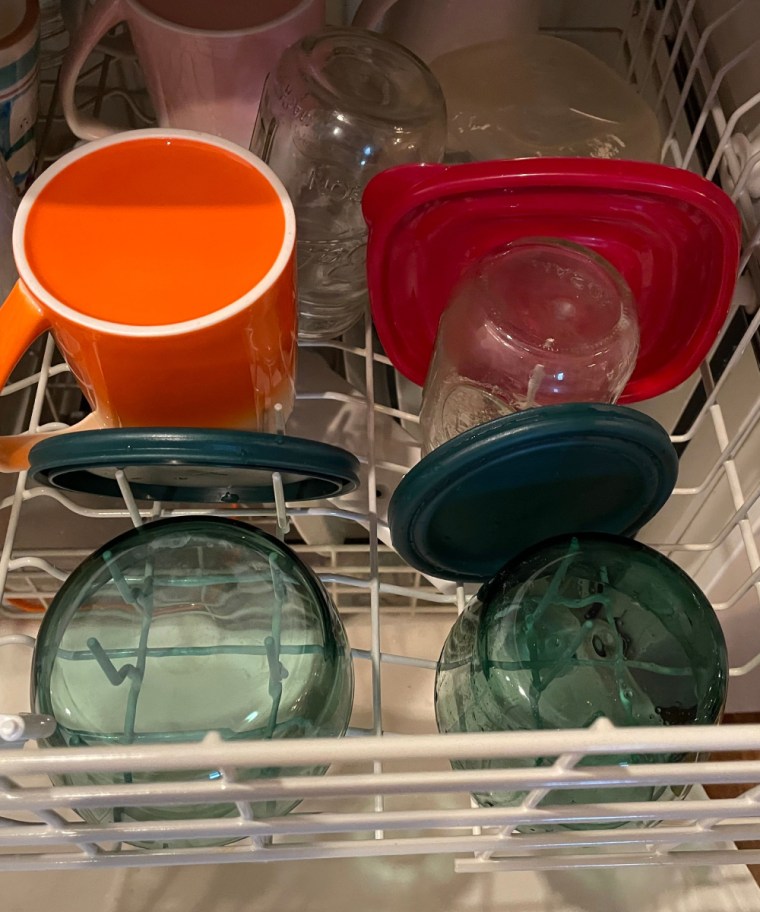 What to consider when buying food storage containers
Purpose
The best container options for you will be largely determined by what you want to use them for — for instance, the best containers for storing bulk items in the pantry are different from the best containers for meal prepping.
Depending on what you're doing, you may want to look for options that are safe for freezing and/or reheating, or options that can keep dry goods fresh at room temperature for as long as possible. Or, you may want to look for items that are compact and space-saving, or items that are perfect for packing school or work lunches.
If you're going to be storing liquids like soups, you'll need to find containers that are spill-proof, whereas containers for solid items don't need to be as secure.
Storage space
Collections of food containers can take up a frustrating amount of storage space when not in use, and the process of trying to store them neatly and still be able to find their corresponding lids can quickly become chaotic. Luckily, some container sets are designed to be stored in a compact and organized way by nesting, stacking or locking together, which can make life much easier.
You'll also want to keep in mind how much space your containers will take up while in use, especially if you have limited fridge, freezer or pantry space. Some containers stack more easily than others, and rectangular container shapes are usually able to fit more compactly than round ones.
Reheating options
If you plan on re-heating your food in your storage containers rather than transferring it to a bowl or plate first, you'll need to keep in mind that some containers are microwave-safe (glass and silicone), while others are not (stainless steel). As mentioned above, we don't recommend microwaving plastic, BPA-free or not, due to the risk of other potentially harmful chemicals like phthalates and other bisphenols leaching into your food.
If you want to re-heat your food in the oven or toaster oven, only tempered glass like Pyrex, some aluminum and some stainless steel containers are oven-safe. Make sure to double-check the oven-safe status before putting any container in the oven.
Budget
Some types of containers tend to be more affordable than others — with plastic options usually falling near the lower end of the price spectrum, silicone falling near the middle, and glass and stainless steel falling near the higher end. With food storage, you do tend to get what you pay for, so most of the cheap options tend not to be nearly as well-made.
For a zero-waste and budget-friendly glass option, you can save glass jars from packaged foods like pasta sauce and pickles. That being said, it can be annoying and sometimes impossible to get your food into those narrow jar openings, so having at least a few storage containers on hand is ideal.
If you're looking for affordable stainless steel options and live near any Indian grocery stores, we recommend looking there (and getting some great South Asian groceries while you're at it).
Ease of cleaning
Some food storage container options accumulate stains easily and are not as easy to clean, whereas other options are stain-resistant and easy to clean in the dishwasher or by hand. Materials that tend to pick up stains more easily include plastic and silicone, whereas glass and stainless steel are more stain-resistant.
Glass, silicone and stainless steel options are almost always dishwasher-safe, whereas with plastic ones, you have to check if they're dishwasher-safe on the top rack or in general.
Some container lids have crevices or removable silicone rings where mold and food particles can build up. Those designs tend to make the containers more airtight and secure, but make sure you're removing those rings and cleaning in those crevices to get those lids completely clean and sanitary.
Questions about food storage containers, answered by experts
Is it better to store food in glass or plastic?
Glass and plastic storage options both have their pros and cons.
Plastic tends to be more affordable, more lightweight and less prone to shattering if dropped. On the other hand, glass is free of BPA and similarly harmful BPA alternatives like BPS and BPF that can leach into your food; that means it's safer for freezing, microwaving and overall use. Many plastic storage containers nowadays are designated as BPA-free, but don't disclose whether or not they contain BPS or BPF.
Some containers are labeled as being BPA, BPS and BPF-free, but even in those cases, medical professionals advise against heating food in plastic due to the leaching of additional harmful compounds like phthalates.
If you're concerned about chemical leaching — especially if you like to freeze and/or reheat foods in their storage containers — glass containers can be a worthwhile investment. Glass also doesn't run the risk of melting or staining the way that many plastic options do, and since it's non-porous, it tends to keep food fresher for longer.
But if you're on a limited budget or have accident-prone kids who drop things a lot, plastic may be the most reasonable choice for you. If neither sound good to you, there are silicone and stainless steel options that don't pose the risk of chemical leaching or shattering when dropped.
How do I organize my pantry? How about empty food storage containers?
Hall advises to avoid stacking. Instead, "I organize by height; if I have a container that is tall, it's in the back. Shorter containers go in front so I can see everything," she says.
If the containers you're storing in a certain section are similar in size, Hall recommends using risers (an example is this one from Amazon). "And by section, I mean I separate my sweet baking items from my savory cooking items," she adds. "I also separate spices by whole/ground/sweet."
For empty food storage containers, Hall has a dedicated drawer. " I organize the bottoms together — stacked, and [I] store the lids on their sides like cards, by size and shape," she explains.
Do you have any tips or hacks for cleaning stains and smells from my containers?
Hall likes Magic Eraser for removing stains. She adds, "You can also sprinkle baking soda in a container and add a few drops of vinegar, and that will loosen stuck-on food/residue then clean." For odors, "you can cut a lemon in half, dip in salt, and use that to scrub the container."
How do I store food long-term?
"Long-term food storage usually means jars," says Hall. It depends on the foods you want to preserve, but methods to significantly extend shelf life include canning and jarring as Hall says above, dehydrating, or fermenting. If you're freezing food, Hall advises to use a vacuum sealer.
For shelf-stable items, you can extend their shelf life even further by keeping them away from heat, light, humidity and any critters that would want to get into them (this is less of a concern for canned goods and more of a concern for items in permeable containers like cardboard boxes). Decreasing a food's exposure to moisture and oxygen will extend its shelf life, and certain products like heavy-duty plastic tubs and mylar bags are designed to make that possible.
Ultimately, very few food items can be preserved indefinitely, and the appropriate preservation method(s) will depend on what you're trying to preserve, for how long and under what conditions. While a jar of cooking oil will eventually go rancid, it will do so more quickly if stored in a hot environment. And whereas fresh tomatoes will last about two weeks in the fridge, they'll last up to 18 months if you can them.
Meet our expert
Carla Hall is a trained chef, television host and personality, and cookbook author. Her cooking and work are informed by the belief that food connects everyone. Hall also recently launched a kitchen line with QVC called Sweet Heritage by Carla Hall, which is geared toward home cooks looking for affordable and durable cooking tools and gadgets.