One year into the pandemic, Martha Stewart is seemingly thriving.
"I have not suffered depression," the 79-year-old entrepreneurial icon told TODAY from her farm in Bedford, New York. "I have not gotten angry or mean. I've had a rather productive year. I've been working really, really hard. I also live in the most beautiful place. I live on a farm, so I can go outside and enjoy fresh air."
But like so many others have during this trying time, Stewart has turned to her animals for comfort.
"There are waiting lists for pets because people really did figure out that house pets are a great comfort, a great addition to the household," she said. "They are wonderful for your children to have a responsibility of taking some taking care of something else. All of that is to me just endemic in this pandemic. It's a wonderful thing that pets have become more beloved."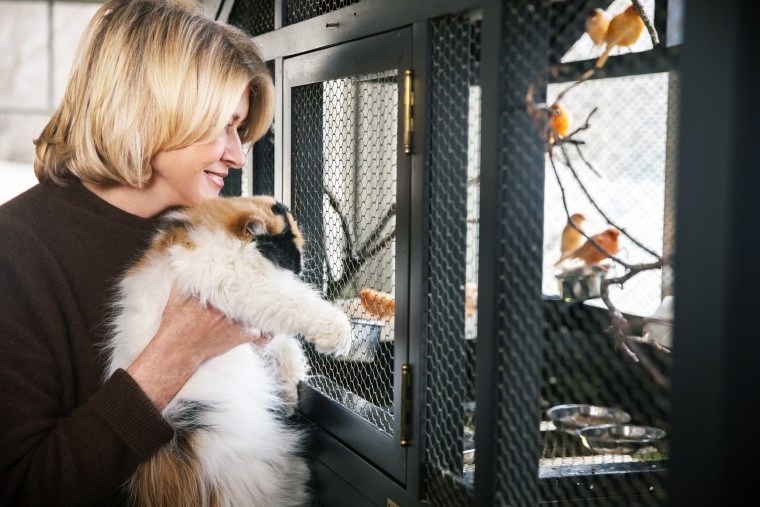 While Stewart recognizes that pet ownership has gone up, she also knows there will always be a helpless animal out there that needs to be adopted.
"There's still a lot of animals in shelters due to the natural disasters we've been experiencing," she stressed. "Like in California and Texas, Louisiana, any place where there's a natural disaster, there are animals for adoption, and I totally support that. That's why I did the Puppy Bowl with Snoop (Dogg) this year."
Three important members of her farm family are her cats. (She used to have nine, but she admits that was too much.) Princess Peony and Empress Tang, calico Persian cats, are sisters. Stewart describes the playful siblings as "gorgeous, "very special" and "players."
"Pet owners are one of the nicest breeds of people."
Martha Stewart
Then there is her greenhouse boy cat, Blackie.
"He found us. He relocated from somewhere — we don't know where," she said. "And he fell into heaven on our property. I have one major conservatory greenhouse that he lives in. He is a hunter. The two lady cats are not really hunters. Blackie actually kills varmints every single day. Somehow he manages to find something to kill, that killer."
In tandem with her partnership with PrettyLitter, Stewart shared three tips on how someone can be the best cat owner they can be.
1. Maintenance of the cat is very important.
Stewart is a staunch advocate for cat bathing, which may surprise some feline owners who can't imagine getting their kitty in the tub for a scrub.
"You take baths! Why wouldn't you want to keep your cat clean?" she gushed. "People who don't believe in bathing their cats, I just don't get it. Cats like to be bathed, especially Persian cats. They like grooming. House cats, I find, if you bring them up right, they absolutely love to be groomed. They love to be washed, nails to be cut, faces to be washed every day, their ears to be cleaned very gently. People don't realize that they don't know how to do that themselves… especially long-haired cats."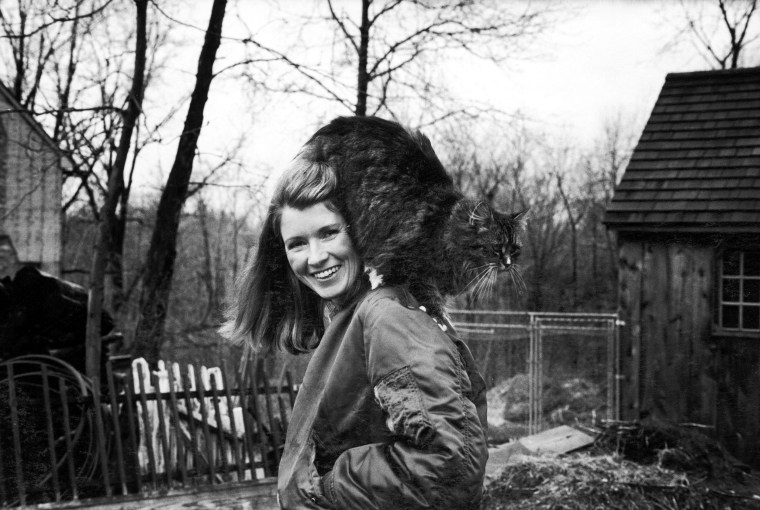 But Stewart stresses that the practice of cat bathing needs to start at a young age. "If they're not brought up with bathing then forget it," she said, "because you're going to have scratches all over your arms and bites on your hands."
Her gardener, Ryan McCallister, even bathes Blackie the farmhouse cat. "Maintenance of the cat is very important," she stressed.
2. Find the spots where your cats will be most comfortable.
Stewart urges pet owners to think outside the box when it comes to creating cozy spots for pets to cuddle up.
"I try to make my animals extremely comfortable," she said. "I put our own Martha Stewart cat bed in patches of sunlight where I know sunlight will appear during the day. So there's one in my little dining room right under two windows where the sun comes beating in during the winter. In the summertime, the sun isn't there, but you have to watch where is the sun, especially if you go to work. If you leave your house, you have to think of your pet and place nice soft towels that will bring them to a spot and let them relax."
She added, "If there's a cozy, cozy spot like near your dryer in your laundry room, create a bed there. They love that."
Even Blackie has a few customized spots, including one on a bench in the henhouse. "He has a favorite bed, too," Stewart said. "We line it with one big bath towel and then we put another towel over the top, and he buries himself between the two and takes his many, many toys under there with him."
3. Invest in better products.
Stewart is teaming up with PrettyLitter, a product she has been a fan of since 2015.
"Litter boxes are notoriously stinky and messy, and I have been looking for years for a litter that eliminates all odor and that doesn't have to be cleaned every day, and that is PrettyLitter," she said. "I have five litter boxes because I don't want them doing anything anywhere but in the litter box, and Persians are a little notorious for being a little inconsiderate."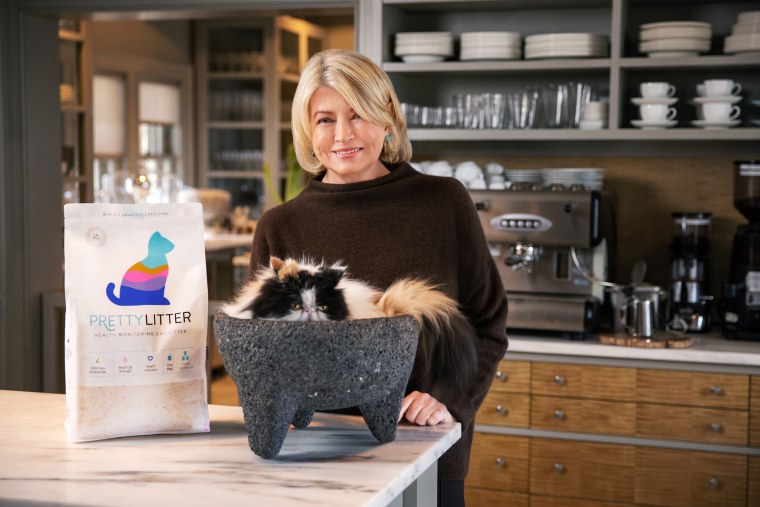 Not only does this kitty litter eliminate odor, but it also keeps tabs on your cat's health by changing color.
"This kitty litter indicates by color if the urine of the cat has a problem," she explained. "So I like to check. Of course, I check my animals; I live with them. I want to make sure that they're absolutely perfect. So either I clean it out or my housekeeper cleans it out, but whoever does it, we pay attention because it will discolor if the cat has a health problem."
Stewart said that in general, pet owners should invest in better products for their pets if they want to be the best owner they can be.
"Pet owners are one of the nicest breeds of people," she said. "Everybody really wants to take the best care of their pets, and I think that learning about new products like PrettyLitter will enlighten people and make them realize that cleanliness and neatness and healthiness is a very good part of pet ownership. I mean, I'm a real pet advocate, as you can tell, and I certainly, certainly believe in the best products for your animals."