If your pantry is anything like mine, there are a couple staples lurking in the back that haven't seen the light of day in months. And if you're like me, you agonize over questions like, "Can I still use the half-empty can of baking powder I bought three years ago?" or "Why the heck is my apple cider vinegar cloudy?"
Don't worry, it happens to all of us. Most times an ingredient is still safe to use, but it's always a good rule of thumb to make sure of that before cooking. Need some help in that department? Here's a useful guide for when you should and shouldn't toss out an ingredient.
Flour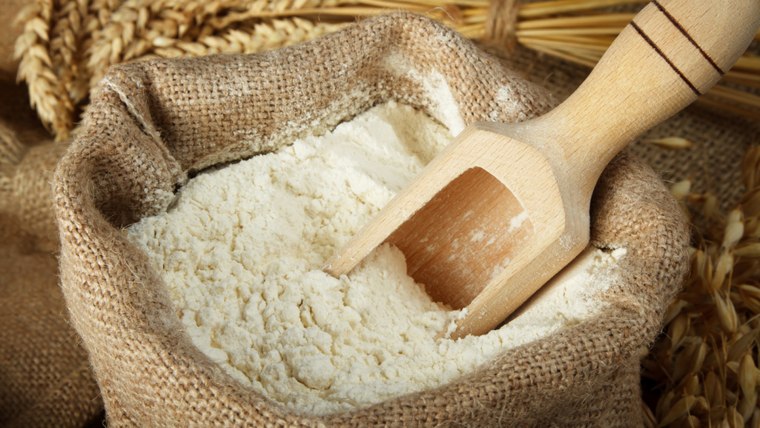 The lifespan of flour depends on what kind we're talking about. Refined flour (white flour) will last a good long time — up to two years — if stored in a cool, dry place. After that? It can take on a sour smell, so into the trash it goes. Another thing to remember: Keep refined flour in an airtight container, otherwise an insect called the flour weevil may find its way in. The female flour weevil loves to lay its eggs under mountains of refined flour, which hatch into rather unappealing bits of added protein. If you find any, toss your flour out.
Whole wheat flour brings its own challenges. Unlike refined flour, it's best stored in the refrigerator, or even the freezer. Even then, it'll only stay good for a few months. Once it begins to smell like burnt rubber or pencil erasers, toss it out, says Rodale's Organic Life. On the plus side? The flour weevil can't digest whole wheat, so it steers clear.
Sugar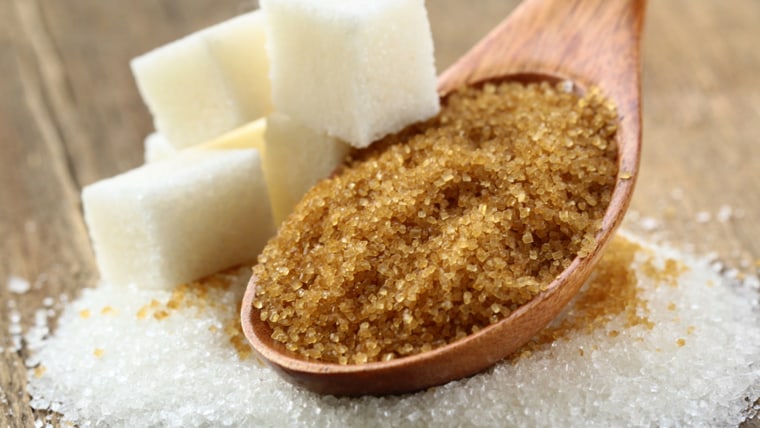 If stored adequately, even old sacks of sugar are probably still good. "Sugar, properly stored (tightly closed and in a dry place), has an indefinite shelf life because it does not support microbial growth," explains Domino Sugar's FAQ page. Don't worry about hardened brown sugar, either — it results from the evaporation of its natural moisture and is still safe to eat.
Still, sugars can attract bugs if improperly stored. If you find a creepy crawly in your sugar, it's time to throw it out and restock.
Olive oil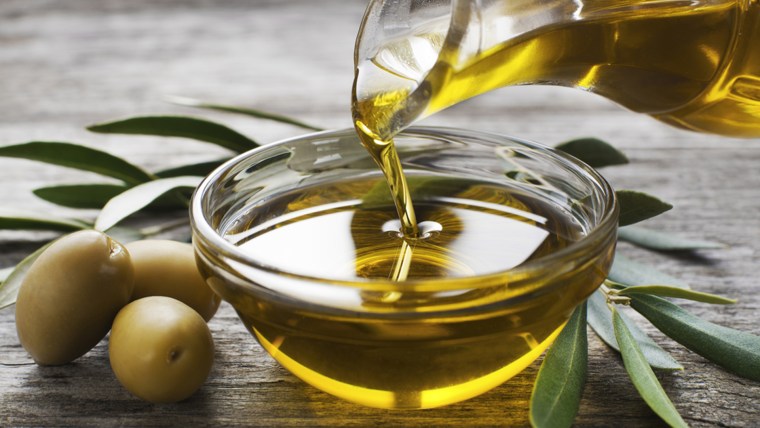 Have a fancy bottle of extra-virgin olive oil stashed away for a special occasion? Don't save it a moment longer. Unlike fine wine, olive oil doesn't get better with age. Over time, it oxidizes and goes rancid. Perry Rea, the owner of Queen Creek Olive Mill in Queen Creek, Arizona, says rancid olive oil will still look the same as good stuff, but its funky taste and smell will be unmistakable.
"Have you ever been to a ballpark and you eat a shell-on peanut, and it has a funky old taste to it? That's rancidity," Rea told us. "The same thing happens to olive oil."
Properly stored away from heat and light in a dark glass bottle, extra-virgin olive oil will stay good for up to a year and a half. Just make sure to actually use it.
Corn meal
Most corn meal sold in the United States is refined, says Jo Robinson in her 2014 cookbook "Food Matters." That means that the hull and germ, which are more susceptible to rancidity, are removed so that corn meal can last a good long time on the shelf. If stored in a cool, dark place in an airtight container (or better yet, the fridge), it'll stay good for about a year. You'll know when it's gone bad when it starts smelling off — a bit like rotting trash — or sprouts unsightly spots of mold.
Corn starch
Corn starch producer Argo says that as long as cornstarch is kept dry and stored in an airtight container, it'll practically last forever. That said, if it looks like it's turned to paste, liquid has found its way into the container and it may be rancid. Throw it out!
Baking powder and soda
Both ingredients are chemical leaveners, which means that they bubble in reaction to high temperatures and certain ingredients, producing perfectly fluffy pancakes and wonderfully airy chocolate cake. Baking powder will remain potent between six months and a year, while baking soda is good for up to two years.
If you're not sure if your baking soda or powder is still chemically active, Food52 has a nifty trick: "All you have to do is drop a little bit of the baking soda or baking powder into hot water (and vinegar if testing baking soda) and look for a bubbling reaction — if there's fizzing, it's still good to use!"
Vinegar
Cloudy vinegar got you down? Don't worry about it. According to the Vinegar Institute, a vinegar trade association, "color changes or the development of a haze or sediment" is "only an aesthetic change." All kinds of vinegar — apple, white wine, balsamic, and so on — last pretty much forever.
Chocolate
It's truly a shame when good chocolate goes to waste. Two things to look for: "Fat bloom," which is when cocoa butter begins to separate and rises to the chocolate's surface, and "sugar bloom," when the sugar crystallizes after exposure to humidity or being moved quickly from cold to hot temperatures. Fat bloom results in white, chalky chocolate, while sugar bloom gives the chocolate a grainy texture. Neither makes the chocolate dangerous to eat, just unappetizing, so toss it out and start fresh!