Summer is almost here, or at least it sure feels like it depending on where you live. If you haven't already done so, this means it's time to break out your beloved sandals, swimwear and, of course, sundresses — the latter being one of my favorite parts about summer fashion. I love how effortlessly chic and put-together a simple sundress looks, not to mention how versatile it can be to style.
Whether you're traveling through a new city, running errands or just heading to the office, chances are there's a summer dress for the occasion. And I found a bestselling option from Amazon that covers all three (and more); it checks all my boxes in comfort and style — and some colors even have pockets(!).
The first thing that caught my eye was how many colors and patterns this skater-style dress comes in — 44 to be exact! (A close second was the No. 1 bestseller banner and the nearly 10,000 ratings.) There's truly a style to suit every taste, from polka dots to flowers to pastels. While my first instinct was to pick my go-to shade of black, I ultimately decided to branch out of my comfort zone for the season and opted for two more colorful options: a deep red floral shade and a white floral shade with burnt orange, pink and lavender hues (which has been such a popular choice, most sizes have since sold out!).
During the summertime, I often lean towards dresses that are breezy and easy to throw on, and this one delivers. It looks amazing with casual white sneakers for running errands or meeting friends for lunch. According to the brand, it's meant to hit around your knee (mine lands just below on my 5'4'' frame), so it's even fitting to wear to work with flats or loafers. Since my office gets really cold, I styled it with an oversized blazer and felt super chic while still being work-appropriate.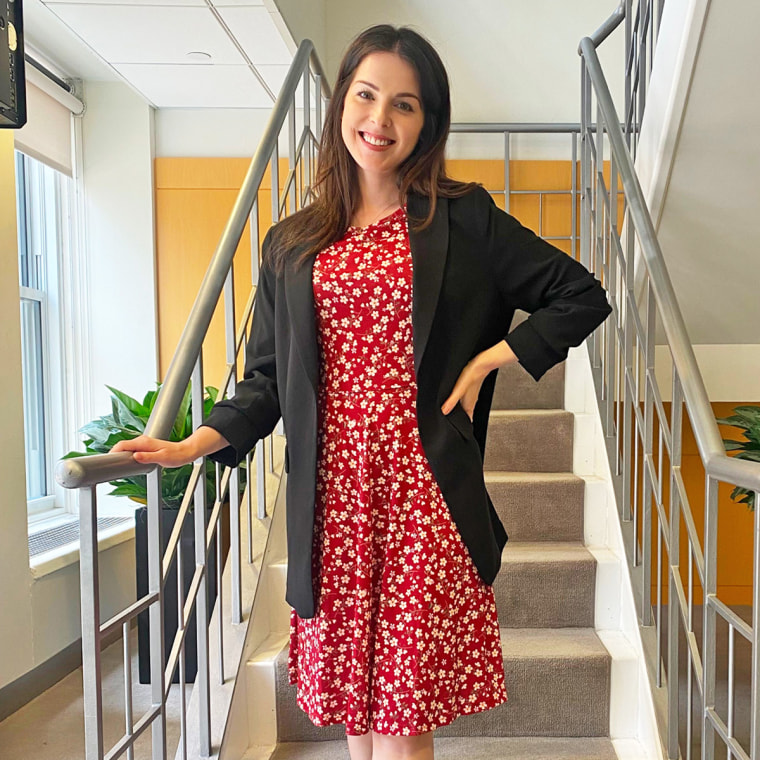 I even think it would make the perfect summer travel dress and plan on bringing it with me on my next trip. It's lightweight, so you can roll it up in your carry-on when you're low on luggage space. It also makes for a great transitional outfit — pair it with sneakers while touring a city during the day, then swap them out with low-heel sandals and a jean jacket for dinner.
For a dress that's under $30, it feels much more expensive than it is. According to the brand, it's made of 95% cotton and 5% spandex, which I found to feel super luxurious and soft (honestly, almost as soft as my favorite pajamas). I noticed there was a good amount of stretch in the bust area, too. It's definitely wear-all-day material.
One thing to note is that some reviewers said the sizing was off and suggested selecting the next size up. However, I didn't experience that in either color I chose. I normally wear a size S and found this worked best for my body fit- and lengthwise. The short sleeves have a looser fit, too, which I appreciated because there's nothing worse than the look and feel of tight sleeves on a dress.