Prior to the pandemic, I only wore heels. At 5'2" tall, err short, I always felt underwhelmed and underdressed if I didn't slip on shoes that could add some height. When the pandemic hit, my high heels stayed in my closet gathering dust as I lived in sneakers (and slippers!) and started dressing more casually.
Post pandemic, my style continues to be more laidback, a look that doesn't always jive well with heels. I knew I needed to find a pair of stylish flats, preferably ones with a little heel that didn't hurt my feet like so many flats from my past. After a lengthy search on my own, I was excited when my editor asked me to review this particular loafer. Well, until I saw the price — $20! My feet hurt at the thought of walking around in a pair of (potentially poorly made?) shoes whose price tag equaled two deli sandwiches in New York City. But I'm happy to report the Band-Aids I had on standby never left their box.
The Amazon Essentials Women's Loafer Flat comes in a variety of colors — from navy to charcoal to blush — and fabric options that include both faux microsuede and leather. For testing, I ordered the microsuede in a tan hue, a safe bet that would match most of everything in my closet.
The shoes arrived in a clear plastic bag that I assumed was a cost-cutting strategy to keep the price down. But like a pair of pricier shoes, the loafers were stuffed with tissue paper and included a plastic shoe tree to help maintain their shape. I ripped open the bag and was pleasantly surprised with how cute the shoes looked. The synthetic calfskin on the interior and exterior could pass for the real thing. There's a seam detail on the heel and a flexible 3/8" rubber sole — the one giveaway this shoe is not a high-end loafer. The good news is you barely notice the heel when you're walking, and the rubber provides some anti-slip traction.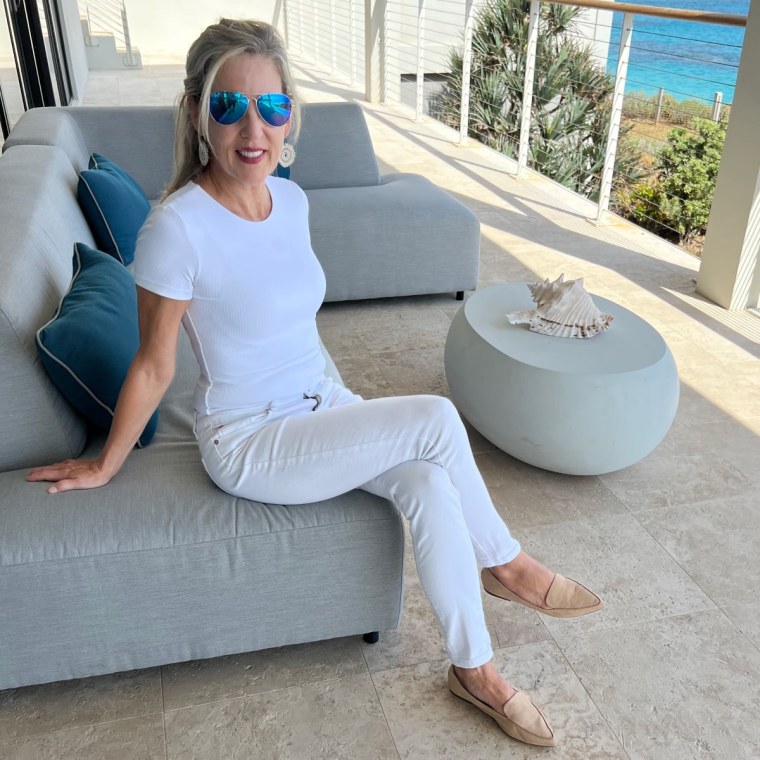 Unlike square or round toed flats, this one is pointed. "A pointed toe is more feminine and gives off the illusion of a longer leg," shares Desiree Miranda, a fashion stylist based in New York City. But looks and magic tricks aside, many podiatrists prefer a more rounded or squared toe on a loafer — or on any type of shoe for that matter — as these shapes provide the most space in the toe box. "If you're going to wear a pointed toe, look for a fabric with flexibility and stretch to prevent your toes from getting squeezed," advises Dr. Brad Schaeffer, MD, a New York City-based board-certified podiatrist and foot surgeon, and one of the doctors featured on TLC's My Feet Are Killing Me. Luckily, Dr. Schaeffer gave a thumbs-up to the faux suede on this loafer.
They're soft and include memory foam padding
The aesthetic optics were all lining up, but the real test was going to be how I felt walking in these shoes. One recent Saturday, I paired them with jeans and a white T-shirt and headed out to run errands and have lunch with a girlfriend. I quickly noticed a pinching on the sides of my feet, so I took the shoes off and bent them in different directions hoping to break them in a bit before walking. Doing so helped.      
Like many soft flats, this one has very little support and is almost floppy in shape, save for the memory foam foot padding which provided some cushion and prevented my feet from slipping out of the shoe. Six hours after I left the house, my feet didn't feel sore but the loafers still pinched in a few spots. I checked in with Dr. Schaeffer, who suggested I take this test to see if I had an arched foot. "Our feet are our body's natural shock absorbers and if your feet are arched, a flat shoe is going to hurt because there's no support within that arched space." I took the test and was shocked to find I do, in fact, have arched feet. After sharing my news with Dr. Schaeffer, he said, "Head to a pharmacy and pick up some arch supports which will create an artificial arch and take the pressure off your heel and balls of your feet, minimizing any pain."
I followed the doctor's orders and picked up a package of Dr. Scholl's Hidden Arch Support for Flats, small gel inserts which sit in the arch area of the shoe. I couldn't believe how much better the loafers felt. Unbeknownst to me, my arched feet were the reason I was never able to comfortably wear flats. (Dr. Schaeffer said flat-footed people suffer the same consequences.) If you find you've got flat or arched feet after taking this test, you may have to order this shoe in a half larger size to accommodate the inserts, although this wasn't the case with me. The good news: You can test these flats in different sizes with no obligation using the "Prime Try Before You Buy" program.
They're easy to style
Excited about the possibility of wearing flats without agony, I asked Miranda for some fun ways to style these loafers. "Proportion is important when styling with flats because it's easier to look shorter and wider when everything is closer to the ground," she says. "Consider a fitted dress with an oversized blazer or a miniskirt and a fitted tank. If you're on the taller side, pair flats with a wide legged trouser or a puddle-hem where the flats peek out." Miranda also likes styling flats the traditional way, with a white or denim straight leg or bootcut jean. "It's a classic look with women like Meagan Markle and Gisele Bündchen embracing it," she says.
I find myself reaching for these shoes when I have a casual work event, need a cute shoe to wear out for a meal or if I want to slip on something easy and comfy while driving. I also recently took these flats on vacation with me to Bermuda, where my husband and I lunched at a 5-Star hotel — my stylish shoes fit right in! I don't advise pulling these shoes out in rainy or super cold weather though — the faux skin is thin plus you want to wear them sockless for a trendier look. I also wouldn't suggest wearing them on a long walk or work commute, or in any situation where you'll be doing a lot of foot pounding — these shoes are delicate in nature so best not worn in not-so-delicate situations.