Chef notes
When you've got a house full of hungry guests clamoring for a big breakfast, a big baked casserole is a tasty way to feed the masses without a fuss. Make your hosting duties easier with this lightly sweetened pear and cranberry cobbler topped with oatmeal biscuits. Served with a spoonful of yogurt (or a dollop of whipped cream, if you're naughty instead of nice), it's a healthy alternative to heavy, cheesy casseroles on your brunch buffet. 
Feel free to substitute apples for pears, or to replace half the fresh fruit with your favorite frozen berries.
Ingredients
Fruit Filling
2

tablespoons all-purpose flour

1/4

teaspoon cinnamon

3

pounds firm pears, cored and chopped into 2-inch pieces
1

cup dried cranberries

2

tablespoons maple syrup

1/2

teaspoon vanilla extract
Cobbler Topping
1

cup all-purpose flour

1/2

cup whole wheat flour or white whole wheat flour

1/4

cup light or dark brown sugar

1

teaspoon baking powder

1/8

teaspoon salt
1/4

cup rolled oats

1/4

cup slivered almonds (optional)

1/2

cup + 2 tablespoons milk (any fat percentage) or buttermilk

1/4

cup unsalted butter or coconut oil, melted and slightly cooled
Plain or vanilla yogurt for serving (optional)
Preparation
Preheat the oven to 375F.
Make the Fruit Filling:
In a small bowl, combine the flour and cinnamon with a whisk.
In a large bowl, add the pears, cranberries, maple syrup and vanilla, and stir to combine. Then sprinkle the flour-cinnamon mixture over the fruit and toss gently to combine.
Pour the filling into a large casserole dish or a 9x13-inch baking dish and set aside.
Make the Cobbler Topping:
In a large bowl, add the flours, sugar, baking powder, salt, oats and almonds, and stir to combine. Gently stir in the milk and melted butter just until the liquid has been incorporated into the dry ingredients and a thick batter forms.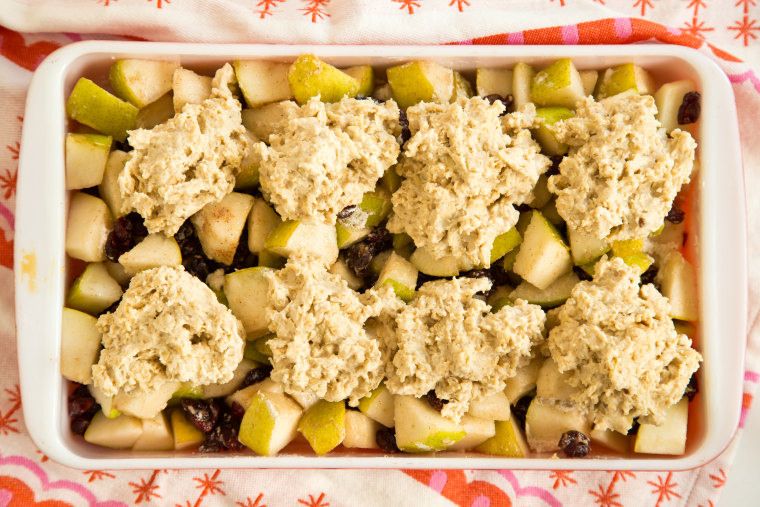 With your hands or a spoon, drop hunks of the topping batter across the fruit to evenly cover the surface; about 8 blobs of topping should do it.
Bake uncovered for about 45 minutes, until the fruit is softened, its liquid is bubbling around the edges of the dish and the cobbler topping is golden brown and crispy.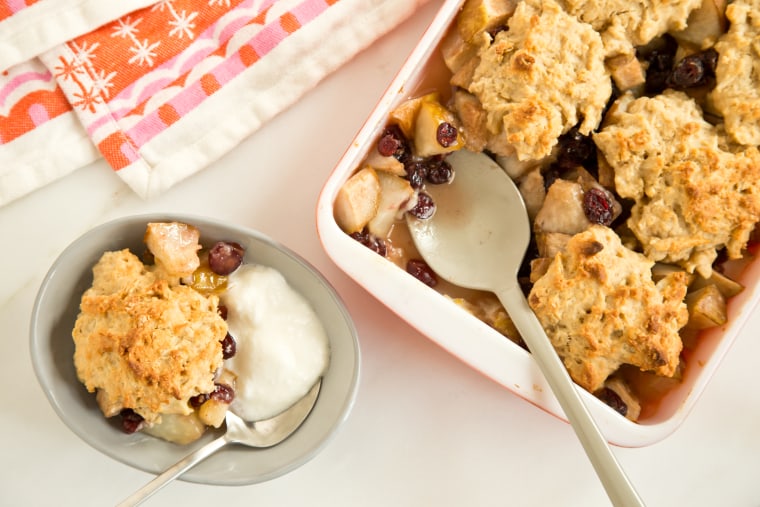 Cool for at least 15 minutes or to room temperature before serving. Serve with plain or vanilla yogurt, if desired.