Chef notes
Shakshuka is one of the easiest dishes around, with stewed tomatoes and eggs coming together quickly. This version eschews the tomatoes for a pile of greens: spinach, cilantro and the tang of salsa verde. The resulting soupy egg dish is reminiscent of the original, but the flavors are lighter and bright. This recipe calls for a combination of fresh and frozen produce — from the freezer aisle of the grocery store, you'll need to grab a bag of frozen peas and spinach, plus some fresh avocados, fresh cilantro and feta cheese. Hate cilantro? Feel free to use basil or parsley instead. Thanks to the bevy of green ingredients, it's the perfect one-skillet breakfast, brunch or dinner to welcome spring. This skillet should accommodate eight eggs, which is enough to feed about four people. 
If you don't have everything you need on hand, you can easily purchase all of the ingredients (just click the orange button below that says 'Get Ingredients'). You can pick and choose exactly what ingredients you need based on what's in your pantry and they'll be on your doorstep before you know it. 
Swap Option: This recipe is eminently swappable for whatever is in your pantry and that is the point! Don't have frozen peas or spinach? Just up the amount of the other one. Don't have access to fresh avocados? That's OK, just leave them out. Don't have cilantro? You can use ground coriander. As long as you can get eggs and salsa verde, you can make this dish!
Ingredients
1

tablespoon extra-virgin olive oil

3

cups frozen spinach, defrosted

2

cups frozen peas
kosher salt, to taste

4

cups salsa verde

2

teaspoons garlic powder
2

teaspoons za'atar

1

cup cilantro (or 1 tablespoon ground coriander)

8

large eggs

2

avocados, cubed

1

cup feta, crumbled
Preparation
1.
Place a large pan or Dutch oven on medium high heat. Add the olive oil, spinach, peas and dash of salt and cook down for one minute. Add the salsa verde, garlic powder and za'atar and bring up to a heavy simmer. Stir in the cilantro and then create little wells for the eggs.
2.
Crack the eggs into the pan, add another dash of salt on top and then cover for 6-8 minutes, or until the whites have almost set but the yolk is still runny.
3.
While the eggs are cooking, cut the avocado into small pieces and crumble the feta. Add into the pan and cover for 1 more minute. Serve hot.
How to shop TODAY recipes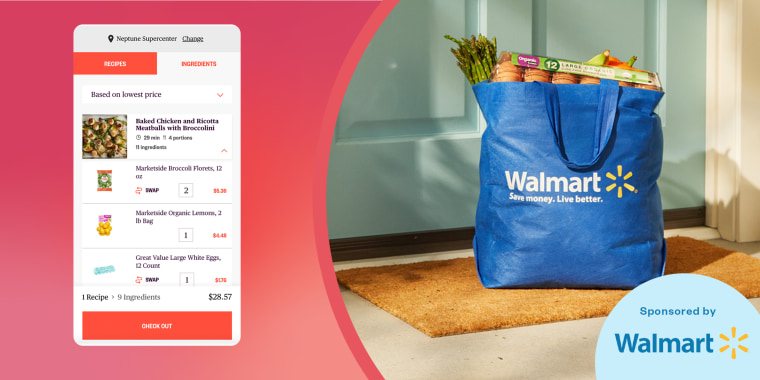 How to shop TODAY recipes
Here's everything you need to know about the cool new feature.
Learn More