Chef notes
There are a few characteristics that all good breakfast casseroles share. They need to be comforting and filling, an all-in-one meal that pleases a crowd. There should be ingredients that hit the main mealtime categories — carb, protein, veggie — but aren't too difficult to shop for; bonus points if they're items you may already have in the freezer or pantry. It should be easy to assemble (no lasagna-level layering, please!) and can ideally be made ahead. A final cheesy topping is, of course, essential.
Layered with sausage, two kinds of cheese, savory sundried tomatoes, leafy greens and a base of hash brown potatoes, this ultimate breakfast casserole truly has it all. It takes just 20 minutes to prep, with some hands-on cooking to warm  the sausage, but mostly, it's just assembly work. The casserole starts with a base of hash browns, followed by the meat, cheese and finally vegetables. You can stop here and freeze for future baking or, if brunch is set to start soon, simply pour in the egg-milk mixture, sprinkle with more shredded cheese and bake. In an hour, you'll have a bubbling casserole ready to feed a hungry crowd.    
With its crispy hash brown crust, plus loads of meat, cheese and greens, this breakfast casserole doesn't need much else. If serving with any sides, keep it light — perhaps a fruit salad or pancakes for those with a sweet tooth.
Technique Tip: You can assemble the casserole at night and pop it in the oven the next morning — just follow the tips below.
Swap Option: In place of the sausage, you may use or 1½ pounds of thinly sliced mushrooms or 1 pound of diced ham. Adjust the salt content, as needed. Instead of the goat cheese, you may use 1/4 pound of brie or camembert cheese.
Ingredients
1

pound breakfast sausage or Italian sausage, casings removed
extra-virgin olive oil or unsalted butter, as needed

1

(16-ounce) bag frozen diced or shredded hash brown potatoes

1

(4-ounce) log goat cheese, crumbled

1/2

cup chopped oil-packed sundried tomatoes (about 12 tomatoes)

1/4

cup chopped scallions (about 3 large)
1

(10-ounce) bag frozen spinach, kale or other leafy greens

6

large eggs

2

cups whole milk or reduced-fat milk

1/2

teaspoon kosher salt

1/2

teaspoon freshly ground black pepper

1

(8-ounce) bag shredded Monterey Jack, Swiss or mozzarella cheese
Preparation
Assemble the casserole
1.
Heat a large skillet or wide sauté pan over medium-high heat. Add a splash of oil (for sausage) or melt 2 tablespoons butter (for mushrooms). Add the sausage and break into chunks, cooking until browned. Or add the mushrooms and cook for 5 to 8 minutes until browned, stirring once or twice.
2.
Spread the cooked sausage or mushrooms on a rimmed baking sheet to cool.
3.
Butter a 9-by-13-inch baking dish or a 3- to 4-quart casserole dish and spread the potatoes across the bottom of the dish.
4.
Layer the cooled sausage, ham or mushrooms on top of the potatoes. Top with crumbled goat cheese, followed by the tomatoes, scallions and frozen greens.
5.
 Bake the casserole: Preheat the oven to 375 F. Whisk the eggs, milk, salt and pepper together in a bowl and pour evenly across the surface of the casserole. Sprinkle the shredded cheese evenly over the casserole. Bake uncovered for 45 to 60 minutes, until the cheese begins to brown and the casserole is bubbling at the edges.  
If you want to entirely bake the casserole the next morning
Cover the dish tightly with foil or plastic wrap and refrigerate overnight. The potatoes and greens will thaw safely in the refrigerator. The next morning, continue with the instructions below.
If you want to pre-bake the casserole and reheat the next morning
Bake the casserole for only 30 minutes. Cool to room temperature. Wrap tightly with foil or plastic wrap and refrigerate overnight, then reheat in a 375 F oven for 30 minutes the next morning until the casserole is browned and heated through.
If you want to freeze the casserole and reheat
Pre-bake the casserole as instructed above, then cool to room temperature and cover tightly with foil. Freeze for up to 1 month, then reheat in a 350 F oven for 1 hour. Uncover and bake for 30 minutes more, until completely warmed through and browned on top.
How to shop TODAY recipes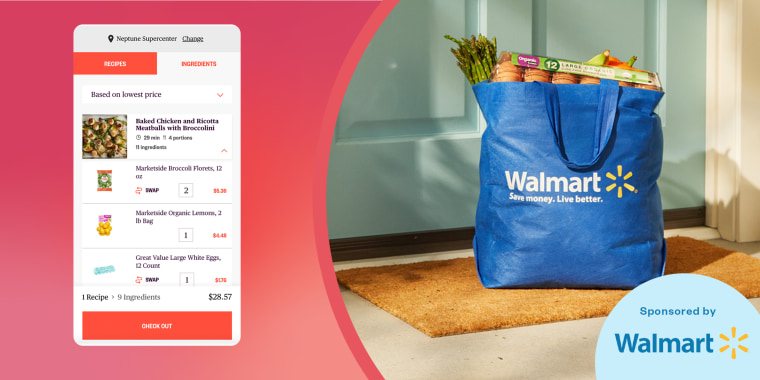 How to shop TODAY recipes
Here's everything you need to know about the cool new feature.
Learn More