Ingredients
Ingredients
1

pound breakfast sausage or Italian sausage, removed from its casings and browned in a skillet; or 1 1/2 pounds mushrooms, cleaned and thinly sliced; or 1 pound ham, diced
Oil or butter as needed

1

16-ounce bag frozen diced or shredded hash brown potatoes

1

4-ounce goat cheese log or 1/4 pound Brie or Camembert cheese

1/2

cup chopped oil-packed sundried tomatoes (about 12 tomatoes)

1/4

cup chopped scallions (about 3 large)
1

10-ounce bag frozen spinach, kale or other leafy greens

6

large eggs

2

cups whole milk or reduced-fat milk

1/2

teaspoon salt (reduce to 1/4 teaspoon if using ham)

1/2

teaspoon freshly ground black pepper

1

8-ounce bag shredded Monterey Jack, Swiss or mozzarella cheese
Chef notes
Layered with sausage, two kinds of cheese, savory sundried tomatoes, leafy greens and a base of the tried-and-true hash brown potatoes, this breakfast casserole has it all. Assemble the casserole at night and pop it in the oven the next morning.
Preparation
The night before: Assemble the casserole
If using sausage or mushrooms, heat a large skillet or wide saute pan over medium-high heat. Add a splash of oil (for sausage) or melt 2 tablespoons butter (for mushrooms). Add the sausage and break into chunks, cooking until browned. Or add the mushrooms and cook for 5-8 minutes until browned, stirring once or twice.
Spread the cooked sausage or mushrooms out on a rimmed baking sheet to quickly cool to room temperature.
Butter a 9x13-inch baking dish or 3- to 4-quart casserole dish and spread the potatoes across the bottom of the dish.
Layer the cooled sausage, ham or mushrooms on top of the potatoes.
Crumble the goat cheese or thinly slice the Brie or Camembert and layer evenly in the dish.
Sprinkle the chopped tomatoes and scallions over the cheese.
Spread the frozen greens on top of the tomatoes and scallions.
If you want to entirely bake the casserole the next morning: Cover the dish tightly with foil or plastic wrap and refrigerate overnight (up to 12 hours). The potatoes and greens will thaw safely in the refrigerator. The next morning, continue with the instructions below.
If you want to pre-bake the casserole and reheat the next morning: Continue with the instructions below, baking the casserole for only 30 minutes. Cool to room temperature. Wrap tightly with foil or plastic wrap and refrigerate overnight, then reheat in a 375˚F oven for 30 minutes the next morning until the casserole is browned and heated through.
If you want to freeze the casserole and reheat: Pre-bake the casserole as instructed above, then cool to room temperature and cover tightly with foil. Freeze for up to 1 month, then reheat in a 350˚F oven for 1 hour. Uncover and bake for 30 minutes more, until completely warmed through and browned on top.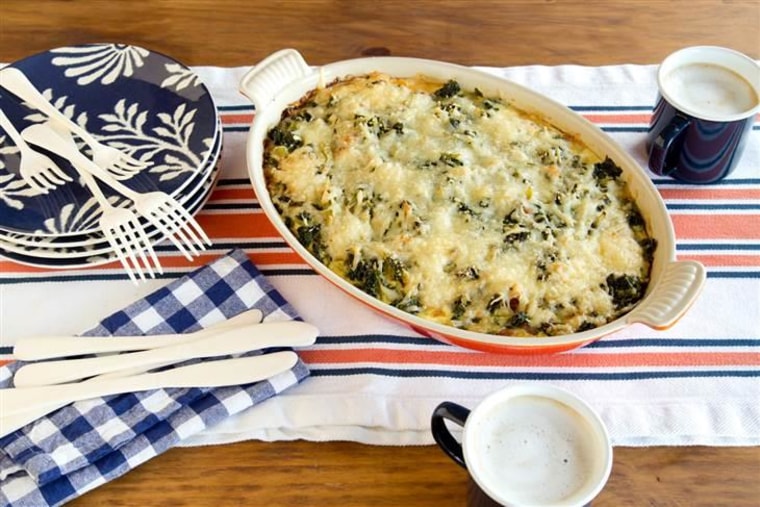 The next morning: Bake the casserole. Preheat the oven to 375 degrees F. Whisk the eggs, milk, salt and pepper together in a bowl and pour evenly across the surface of the casserole. Sprinkle the shredded cheese evenly over the casserole. Bake uncovered for 45 minutes to 1 hour, until the cheese begins to brown and the casserole is bubbling at the edges.