Ingredients
1

tablespoon unsalted butter or olive oil

1

small yellow onion, thinly sliced

1

small red bell pepper, diced

1

small sweet potato (about 1/2 pound), peeled and diced

2

cups chopped corned beef
8

large eggs

1/4

cup milk (any fat percentage)

1/4

teaspoon salt

1/4

teaspoon ground black pepper
Chef notes
The best thing about St. Patrick's Day might not be the holiday itself—it's all the hearty comfort food that turns into fantastic leftovers for the days to follow! Whether you're a fan of traditional corned beef and cabbage or you look forward to a big plate of corned beef hash the next morning, you'll love this frittata that makes the most of those succulent slow-cooked slices. It's a fantastic weekend brunch dish, an easy to pack make-ahead lunch that, or even a breakfast-for-dinner family meal.
Sweet potato adds color and nutrition to the dish, but feel free to substitute regular potatoes. If you're using already-cooked leftover potatoes from the big day, add them along with the corned beef instead of with the red bell pepper.
Preparation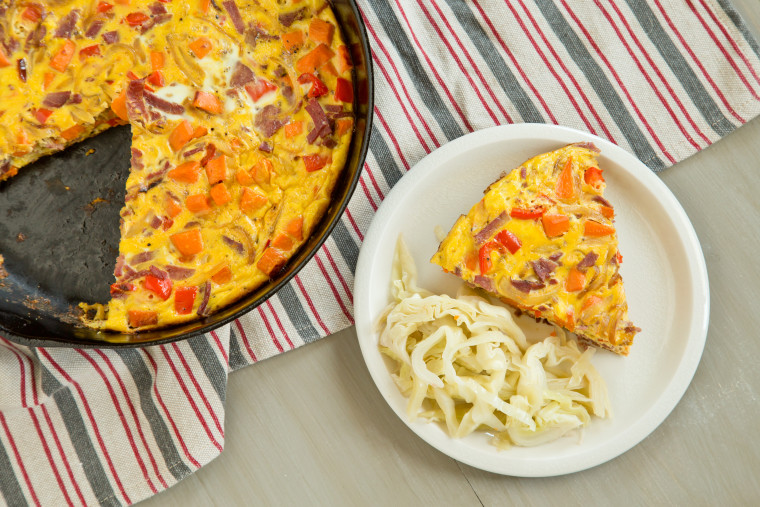 Preheat the oven to 400 degrees F.
Melt the butter or heat the olive oil in a high-sided, oven-safe 10-inch skillet (such as a cast iron skillet) over medium heat.
Stir in the onion and cook, stirring occasionally, for about 5 minutes until the slices start to soften and become translucent.
Stir in the bell pepper and sweet potato. Cover and cook for 7-10 minutes more, stirring occasionally, until the sweet potato is tender.
While the vegetables cook, whisk the eggs with the milk, salt, and pepper in a bowl.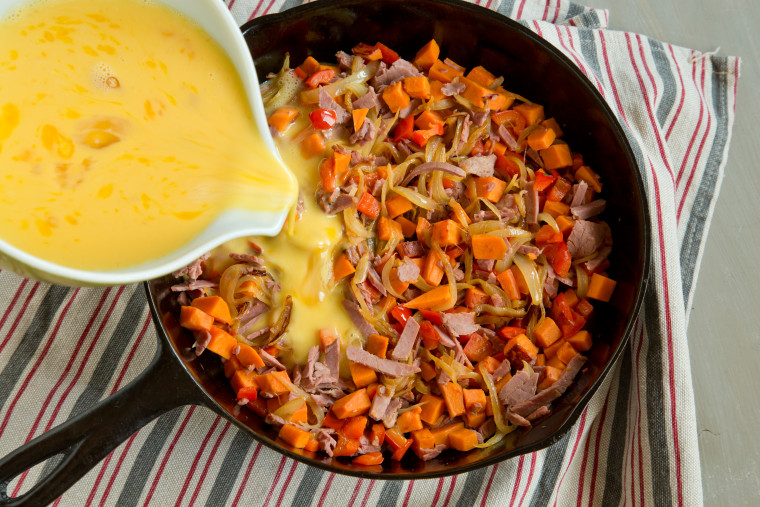 Pour the eggs into the pan, swirling to cover the vegetables evenly.
Transfer the pan to the oven and bake for 15-20 minutes, until the frittata is puffed and fully cooked through.
Slice into 8 wedges and serve warm or at room temperature.