It seems like just yesterday we were shopping around for the coziest (and chicest) winter boots and thick parka-like jackets. But spring is finally here, which means the fashion world is buzzing with new and elevated looks to match the popular trends predicted for the season.
And what might those be exactly? We've done our research and have seen the most fun, colorful and even nostalgic styles popping up on our radar — from hot pink 'Barbiecore' pieces to cowboy boots (a huge festival pick) to a few Y2K-inspired pieces making their way back into our closets. If you find yourself behind the curve on what's what this season, don't worry; we've listed some of the top trends of 2023 below and included a few of our favorite finds we'll want to wear all spring long — and beyond.
Barbiecore | Y2K | Denim maxi skirts | Lace | Cowboy boots | Cargo pants and utilitarian styles | Platform shoes
Barbiecore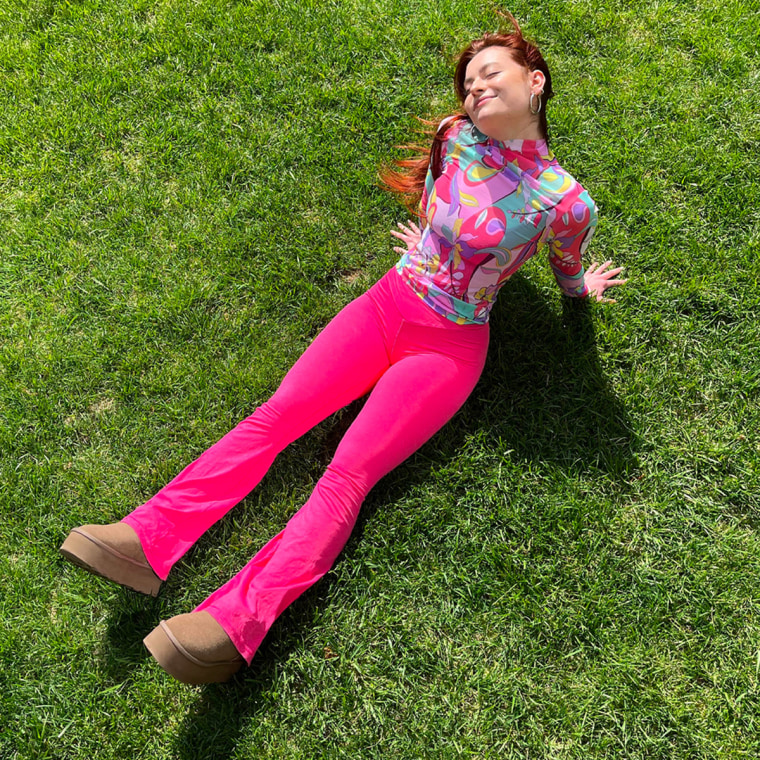 Elevate your spring accessory collection with a bag that will catch every passersby's eye. This structured purse not only does the Barbiecore color justice, but it also includes even more impressive details like alligator print, a magnetic closure and adjustable straps.
This Shop TODAY favorite is the ultimate spring and summer two-piece. It comes in over 40 colors (yes, 40!), but we're obsessed with this Barbie-esque shade that features two equally cute tones of pink.
Let this bright neon top shine by itself, or layer it under an oversized blazer or jean jacket to elevate any day or nighttime look. It's said to be super comfy and stretchy, thanks to a four-way stretch fabric that is both lightweight and double-layered.
If you remember anything about Barbie, you're familiar with her famed heel collection. Tap into her fun stiletto style with these two-toned pink sandals, that may feature an intimidating 4-inch heel but also boast a Tru Comfort Foam insole to balance things out.
One of Summersalt's bestselling swimsuits adds a dash of hot pink to its Sidestroke single-shoulder style. According to the brand, it can fit any chest size (without any padding!) and the fabric is super supportive.
Y2K
Uniqlo put its own modern spin on the baguette bag with this versatile shoulder bag. When worn as a purse, you can easily catch the popular bag shape that everyone loved in the early aughts. But the strap is also designed to be worn around the back, so you can wear the bag the way the kids do these days as well.
If you haven't heard, tie-dye is on the rise, but if you're not ready to hit the ground running with neon swirls of every color, we recommend starting simple (yet still chic) with this tank. The design has a '70s-inspired vibe and the pattern is created by hand, so no top is the same!
No, you're not seeing things — pant legs have been getting wider and wider and wider lately. The trend is back, and it's even getting the attention of skinny-jean lovers. We can see everyone rocking this trend while wearing these Gap Factory jeans, which would look great with a heeled sandal spring blouse. Right now, you can even grab them for 45% off using the code GFCYBER at checkout.
Velour tracksuits — the trend many of us never asked for — are also coming back, and we imagine loungewear enthusiasts couldn't be happier. Grab one of these matching sets from Amazon for everyday wear, available in over a dozen colors and zip-up or pullover options.
Forget skinny jeans; skinny shades are making their way back into our accessory collections just in time for spring and summer. Barely-there lenses may not be known for their coverage, but they sure make a statement, especially this gold-toned pair, which feature a nostalgic rectangle style, engravings on both arms and 100 percent UV protection, according to the brand.
Denim maxi skirts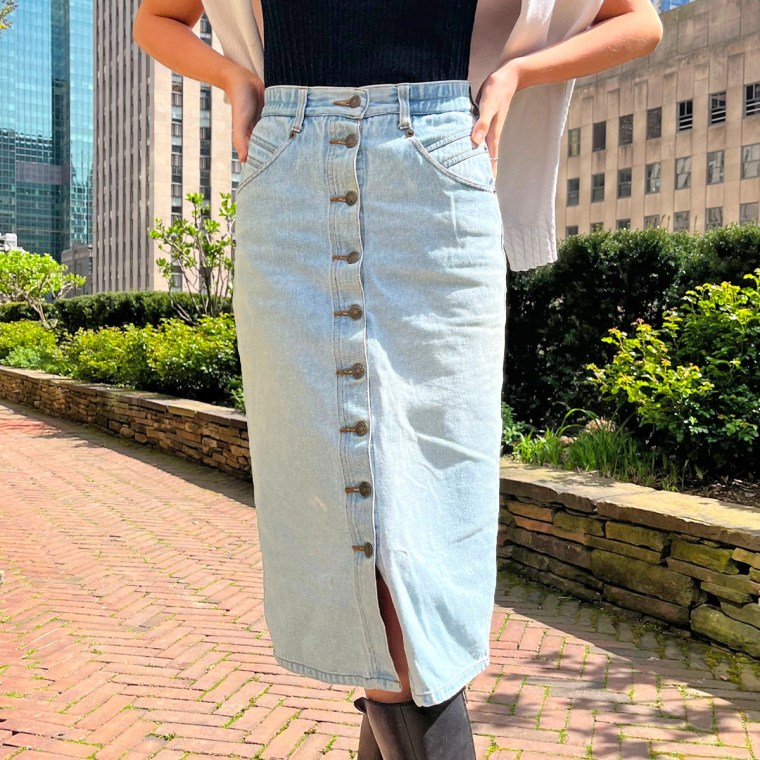 This denim skirt is a great way for beginners to hop onto this new trend. It's high-waisted, hits right at the knee and opens up at the sides (if you prefer) to help give a looser, more breathable fit.
What's better than denim? How about: Stretch denim. This maxi skirt is designed with every wearer's comfort in mind, featuring a cozy cotton and polyester blended fabric and side splits for ventilation.
Daring to go even longer? Mango offers a straight style that features multiple pockets, a back-slit hem and a "denim style" cotton fabric.
For an even more stylish take on the trend, we suggest trying this midi style on for size. It's available in deep blue and white denim and also features a deep slit in the back for a surprising touch.
Lace
Even the trendiest styles can make a difference when it comes to your accessories. Lace has been a major design popping up this season, and we love the elegant look the fabric brings to this bamboo handbag. And it's on sale for only $9!
Sure, coverup dresses are a staple for getaway looks, but have you considered a coverup pant? The crocheted pant gives us the look of a fully laced-up bottom, and even features a very Barbiecore-inspired shade!
Live out your boho fashion dreams with this lace-up slip dress, complete with front tassels, ruffle and mesh detailing and a pattern meant for the beach.
Sheer materials are also becoming a staple this season and we're loving the trend combination featured in this top. It comes in four colors and is lined with a camisole for extra coverage.
If you're going to splurge on something, we can't imagine you coming to regret this elegant find. Perfect for your next beach getaway, you'll be the talk of the holiday with this lace coverup.
Cowboy boots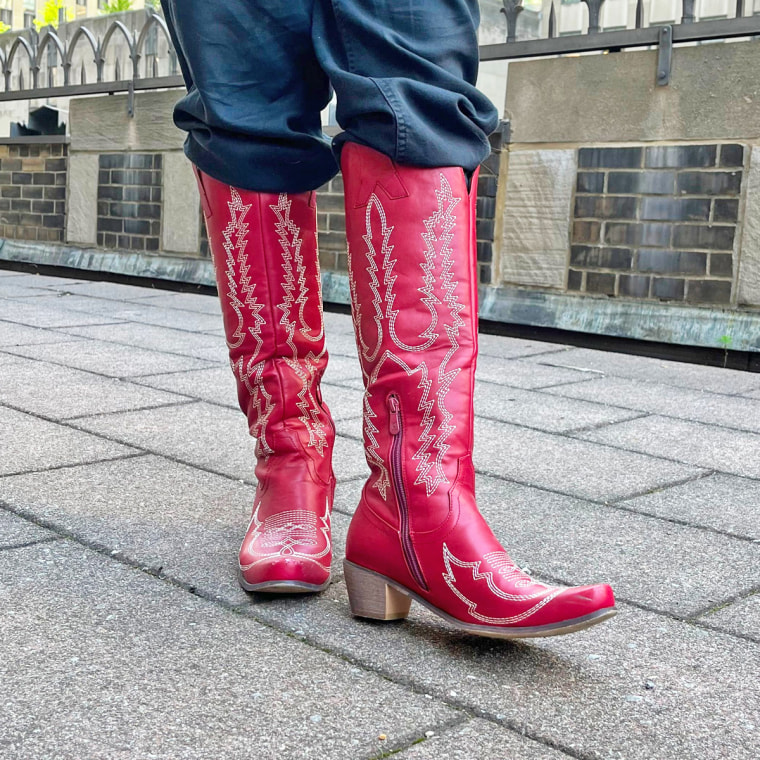 Yee-haw or yee-naw? According to nearly 5,000 Amazon shoppers who gave these boots a five-star rating, these boots are worth a look. The No. 1 bestsellers come in several shades and textures (including metallic and suede) and start at just $27.
For a more modern take on the cowboy boot, these heeled pull-ons might be your speed. Not only does the braided exterior offer a touch of flair, but the shoe also boasts a faux leather construction and a memory foam cushion to keep your feet comfortable with every step.
"I've had these boots for about a year and have gotten a compliment each time I've worn them," says Shop TODAY commerce editor Vivien Moon about these embroidered boots. "What I love most is that I didn't have to break them in and have never had any foot pain or issues after wearing them for hours."
Like the look of a cowboy boot but prefer the style of a classic bootie? This Lucky Brand pair checks all the boxes with its chunky heel, suede exterior and butterfly-shaped beaded detailing.
If you're already in love with this trend and want to go all-out, we may have found the prettiest cowboy boots in existence. We can't take our eyes off these knee-highs, which are made from leather, have a cushioned insole and feature the most stunning designs in equally stunning colors that were simply made for spring.
Cargo pants and utilitarian styles
Grab your converses and your ripped tees, because cargo pants are re-surging across the fashion space. Don't worry, you don't need to revisit your semi-punk phase to nail the look, especially with these parachute styles, which come in a few colors to create multiple modern or nostalgic looks.
The cargo pant is also a great style to help update your work work wardrobe. These options are high-waisted and come with an adjustable tie to create a semi-fitted silhouette. And don't forget about the pockets — these pants are full of them!
For days when it's not too cold, but not too hot — and you need your jacket to work for both and look cool — we recommend reaching for this cotton-twill option.
For a more traditional cargo pant, this relaxed style will have just the look. Not only do they come in that classic forest green (along with a few other neutral colors), but they also include deep side pockets as well as a few functional compartments along each leg.
If you're one for bolder looks, we guarantee you'll feel like a boss wearing this "softly structured" jumpsuit. According to the brand, the one-and-done outfit is inspired by old-school boiler suits and is made with a heavier cotton poplin to add a more "sophisticated finish."
Platform shoes
Whether you're a short queen or have legs for days, everyone can enjoy the height and confidence that comes with a platform shoe. These knit sandals give off a '90s vibe with their knit upper and even platform, but up the comfort level with memory foam insoles and a soft and flexible outsole, says the brand.
Barbiecore meets platform shoes in the best way, thanks to these sky-high sandals. There's nothing subtle about these shoes; you're getting a major pop of color and even more height — and we wouldn't have it any other way.
Good luck picking just one color of this Matisse platform shoe. From bold metallics to cork textures with floral patterns, we warn you, you might not be able to resist getting multiple pairs.
It might be spring, but it seems like people can't stop wearing these fur-lined platform boots. The platform measures in at 1.75 inches and is available in four colors.