Whether we're running errands, enjoying the great outdoors or hitting the beach, many of us pretty much live in flip-flops. Guilty, Melissa Rivers, TV personality and red carpet fashion expert, tells Shop TODAY. "I know they're so bad for my feet."
We hear you, Melissa — there are definitely times when all we need is a bit more support. In those moments, we tend to turn to walking sandals to help our feet feel free and secure all at once. But who says comfort can't come with style?
This year, we'll see a lot of metallics, pinks and purples. "I think we're seeing some light blues, too — I certainly hope so because I just took out my light blue slides," Rivers says. More trends: Gladiator sandals are still in, but think shin height rather than up the calf. And don't be afraid to click "add to cart" on chunky sandals with embellishments.
Personally? I'm looking for a perfectly stylish yet comfortable sandal that supports me through long airport lines and walks me to dinner. Turns out, the perfect sandal does exist: Here are the 17 sandals that made it onto our list (including a couple of award-winning picks from our Shop TODAY Travel Gear Awards). Keep scrolling or use the links below to find out more.
Travel Gear Award Winners | Best budget | Best for travel | Best with arch support | Most fashionable | Best for long distances | Best platform | Best for hiking | Best sporty | What to look for | FAQs | How we chose | Meet our experts
Shop TODAY Travel Gear Award Winners
Award: Best Budget Sandals | Category: Sandals
Shop TODAY associate social media editor Dani Musacchio logged four miles in these sandals while commuting by foot around New York City. "I have very narrow feet and usually struggle to find sandals that my feet don't slip out of. The two adjustable straps on these shoes allow me to create the perfect fit," Musacchio says.
The shoes feature a platform sole measuring 1.75 inches and while Musacchio says that her feet felt secure thanks to the ankle straps, she notes that some people might prefer a shoe with less of a platform.
Award: Best Splurge Sandal | Category: Sandals
These EVA Arizona sandals bring the quality and comfort that Birkenstock is known for at an affordable price tag. Designed to be easy to clean and slip on to run errands, go to the beach or wear around the house, one reviewer notes that these shoes are just as comfortable as the brand's cork footbed sandals.
"They really mold to your foot and feel supportive without slipping up or down as you walk," says deputy editorial director Alexandra Deabler. "Your arches feel massaged and very supportive, it's nice. It's like your foot is getting a little hug while you're walking."
Best budget walking sandals
Style: Slingback | Material: Yoga mat, EVA, fabric | Sole: EVA | Size range: 6-11 | Colors available: 4
For under $40, the price point of this walking sandal is unbeatable and a Shop TODAY contributor favorite. They're designed with two-way stretch knit fabric straps that securely wrap around the lower ankle. So, unlike flip-flops, they won't easily slip off mid-stride or leave behind unsightly blisters. Imagine walking on a cushiony yoga mat with the perfect amount of grip, because the footbeds are made from padded yoga material, according to the brand.
Something to note: Our reviewer says putting them on is similar to putting on socks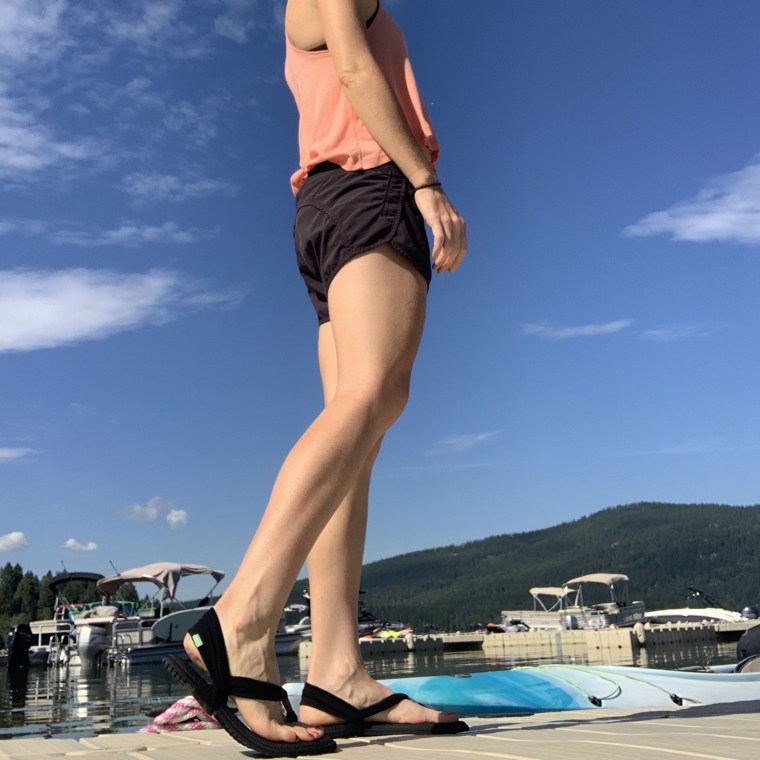 FULL REVIEW: Read why Sanuk's Yoga Sling sandals gave our travel writer's favorite flip-flops a run for their money.
Style: Flat, toe post | Material: Matlite (straps), rubber, TPU (toe posts) | Sole: Rubber | Size range: 6-11 | Colors available: 10
Crocs are a top footwear choice for casual city explorers, celebrities, Gen Z'ers and even nurses, and for good reason — they're affordable, supportive, flexible, lightweight and easy to slip on. These stylish Tulums by the brand are no different (and some folks who are wary of the original's unique style may look at these more favorably).
For starters, they're made of a soft and flexible rubber material, including the Matlite straps, which come in 10 different colors. The buckle (made of metal) is adjustable, so you'll be able to customize fit. There's a toe post between the big toe and the rest, but they're also made of the same soft material.
But best of all, the Tulums are a lot more versatile than the original Crocs; they can be dressed up or down for any occasion.
Something to note: Don't come in half sizes, no arch support
Best walking sandals for travel
Style: Slingback | Material: Leather, suede and memory foam | Sole: Rubber | Size range: 5–12 wide, medium and narrow | Colors available: 4
I discovered these just in time for the first day of spring, and now they're my go-to pair of casual yet versatile sandals for everyday wear. The memory foam footbeds feel dreamy on my feet (with the help of a layer of insanely soft synthetic suede) and the moderate tread provides a sturdy grip suitable for multi-surface walks.
The adjustable strap — which secures with Velcro — keeps my foot in place but has enough give to easily sip on and off. They're definitely coming with me on my honeymoon to Greece, and I bought my mom a matching pair for Mother's Day.
Something to note: The recycled synthetic material (which feels like a sueded fabric) on the footbed and straps may dirty easily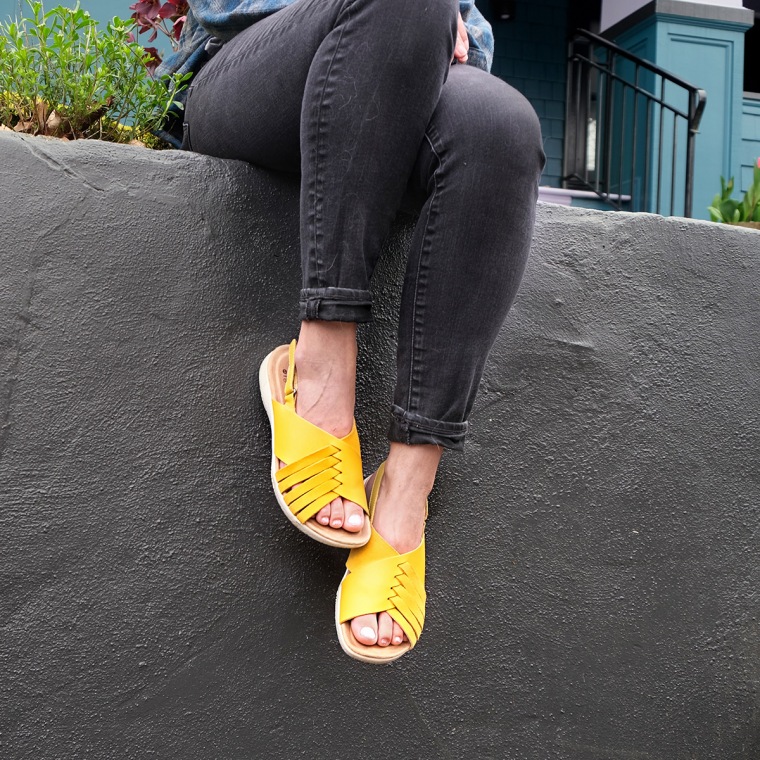 Style: Hiking sandal | Material: EVA, polyester, elastic | Sole: EVA | Size range: 5–12 | Colors available: 11
If summer travels take you from long airport lines straight to kayaking at the lake, these machine-washable sandals by Keen might be for you. They offer comfortable EVA footbeds that mold to the shape of the foot. Plus, polyester waterproof webbing and a durable outsole allow you to safely walk on wet surfaces — or hop into a stream without worrying about ruining your footwear. There's also a bungee lace system for a secure fit.
One happy shopper bought these sandals for a trip to the tropics, where they needed a shoe that protects their toes, allows them to walk for miles, and can be used in water. While the reviewer has feet that typically blister easily, these sandals felt like a dream — and didn't result in a single blister!
Something to note: These run about half a size too small
Best walking sandals with arch support
Style: Lug-sole, platform | Material: Leather, rubber| Sole: Rubber, EVA | Size range: 5-11 | Colors available: 2
We already vouch for Vionic's athletic shoes for their superior arch support, cushioning and stability (so much so that they made the cut for our top nurse shoes), and their stylish sandals similarly don't disappoint.
Not only do these sandals call to mind the '90s fashion trends that are seemingly here to stay; they also have supportive features like a dual-density midsole and a molded footbed that offers ample arch support. The Jamies also have thick soles and a heavy tread that should withstand hours of walking (or staying in place at your standing desk, as Shop TODAY associate editor Fran Sales can speak to).
One Vionic reviewer notes, "These sandals are really comfy. I suffer on and off from plantar fasciitis, and spring/summer is a little tough on finding good shoes to wear. These sandals are great, and they look cute too."
Something to note: Heavier than some of the picks on this list; may be loose on those with narrow feet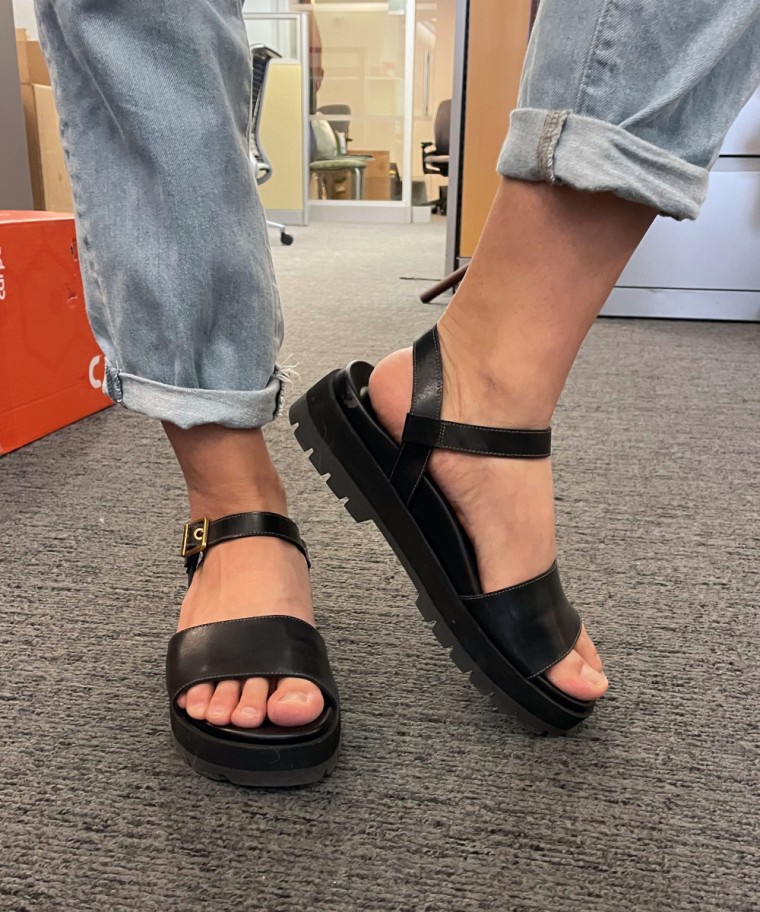 Most fashionable walking sandals
Style: Slingback wedge | Material: Fabric, rubber | Sole: Rubber | Size range: 5–11 medium or wide | Colors available: 6
According to the brand, each shoe is made LifeStride's Soft System, which offers a breathable cushion, extra arch and heel support and just the right amount of flex — so you can walk in comfort and style.
"This is my second pair. They are super cute and very comfortable. I can wear them all day and my feet don't hurt, and I'm a teacher, so I'm standing a lot," says a reviewer.
Something to note: Some reviewers say the straps could be more comfortable
Style: Slingback | Material: Leather | Sole: Rubber | Size range: 35–42 (5-12 US) | Colors available: 8
From red carpet jewelry to everyday sandals, Rivers says embellishment is in. These statement sandals are available in this spring's trending pink-purple color scheme and metallic, or opt for a timeless look in neutral black or ivory.
Whichever color you choose, The Harper comes in a secure, two-strap design with maxi buckles, an adjustable ankle buckle strap and molded footbeds. Alohas puts sustainability first with their on-demand shopping practices and Leather Working Group Certified Leather.
Something to note: Some note they're a "touch" heavy; Alohas is based in Barcelona, so you'll need to use their size chart; pricey
Best sandals for walking long distances
Style: Performance | Material: Post-consumer plastics, rubber | Sole: Rubber | Size range: 5-11 | Colors available: 8
According to the brand, these walking sandals are perfect for uneven terrain. They feature quick-dry webbing, contoured EVA midsoles and shock-absorbing heels that keep your feet dry while adding maximum support. They're also Earth-friendly: They're vegan, made of recycled materials and can be recycled through Teva's in-house program.
A reviewer mentions that these sandals surpassed their expectations: Although they had planned to just wear them to the beach, they ended up hiking up a steep, muddy trail with a spiral staircase on Oahu's Diamondhead — with plantar fasciitis. Luckily, these Tevas were amazing to walk in, providing a secure grip and optimal comfort thanks to the shoe's anatomic footbed and heel shock pad.
Something to note: Long-time Teva wearers note that the Tirra design has recently changed
Style: Backstrap | Material: Post-consumer plastics, rubber | Sole: Rubber | Size range: 5-11 | Colors available: 23
We're "keen" on these lightweight platform sandals from this sporty footwear brand. Your feet will be prepped for all-day support thanks to a compression-molded EVA midsole and footbed, while wider straps create a stronger, more secure fit.
According to a reviewer, finding comfortable walking sandals is difficult since they've had various foot injuries and surgeries. However, they found these sandals to be fabulous; they provided both comfort and support straight out of the box and are easy to get on and off.
Something to note: The straps stretch, but aren't adjustable
Best platform walking sandals
Style: Slingback platform | Material: Post-consumer plastics, elastic, cork, rubber, EVA | Sole: Rubber and EVA | Size range: 5-12 | Colors available: 5
My favorite backless platforms are from Reef, but for longer walks I prefer — and Kuizinas recommends — footwear with straps to hold the foot in place, like these cork platforms with soft 100 percent post-consumer straps and a comfy elastic backstrap.
Rivers says there's definitely a trend in purchasing well-made pieces that are going to last, and making the purchase an eco-friendly one just makes sense. With sustainable shoes as comfortable as these, you're going to want to walk everywhere in them. They're designed with arch support, a cupped heel and a slight elevation at the toes.
"They're great for my fall transition wardrobe and easy to dress up or down. The best part is how truly comfortable they are — the first day I got them, I wore them walking around town ALL day and didn't have any issues breaking them in," says a reviewer.
Something to note: Some Reef colors and styles offer half sizes while others don't (I had to exchange my first pair since I sized up rather than down)
Best walking sandals for hiking
Style: Hiking | Material: Post-consumer nylon, foam, rubber | Sole: Rubber | Size range: 5-12 | Colors available: 6
These hiking sandals are Kuizinas's best overall pick for hikers who prefer to feel the terrain beneath their feet.
These shoes are equipped with quick-dry webbing straps crafted from recycled water bottles. Additionally, the brand says the shoes' zero-drop heel design promotes proper posture, balance and agility, while the flexible sole bends and flexes with each step.
Something to note: Straps are adjustable, but trial-and-error process can be time-consuming
Style: Hiking | Material: Polyester jacquard webbing, high-tensile webbing, PU, rubber | Sole: Rubber | Size range: 5-11 | Colors available: 11
Chacos come in a variety of styles and colors, but they all have the same distinct features outdoor enthusiasts swear by: adjustable straps that custom-fit to your foot, a podiatrist-certified footbed and no-slip traction soles — all of which can be repaired under warranty for life.
This pick has a toe-loop for added support and, based on Kuizina's expert input, may be a good pick for those with bunions looking for toe-correcting comfort.
Note, however, that the Z/2 Classic Sandals are made with a durable and rugged design, which means they may be heavier than other styles of hiking sandals.
Something to note: Some report discomfort during the initial break-in period
Best sporty walking sandals
Style: Slide | Material: Rubber, EVA | Sole: EVA | Size range: 4-11 | Colors available: 17
Another comfy pair of walking sandals from Crocs: This one boasts a sleek style and a flexible asymmetrical strap design to create a snug fit.
The durable design is made to transition from land to water — or to spin class. Either way, it makes a marvelous multitasking addition to your sandal collection. But be warned, most reviewers like them so much they can't help but order another pair — or two — in another color.
"I suffer from plantar fasciitis, and these are the most comfortable sandals. My intent was to use them just to take my dog in and out, but I actually ended up wearing them to work. My feet were super comfortable all day," says a reviewer.
Something to note: Some find the sole a little thin for their liking
Style: Ankle strap | Material: EVA | Sole: Rubber | Size range: 5-12 | Colors available: 17
Walking sandals typically offer a lot of support, so they're naturally a bit heavier. But if you prefer a more lightweight design, this pair from Teva will be right up your alley. The ankle-strap shoe comes in several vibrant colors and is easy to slip in and out of thanks to its Velcro closure.
According to a reviewer, these Teva sandals are the best sandals they've ever had. They can wear them for hours without feeling the shoes on their feet, and add that the most amazing thing about the pair is their affordability for the quality.
Something to note: Toe strap is not adjustable (but ankle strap is)
Style: Flat | Material: EVA, rubber, suede, leather | Sole: Rubber | Size range: 5-9 | Colors available: 5
This sporty style from Clarks cushions your feet with every step, thanks to its step-propelling motion tread sole and foam-padded footbed. The black color also hides any dirt you come across while you're out and about.
"This sandal is beautifully made with a very comfortable suede footbed. They are very adjustable for those of us who have problems with swollen feet at times," says a reviewer.
Something to note: Some say the sandals run large and are a bit heavy
What to look for in a walking sandal
Sure, you can walk in sandals for long distances, but they need the right features, according Dr. Alissa Kuizinas, a Boston-based board-certified podiatrist. Ideally, walking sandals should be flat and have straps, but also be flexible enough to bend with your foot, she says. Here are the features she recommends in walking sandals:
Sizing. Most of us wear the wrong size of shoes, Kuizinas says. When it comes to sandals, there should be a 0.5- to 1-centimeter space between the edge of the shoe and the top of your toes, she adds. If it's a strappy sandal, you shouldn't feel like your toes are jammed in awkward positions or that your bones are squishing.
Straps. Kuizinas says adjustable straps are ideal, so the shoe stays securely in place without the need to grip with your toes. Otherwise, slightly wider straps are more comfortable, particularly if your feet tend to swell.
Arch shape. Flat-soled shoes are the most adaptable to a foot's movements. For arthritic feet, Kuizinas recommends choosing walking sandals with a supportive arch, a stiffer sole and a toe spring (a slight elevation of the shoe where the toes sit) for additional comfort and support.
Sole shape and tread. Kuizinas says being low to the ground and feeling the surface you're walking on is beneficial, although some people prefer more cushioning. When it comes to tread, the amount of traction needed varies by activity — for example, you'll need high tread for hiking sandals. In general, avoid sandals with rigid soles, which might prevent proper foot movement.
Questions about walking sandals, answered by experts
What are the best shoes for plantar fasciitis?
Plantar fasciitis is a type of injury that affects a long ligament in the bottom of your foot, causing pain in your heel, Kuizinas says. It happens when the ligament gets overworked because of weak foot muscles, poor foot movements or injury. To help with this condition, Kuizinas recommends sandals that are wide at the toes and foot-shaped, as well as have a flexible sole, straps that hold your feet securely, and moderate cushioning.
To prevent injury when transitioning from winter shoes to summer and spring sandals, Kuizinas recommends simple foot exercises:
Short foot. Short foot is a technique where you contract the bottom of your foot by reducing the arch's height. Place the ball of your foot on the ground and lift your toes. Then, gently press your toes back down while keeping them flat on the ground.
Rolling. To perform this exercise, you'll need a small, firm ball like a tennis ball. Place the ball just in front of your heel and roll it back and forth along your arch using your body weight. Use as much pressure as you can handle comfortably, Kuizians explains. This technique helps to release tight muscles on the soles of your feet and improves your tissue tolerance.
Calf raises. According to Kuizians, calf raises are a great exercise for strengthening the foot and ankle muscles. "Perform them slowly, taking three seconds to lower yourself down, and make sure to keep the entire ball of your foot on the ground as you move up and down," she says.
Do toe-correcting sandals work?
Toe-correcting sandals work by featuring a separate loop for the big toe, which can aid in straightening the toe in people with bunions, according to Kuizinas.
"This can be helpful to realign the joint and encourage better cartilage congruency at the big toe. However, many of these types of shoes are slides, so they do not fully attach to the foot and can cause gripping of the foot muscles," she says.
Why do my toes curl when I walk with sandals?
Your toes curl when wearing a sandal because you're attempting to grip the sandal with your toes to hold it in place. The solution is to choose sandals with straps that completely attach the shoe to the foot, Kuizinas says. If your toes curl or grip even in closed shoes, she advises using the above exercises to relax and straighten the toes.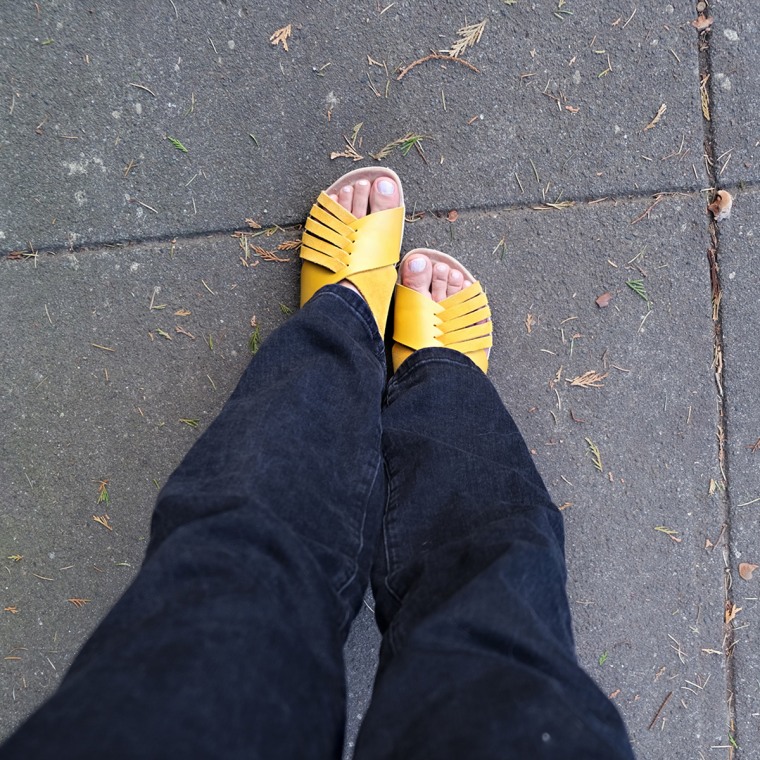 Is it bad to walk long distances in sandals?
You can walk in sandals for long distances as long as they have the right features. Kuizinas says walking sandals should have straps to hold your feet in place and should be flat, but also flexible enough to bend with your foot.
However, Kuizinas says it's not ideal to walk long distances in heeled sandals all day because they put excessive pressure on the ball of the foot and keep the ankle in a flexed position.
"Over time, walking in heeled sandals can cause pain to the ball of the foot, muscle fatigue, imbalances in the muscles of the foot, and wear and tear on the joints. Not to mention the effect that it has on the entire body, including the hips, pelvis and lower back," she says.
How we chose the best walking sandals
To select the best walking shoes for almost any occasion, Shop TODAY connected with fashion experts to get the scoop on spring 2023 style trends. Then, we spoke to a board-certified podiatrist who gave us the ins and outs of what makes a shoe comfortable and why it's so important to have good-fitting shoes.
With expert insights, we considered trending shoes made by trusted brands, evaluating each on the following criteria: affordability, style, quality, foot-friendly design and other helpful features — and we factored in verified customer reviews and average star ratings.
Lastly, Shop TODAY is a team of shopping experts. So, I also considered my personal experience shopping for and wearing walking sandals, and I asked my colleagues for their most-loved recs, too.
Meet our experts
Chellie Carlson is a transformational wardrobe stylist based in Chicago. After 30 years in the fashion industry, Carlon launched Chellie Carlson Style, her personal brand, and The Method, her signature service, "to elevate the way you get dressed and show up for the rest of your life," according to her website.
Dr. Alissa Kuizinas, DPM, is a board-certified podiatrist based in Boston. She's a Doctor of Podiatric Medicine and completed a Forefoot & Rearfoot Reconstructive Surgery residency at Hoboken University Medical Center. Kuizinas' specialty is in natural podiatry and footwear, which "takes into consideration the anatomic shape of the human foot, along with natural movement patterns," according to her website.
Melissa Rivers is a TV personality, producer, actress and Red Carpet fashion expert. While she's best known for co-hosting the "Fashion Police" series on E!, Rivers is also a New York Times bestselling author. She lives in California.
Has your product been featured?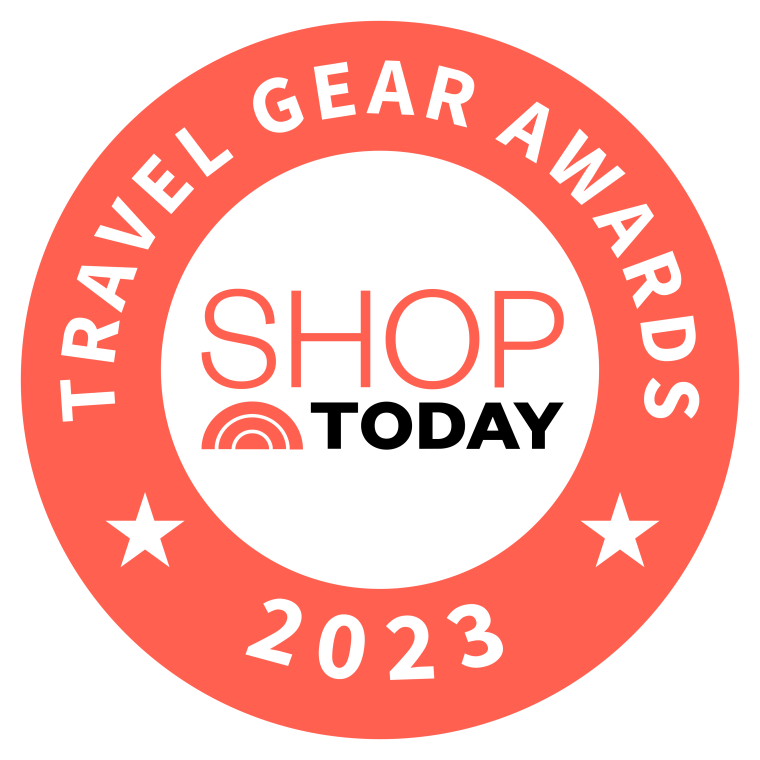 Shop TODAY is editorially independent and our team of editors and writers work hard to pick the best products to share with our readers and viewers. We may license our logo to brands or products that have been featured on Shop TODAY. Click here if you're interested in licensing your inclusion in Shop TODAY content or to learn more from our licensing partner, Wrights Media.