Kathie Lee Gifford's favorite book is one of the world's oldest, she has no fear of talking about foot issues in public, and you just might find her kayaking in her spare time. 
Those are just some of the things KLG revealed in a during a live chat on TODAY's Facebook page on Tuesday, where she answered questions from fans about everything from her relationship with TODAY co-host Hoda Kotb to the biggest choice she made in her career. Here are some things we found out: 
You can probably find her laughing with Hoda when the camera's not on.
Q. Mary Gill Pace: Are you and Hoda good friends outside the show? 
KLG: Super good friends! We laugh our butts off.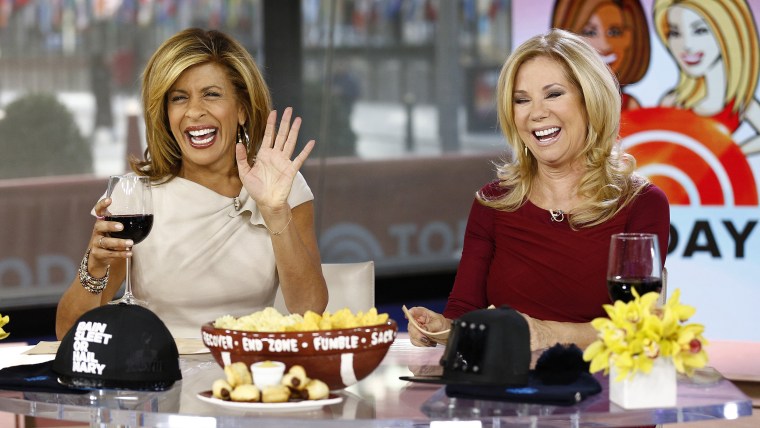 She is more of a writer than a singer at this point. 
Q. Molly Delettre: How do you keep your voice in such good singing shape?
KLG: I have real voice challenges these days because I developed asthma so I've been writing songs for people who can sing much better than I can!
Her favorite book is thousands of years old. 
Q. Joyce Hill: What is your favorite book? 
KLG: My favorite book is the Bible. I'm on my 8th time reading it from beginning to end, and I can't believe the new stuff I learn each time. It's ever fascinating. 
She might have been designing beige living rooms instead of being projected from TV screens into them. 
Q. Cathy O'Sullivan: If you were not in ANY type of show business at all, what would you have chosen to do? 
KLG: I probably would be an architect/interior designer. (She added in a later answer that her favorite color is beige). 
Switching coasts was a pivotal move in her career. 
Q. Leslie Jensen: What were some of the choices or risks (meaning leaps of faith) you made in your career that made the most difference in achieving your success?
KLG: The biggest choice was to move from L.A. to New York and change careers completely back in 1982, which led to my joining forces with Regis, which changed everything. The other would be the choice to write musicals. As difficult as it is, it's been deeply rewarding work for me.
Ask her about her (former) bunions, and she has no problem answering. 
Q. Judy Halpern Mikels: Met you in Nantucket and we compared bunions. Did you ever have surgery? I just has surgery 3 weeks ago.
KLG: Hope you're doing well. I had both of my feet done almost 7 years ago.
She has probably learned how to hold a glass of wine in one hand and a kayak paddle in the other. 

Q. Joan Piarulli: What do you like to on your day off for fun? 
KLG: I like to kayak around our house, and l love to read, and I just love to cuddle with my puppies.