When it comes to the bags in my closet that get a fair amount of use, some end up shouldering the burden more than others. While I graduated from college many years ago, I still love embracing collegiate style by pulling out a backpack from time to time. They come in especially handy during my visits to Disneyland, or on day trips throughout California.
I used to stick with the classic backpack look (think: whatever style your grade school-self carried), but my choices have definitely gotten more fashionable over the years. To up my backpack game, I've opted for styles and silhouettes with bold prints, fun colors and sleek fabrications. And that's exactly where the PINCNEL Anti-Theft Lightweight Backpack comes in.
What makes this backpack anti-theft?
This is actually one of the better-designed backpacks I've seen and used. As much as I like carrying a backpack during my day trips, I do worry that, unbeknownst to me, someone will unzip it from behind and steal all my belongings. That's not the case with this backpack, thanks to a few features that make theft pretty much impossible.
For starters, the main compartment is on the interior side of the bag, rather than on the outside. Meaning, the two zip-around pulls and the pocket are against your back, so they're invisible and impossible to reach by passersby. While I was worried that this might make carrying the backpack uncomfortable, I actually didn't feel any of the items inside it any more than I would with a pack featuring the pocket on the outside.
The bag also contains two zippered side pockets that, quite frankly, are so difficult to see that I almost couldn't find them, even with my stuff tucked inside! All three pockets lie flat, even when packed to the gills, so it's not obvious how much you may be carrying.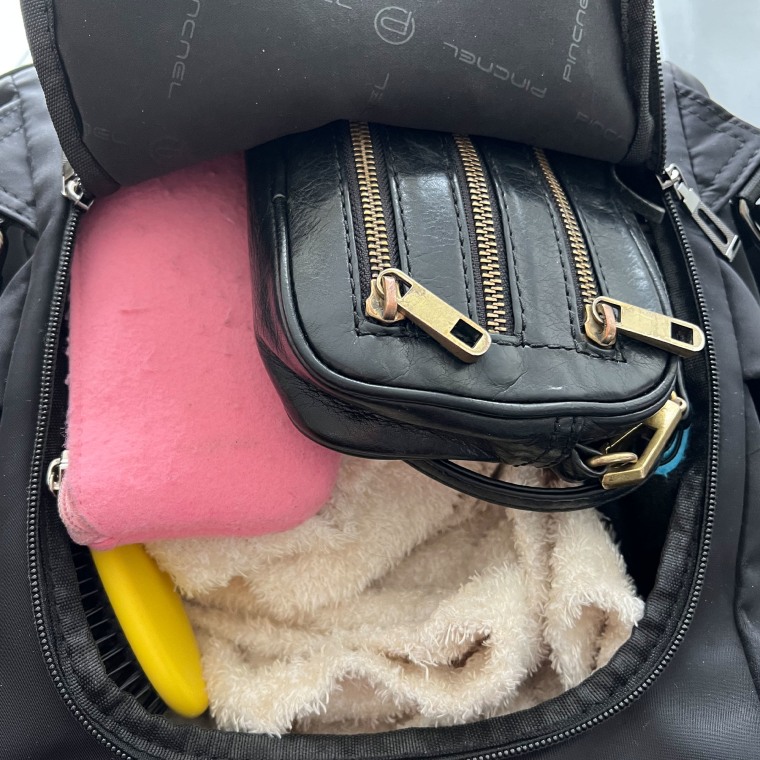 How much does the backpack fit?
Simply put — a LOT. I have the medium size, and was pretty shocked when I kept stuffing things inside and there was more room to be had. On a recent day trip to Catalina Island, where the high for the day was a crisp 60 degrees, I needed quite a few items: sunscreen, a sweater, a water bottle, my small purse with essentials (my ID, lip balm, and credit cards), sunglasses, two external phone chargers, even a brace to stabilize my once-broken ankle. I kept packing the bag with more items, and it almost felt like a magic Mary Poppins carpet bag that had the ability to add more and more.
It is comfortable to use and wear
Whenever I use this backpack, I have no issues carrying it throughout the day. While adjustable straps on other backpacks I've tried tend to cut into my sides and underarms, this one fits just right. Plus, the slouchy silhouette is chic without looking bulky. I like wearing it with both straps over my shoulders, just for ease of use, but the times I've worn it slung over one shoulder, it's felt like any other shoulder bag or tote. It also comes with a removable strap — which, honestly, I don't use, since the one time I tried to wear it as a crossbody and found the strap to be way too short and uncomfortable. But I do appreciate that there are multiple wear and carry options.
The fabric is sleek and durable
I love the sleek, almost shiny look of the faux leather and nylon. It adds something special and upscale to the silhouette. Plus, the nylon is water resistant, so I don't have to worry about getting caught in the rain (or on a water ride at an amusement park). The miniature faux fur keyring detail is also a fun finishing touch.
I opted for the classic black shade, but the backpack comes in a variety of eight different colors, fabrications and patterns, including Black Leather, Dark Red, Brown, and Gray.
In case my singing this backpack's praises doesn't sway you enough, maybe the more than 15,000 five-star ratings on Amazon will help. Shoppers loved that it's "very versatile," "has enough pockets," and that it "looks more expensive than it actually is." If you're a backpack fan in general, or you've been wanting to try one, this is absolutely the leader of the (back) pack.