Chef notes
Growing up, casseroles made the regular dinner roster in our house. Tamale pie was always my go-to comfort food. It was a year-round staple for us, and whenever I heard that it was on the menu, I knew it was going to be a good day. Tamale pie is the ultimate hybrid dish — it's equal parts casserole, chili and an all-around crowd-pleaser. Best of all, the cornbread is baked on top instead of being served on the side. It is hearty, satisfying and sticks to your ribs like nothing else. 
To start, make a speedy, shortcut chili. In our house, ground beef and onions were always sautéed with taco seasoning, then everything was cooked down with tomatoes, beans and broth. My mom added a special touch — a can of enchilada sauce. I have always loved the little something special that it adds, so here, I've taken things a step further by adding a jar of salsa instead of canned tomatoes — salsa just has so much more flavor than plain tomatoes! Frozen corn kernels add some fiber, and cheddar cheese is always a must as it melts into the chili mixture, making it extra rich. 
The chili is topped with a layer of cornbread batter, which bakes until it's golden and fluffy. I like to keep things quick and simple by using a boxed corn muffin mix. Get creative with how you want to serve the tamale pie. I love adding a dollop of sour cream, more scallions and a very generous amount of pickled jalapeños. 
Swap Option: Plant-based meat, such as Impossible or Beyond, is a seamless swap for the ground beef in this recipe. 
Ingredients
For the Filling
2

tablespoons extra-virgin olive oil

1

yellow onion, chopped

1

teaspoon kosher salt

1

pound ground beef

3

tablespoons taco seasoning

1

(19-ounce) can mild enchilada sauce
1

(16-ounce) jar mild red salsa

1

(15-ounce) can pinto beans, rinsed and drained

2/3

cup fresh or frozen corn kernels

8

ounces mild cheddar cheese, shredded

3

scallions, thinly sliced (dark green tops reserved for serving)
For the Topping
2

(8.5-ounce) boxes corn muffin mix

2

large eggs, room temperature

3/4

cup milk

1/2

cup sour cream, plus more for serving
4

tablespoons unsalted butter, melted

1/4

teaspoon kosher salt
pickled jalapeños, for serving
Preparation
Make the filling:
Preheat the oven to 375 F. Heat oil in a large heavy-bottomed skillet over medium-high. Add onions and salt and cook, stirring occasionally, until softened and beginning to brown in places, 8 to 10 minutes. Add ground beef and cook, breaking up the meat with the back of a spoon, until well browned and cooked, about 8 minutes. Add taco seasoning and cook until fragrant, about 1 minute. Stir in enchilada sauce, salsa, beans and corn. Bring to a boil, then stir in cheese and light green scallions. Remove from the heat and cover to keep warm.
Make the topping:
1.
In a large bowl, whisk together muffin mix, eggs, milk, sour cream, butter and salt until smooth and well combined. Pour the batter over the filling in the skillet, then use an offset spatula to spread it into an even layer.
2.
Place the skillet on a foil-lined baking sheet. Bake until the filling bubbles and the cornbread is pale golden, 30 to 35 minutes. Let cool for at least 15 minutes before serving. Top with dark green scallions, pickled jalapeños and more sour cream.
How to shop TODAY recipes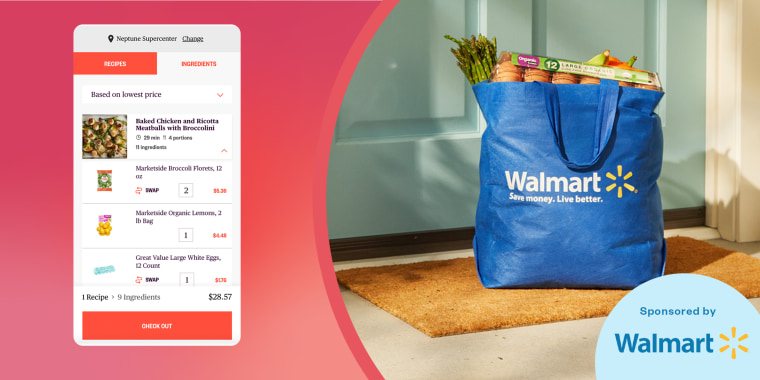 How to shop TODAY recipes
Here's everything you need to know about the cool new feature.
Learn More