Chef notes
There's no need to turn on the oven in order to satisfy your sweet tooth. These chocolate peanut butter bars are rich, creamy and taste better than any store-bought peanut butter cup we've ever had. They also require just minutes of actual hands-on time — most of the time needed to turn this dessert into a serve-worthy one  is actually done in the refrigerator.
To make these bars, you'll combine smooth peanut butter, melted butter, maple syrup, salt and crushed graham crackers in a large bowl. Prefer extra crunch? Use chunky peanut butter instead of smooth. You can also swap in honey in place of maple syrup and use crushed pretzels or saltine crackers instead of graham crackers. Pour this peanut butter layer into a baking pan and let it chill in the refrigerator for about an hour until it's completely set.
Next comes the layer of chocolate ganache. This is nothing but semi-sweet chocolate chips that are melted in warm heavy cream to create a smooth, luscious mixture. You'll pour it over the peanut butter layer, sprinkle a bit of flaky sea salt on top, if you like, for added crunch and saltiness, then return the pan to the refrigerator to chill for another hour until the top chocolate layer is also set. Cut the bars into squares and serve them straight from the fridge so they don't get too soft. We'll warn you that they're rich, indeed, so we suggest pairing a square with a tall glass of cold milk or even better: a steaming mug of bitter black coffee. 
Ingredients
Peanut Butter Layer
1½

cups smooth peanut butter

1

cup unsalted butter (2 sticks), melted

1/4

cup maple syrup
1/2

teaspoon salt

9

graham crackers, coarsely crushed (about 1½ cups)
Chocolate Ganache Layer
3

ounces heavy cream

6

ounces semi-sweet chocolate chips
Flaky sea salt, optional for topping
Preparation
1.
Line an 8-inch (or 9-inch) square baking pan with parchment paper. Set aside.
2.
In a large bowl, mix together peanut butter, melted butter, maple syrup and salt until combined. Fold in crushed graham crackers. Pour peanut butter mixture into prepared pan (the filling will be loose). Refrigerate until firm, about one hour.
3.
For the chocolate ganache layer, put heavy cream in saucepan and bring to a gentle simmer. Remove from heat and add in chocolate. Shake saucepan lightly so that the cream is covering all the chocolate and let sit for one minute (the warm cream will soften the chocolate). Stir together until chocolate and cream are combined. Spread chocolate over chilled peanut butter layer all the way to the edges.
4.
Refrigerate until firm, about one hour. 
5.
Cut into even squares and serve chilled. Keep any leftovers in refrigerator.   
How to shop TODAY recipes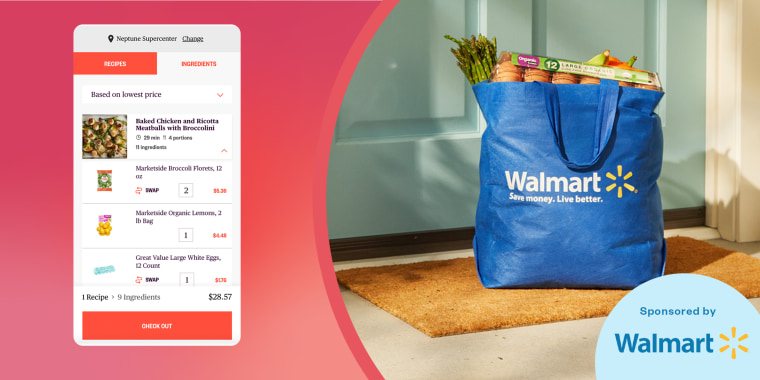 How to shop TODAY recipes
Here's everything you need to know about the cool new feature.
Learn More