Christine Brown and her daughter Gwendlyn Brown now have something special in common: They're both engaged.
On April 12, the "Sister Wives" star announced that her boyfriend David Woolley had popped the question and she gladly said "yes!" Following the news, Gwendlyn congratulated her mother on social media and shared a sweet message in her Instagram story.
"We're literally twinsies," the 21-year-old wrote, captioning a photo from her mother's engagement announcement.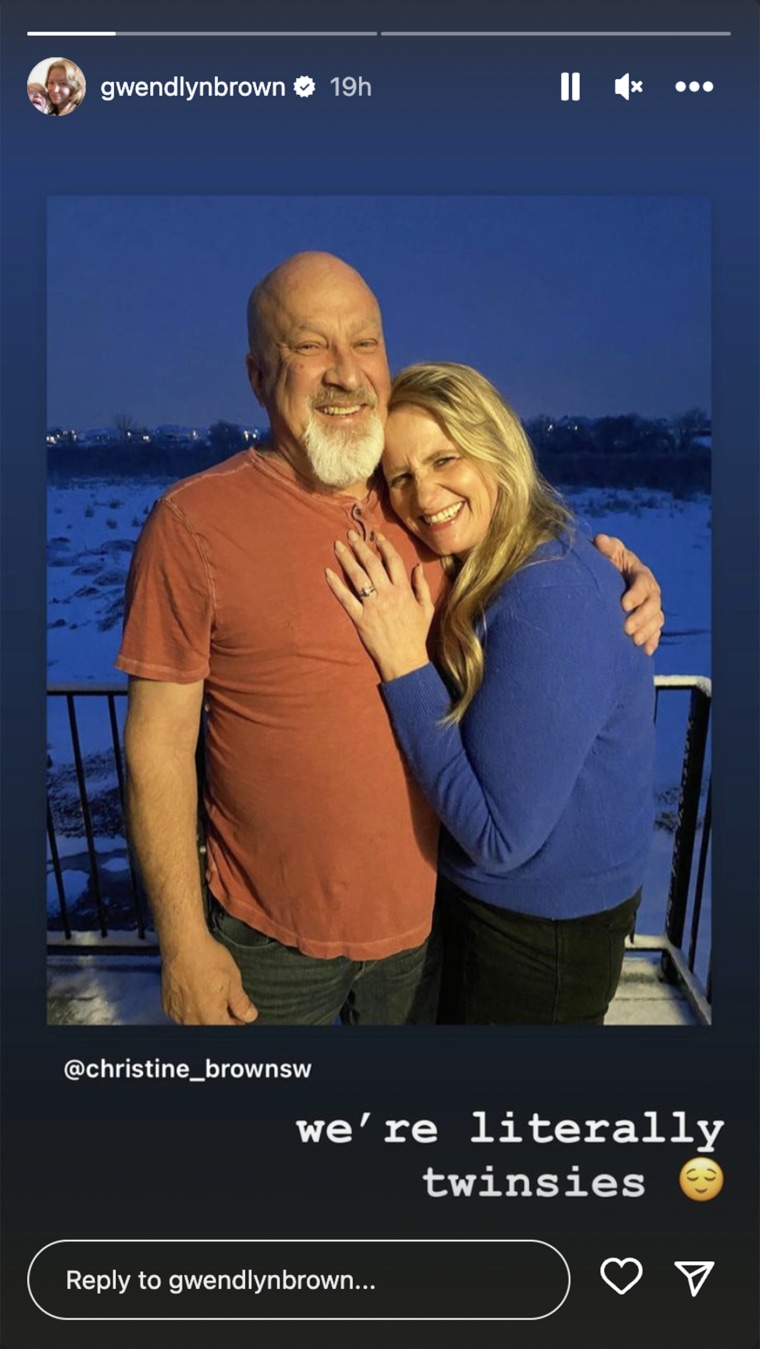 Gwendlyn, who came out as bisexual in Season 17 of "Sister Wives," revealed that she was engaged to her girlfriend Beatriz Queiroz in December. Last month, she announced that she will be taking her fiancée's last name once they tie the knot.
Christine, who has six children with her ex-husband Kody Brown, also got plenty of love from her other daughters following her engagement news.
Mykelti Padron commented on her mom's post and wrote, "CONGRATULATIONS 👏❤️." The mother of three also shared a photo of the newly engaged couple in her Instagram story, as did Christine's daughter Ysabel Brown.
Christine's former sister wife and close pal Janelle Brown expressed her excitement over the news and commented, "Hurray!!!" on her post.
The 53-year-old also posted her friend's announcement in her own Instagram story and included an animated graphic of the word "Happy."
Christine and Janelle were previously part of a plural marriage with Kody Brown and his two other wives, Meri and Robyn. In 2021, Christine revealed that she was leaving Kody after nearly 26 years of marriage. Janelle is currently separated from Kody.
Christine first announced that she had found love once again in February. On Valentine's Day, the couple took their relationship public on Instagram.
"I finally found the love of my life, David. The first time he held me close, it felt like my soul took its first breath," she captioned the post. "He's wonderful and kind, incredible with my children and an adorable grandpa. I never dreamed I could find a love like this."
Most recently, the reality star shared photos from a recent trip to Universal Studios Hollywood with Woolley and her youngest child, daughter Truely.
"Making memories and going through adventures have always been precious to me. I've been blessed enough with the ability and time to make these core memories with my kids. Adventuring with @david__woolley and Truely in California @unistudios this weekend has been wonderful," she captioned the post.