Christine Brown's new fiancé, David Woolley, seems to have won the approval of one of her best friends and former sister wives.
After her pal shared her engagement announcement on April 13, Janelle Brown wrote a note of congratulations in the comments section of her Instagram post.
"Hurray!!!" the 53-year-old wrote.
Janelle also shared her friend's post in her own Instagram story and added an animated graphic of the word "Happy" to celebrate the exciting news.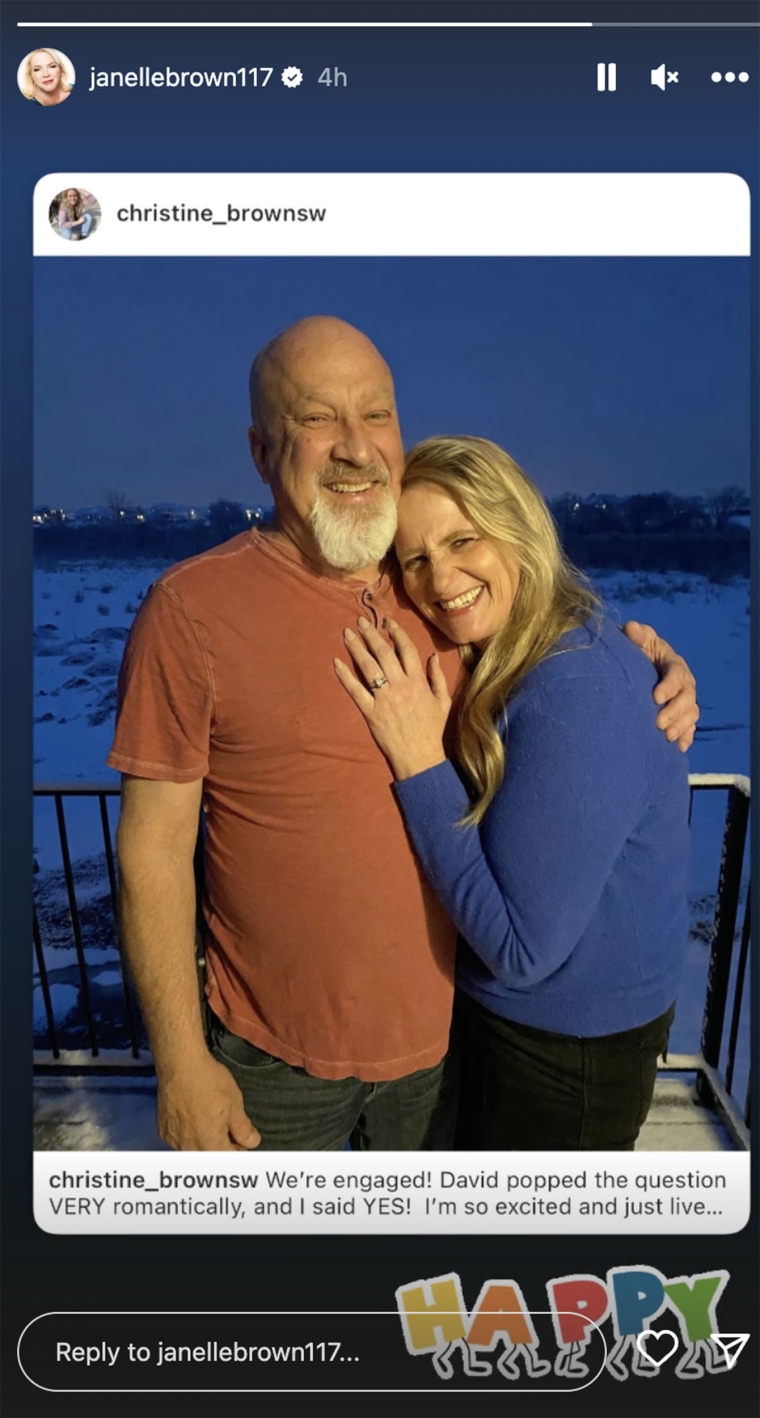 On Instagram, Christine, 50, revealed that she and her boyfriend David Woolley were taking the next step in their relationship.
"We're engaged! David popped the question VERY romantically, and I said YES! I'm so excited and just live in bliss every day!" she captioned the post.
Woolley also expressed his excitement on his own Instagram page, writing, "Everyday when I look at you I can't believe I am the l luckiest guy in the world because I have you."
Christine has consistently gushed about Woolley since announcing their relationship in February.
Christine and Janelle were once part of a plural marriage with Kody Brown and his two other wives, Meri and Robyn. After nearly 26 years of marriage, Christine announced that she was leaving Kody in 2021.
Janelle recently revealed that she and Kody have separated. Meri and Kody also announced their decision to "permanently terminate" their marriage. Robyn and Kody are still together.
Season 17 chronicled Christine and Kody's breakup, and highlighted her especially close bond to Janelle.
In February, Christine and Woolley went Instagram official. She wrote she had "finally found the love of (her) life."
"The first time he held me close, it felt like my soul took its first breath," she captioned the post. "He's wonderful and kind, incredible with my children and an adorable grandpa. I never dreamed I could find a love like this."
The happy couple recently went on a trip to Universal Studios Hollywood with Christine's youngest child, daughter Truely. The reality star shared several photos from the fun excursion.
"Making memories and going through adventures have always been precious to me. I've been blessed enough with the ability and time to make these core memories with my kids. Adventuring with @david__woolley and Truely in California @unistudios this weekend has been wonderful," she captioned the post.