Savannah Chrisley is reflecting on life as a "bonus parent."
The 25-year-old "Chrisley Knows Best" star has custody of her 17-year-old brother Grayson and 10-year-old niece Chloe while her parents are in prison.
Sharing a slideshow of a photoshoot she had with Grayson and Chloe on the beach, Chrisley wrote how "tough" it has been to care for her family, while also giving a shout-out to single parent and single income households.
"I'm not their mom. I'm not their dad. I'm their sister and I get to love and guide them through life. Being a bonus parent is TOUGH," she began. "No one could ever add up to their parents. But these kiddos have shown me so much love, patience, grace, understanding, and appreciation!"
She added that raising Grayson and Chloe has been the "hardest but most rewarding job" she will ever have.
"I've always said, 'God meant for me to be a mama!'… little did I know, the journey would start a little sooner than expected!" she continued, adding that luckily she had the most amazing mother, Julie Chrisley, in the world to learn from. "Because of her I can do this!"
It'll be a long road ahead for the Chrisley clan. Todd Chrisley was sentenced to 12 years in prison and wife Julie Chrisley received a seven-year sentence after they were found guilty of financial fraud, tax evasion and conspiracy to defraud the United States.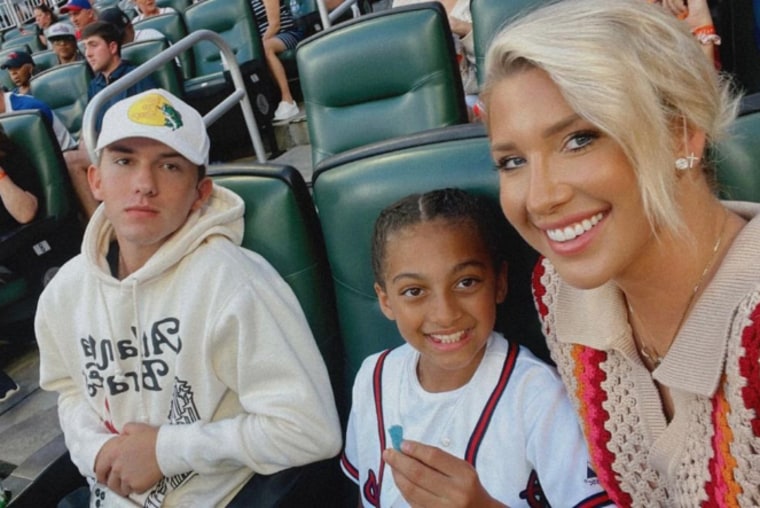 Amid taking care of Grayson and Chloe, Savannah Chrisley praised people who are raising children all on their own.
"Single parent/income households… I SEE YOU! We do it solo. IT IS HARD! It can be so defeating!" she continued in her post. "But I promise you… God will NOT give us more than we can bare! I SEE YOU! I BELIEVE IN YOU! YOU CAN DO THIS!"
She concluded her message by telling her younger siblings that they are her life and thanking them for "letting me love you and thank you for loving me back." She also added the hashtags #singleparent and #bonusparent.
Savannah Chrisley has three other siblings; brother Chase, 27, half-brother Kyle, 32, and half-sister Lindsie, 33.
Since their parents reported to their respective prisons in January, Savannah Chrisley has shared updates about their lives on her podcast. She has noted how "weird" it was to see her father with gray hair and how her parents spend their time in prison.
In the latest "Unlocked with Savannah Chrisley" episode, she and Chase Chrisley recalled visiting their parents and seeing them live in "inhumane conditions."
"It's a nightmare," Chase Chrisley — who recently announced his split from fiancée Emmy Medders — said. "Now they both have no air conditioning. They are both in states where it gets to be 100+ degrees and there's no air conditioning."
As for Savannah Chrisley, over the last months, she has touched on how her family's situation has been affecting her personal and dating life.
"I had a breakdown (thinking), 'I don't know how (my mom has) done in all these years.' Like, she's an angel. She's one of a kind," she said on the March 14 episode of "Off The Vine with Kaitlyn Bristowe" podcast. "In no way shape or form will I ever be their mother. I'm still their sister." 
Just last month, Grayson was on his sister's podcast and shared that he's struggled to cope with his parents' prison sentences.  
"To me, it's worse than them dying," he said. "Because they're here, but they're not here. So it's just time that's being wasted. I'm saying, like, if they died, there's no possibility of you getting any more time with them. So it's over."
He added that there is some bitterness about the situation, saying, "There's no way around it. It's gonna suck for as long as they're there."
In the meantime, Savannah and Chase Chrisley shared in her July 25 podcast episode that the family has sought new legal representation and both Todd and Julie Chrisley are appealing the conviction.