Savannah Chrisley is sharing some insight on how her parents, Todd and Julie Chrisley, are dealing with their prison sentences.
In her latest "Unlocked" podcast episode, released on May 1, the 25-year-old revealed that her parents haven't spoken to each other in almost four months, since they began their prison sentences.
The "Chrisley Knows Best" patriarch is currently serving 12 years in prison, while his wife received a seven-year sentence after they were convicted of tax fraud.
Savannah Chrisley described how her mother, who is serving her time at Federal Medical Center (FMC) Lexington in Kentucky, sent her letters detailing her experience.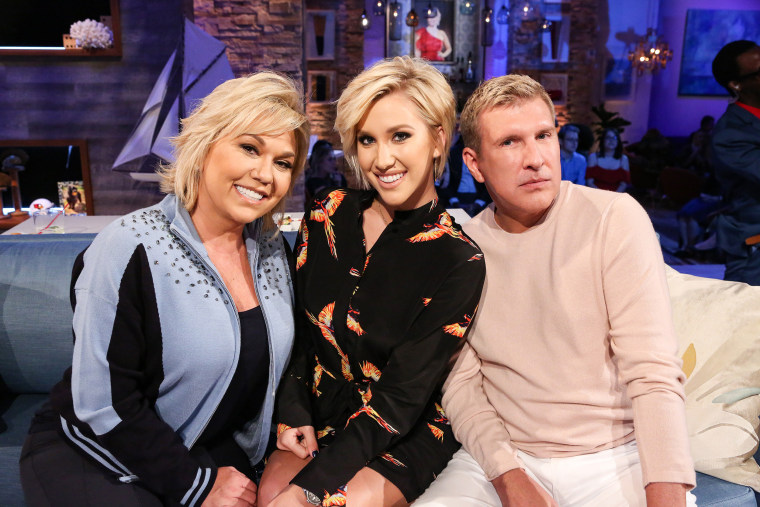 "She actually sent me 30 to 40 days' worth of letters," she shared. "It was just like her daily diary, journal…I'll eventually put them out, read them at some point to give people updates on how they were doing and what was going through their minds."
She said the "constant theme" in her mom's letter is that she can't believe her daughter life is "having to be put on hold."
"I don't think there's a single letter that goes by that she does not say how much she misses my dad," she continued. "They don't get to talk…So we're like, four months in, almost, and being together almost 30 years now and not going a day without speaking, to now going on four months is a lot."
Savannah Chrisley added that the situation "is tough" and "just a lot."
"Her letters, it was a lot to read. It was tough to see the accounts of her day and things that she's scared of or nervous about," she added. "Just, all the thoughts that go through her mind and not having my dad there with her, that's the biggest thing. It's tough."
The 25-year-old reality star gained custody of her 16-year-old brother Grayson and 10-year-old niece Chloe when her parents were sent to prison. While Julie Chrisley is in Kentucky, Todd Chrisley is serving his time at Federal Prison Camp Pensacola in Florida.
Earlier in the episode, Savannah Chrisley shared how it's easier to travel to see her mother, as opposed to driving seven hours to see her dad.
"I imagine this is what having divorced parents feels like, with having to to figure out who am I gonna go see this weekend," she explained. "Bouncing back and forth. And that's the hard part of figuring out like, alright, who am I gonna go see? Because also going to see dad is ...a lot further away."
The "Chrisley Knows Best" stars were found guilty of fraud, tax evasion and conspiracy to defraud the United States by a federal jury in Atlanta in June 2022. They were also accused of trying to defraud Georgia banks out of $30 million in personal loans. Todd and Julie Chrisley were sentenced on Nov. 21. They reported to their respective prisons on Jan. 17.
Since then, Savannah Chrisley noted that she feels like she's had to put her life on hold to take care of her family.
She said that the life she is living is "not sustainable," but it is only. until her parents are able to come home. 
"I can't look at a relationship with someone and think, 'Oh, I'm gonna get into a serious relationship with that person.' It just doesn't work that way," she said. "Unfortunately, as great as people may be that come along my path right now, I just can't, I don't have that emotional capacity or time to give to someone other than the kids and myself."