Kyle Chrisley is now facing legal troubles of his own.
The son of reality star Todd Chrisley was arrested in Tennessee on March 14 after an altercation at his place of employment, authorities said.
According to a statement from police in Smyrna, south of Nashville, a warrant for aggravated assault was obtained for the 32-year-old as a result of an incident that happened on Monday, March 13.
Police said in the statement that Kyle Chrisley "was involved in a physical altercation with a supervisor" and that Chrisley pulled a "fixed blade" during the incident.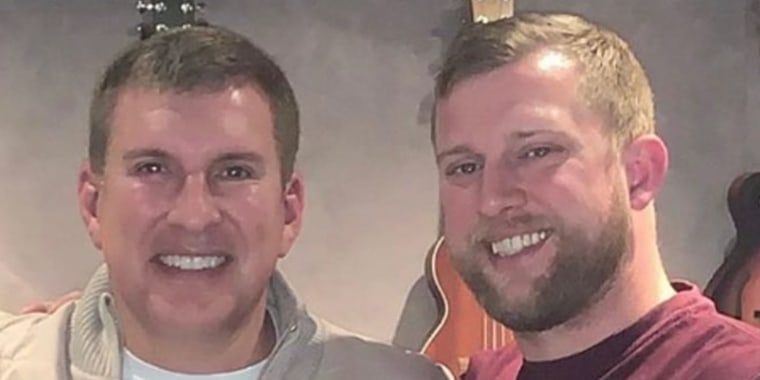 Kyle Chrisley voluntarily appeared on Tuesday for booking procedures due to the active warrant. His bond was set at $3,000 and he was transported to the Rutherford County Adult Detention Center.
TODAY reached out to the family's representatives for comment.
The arrest comes almost two months after Todd Chrisley and his wife, Julie, reported to prison after they were found guilty of fraud, tax evasion and conspiracy to defraud the United States by a federal jury in Atlanta.
The two were accused of trying to defraud Georgia banks out of $30 million in personal loans. They were sentenced on Nov. 21, 2022, and began their prison stint on Jan. 17.
Todd Chrisley is currently serving 12 years at Federal Prison Camp Pensacola in Florida, while Julie Chrisley is serving seven years at Federal Medical Center in Lexington, Kentucky.
Todd Chrisley, who starred on the USA Network reality show "Chrisley Knows Best" star, shares Kyle and a daughter, Lindsie, with ex-wife Teresa Terry.
He and Julie Chrisley have two sons, Chase and Grayson, and a daughter, Savannah.
Kyle Chrisley has a 10-year-old daughter, Chloe, whom Todd and Julie Chrisley legally adopted. While the two are in prison, Savannah Chrisley has custody of Chloe and Grayson, who is 16.
On the same day as Kyle Chrisley's arrest, Savannah Chrisley spoke about being her brother and niece's caretaker on the "Off The Vine with Kaitlyn Bristowe" podcast.
"I had a breakdown (thinking), 'I don't know how (my mom has) done in all these years.' Like, she's an angel. She's one of a kind," she said of taking care of her family. "In no way shape or form will I ever be their mother. I'm still their sister."
EDITOR'S NOTE (March 15, 2023 at 3:34 p.m. ET): An earlier version of this story stated Kyle Chrisley was arrested after an incident at a Penske truck rental location where he worked, according to Smyrna Police. On March 15, Smyrna Police confirmed that Chrisley does not work for Penske but was involved in an incident reported at East Enon Springs Road in Smyrna, Tennessee.