When you wear a full face of makeup every day (like me), keeping your pores clear and unclogged can be a challenge. I've tried the popular three-step skin care systems and every brand of facial wipes on the market, but while those methods seem to be effective on the surface, my pores underneath would beg to differ.
So, I started to search for a tool that could help give my skin a deeper clean and almost immediately discovered the Pure Daily Care NanoSteamer. With over 26,000 five-star reviews on Amazon, an affordable price tag and a promise to remove skin impurities, this device certainly got my attention.
What makes this facial tool unique is that it's designed to generate nano-ionic steam, which combines with an "ultrasonic vaporizer" to produce negatively charged ionic particles. This combination is meant to be up to "10 times more effective in penetrating skin" and cleaning deep within your pores. I never thought much about ions and my skin before — but now I can attest to their power!
How I use the facial steamer
Before using the device, I prep my skin by cleansing with my usual face wash. Once my face is clean, I simply fill the small plastic water reservoir with distilled or filtered water. After waiting a few minutes for the steamer to warm up — voila! I've created an at-home spa treatment, without the pricey bill to match.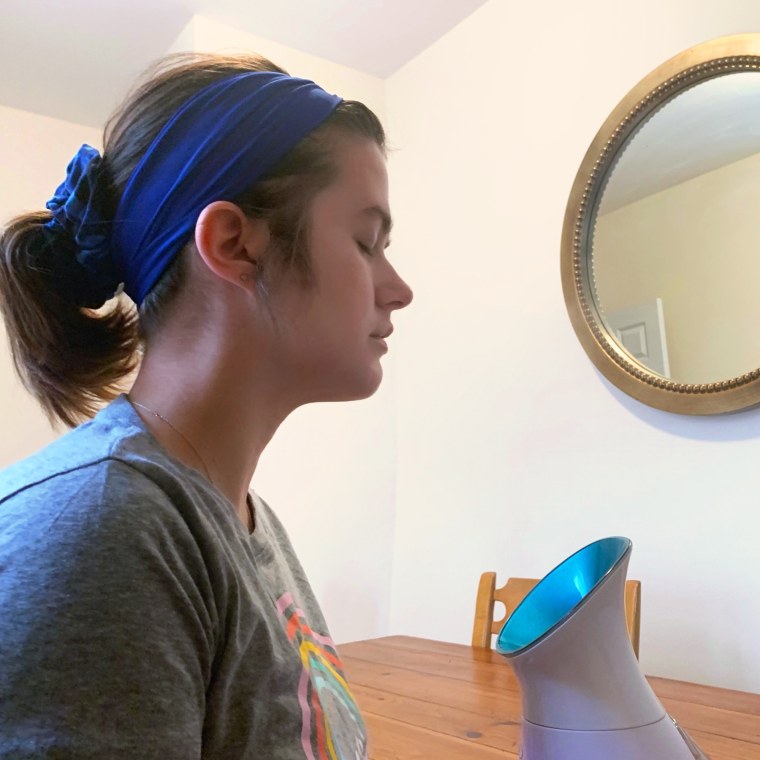 While the brand suggests using it for at least 20 minutes to fully hydrate the skin and open the pores, I typically only need to use it for about 10 minutes. But if you prefer a longer session, the tank is able to provide up to 30 minutes of continuous ionic steam.
The steam is very warm, so I recommend holding your head back a bit from the nozzle. When you keep a short distance, it is incredibly effective and relaxing. As recommended by the brand, I sometimes wrap a towel around my head to help keep the steam focused on my face, and by the end of my session, I'm left with a perfect, glowy complexion that feels silky smooth.
After using the steamer just one time, I was amazed to see how much gunk was trapped below the surface of my skin. Using the steamer provided clear evidence that even if you wash your face daily, you might have leftover products hiding in your skin. (Yuck!)
It's a three-in-one device
Not only does this device provide a soothing steaming experience, but it also works as a humidifier and a towel warmer. In the past, the only time I've ever had my towels warmed was while visiting a professional spa. To use the towel warmer portion of the steamer, you just need to twist the top section off and place your towel over the small grid inside. I live in a small apartment and tend to keep the air conditioning blasting on warmer days, so the wrap of warmth is always a welcome comfort.
An added bonus: The steamer comes with a five-piece stainless steel blackhead extractor kit. The included tools are great for removing blemishes after the steam has unclogged my pores.
In addition to loosening up any dirt, makeup or trapped sebum, this device preps my skin to better absorb all the products that I apply after the steam session. According to the brand, it's also meant to increase blood circulation and improve cell vitality to reveal healthier looking skin. Who knew steam could do so much?