Chef notes
Although the jury is still out on where or how penne alla vodka originated, I'm very glad it exists. This hug-you-from-the-inside-out meal is the ultimate comfort food — creamy, filling and absolutely delicious. Whereas most traditional tomato based sauces are cooked with wine to enhance the flavor, the lack of a strong flavor in vodka allows the other ingredients to shine. The acidic tomatoes, earthy garlic and spicy red pepper flakes are awakened by the vodka, making for a balanced and truly delicious sauce.  
This recipe checks a lot of boxes — and yet you wouldn't know that the creamy sauce wasn't made with heavy cream, making it a crowd-friendly meal for vegans or anyone with a dairy allergy.  Penne alla vodka is a well-loved dish (try to find someone that doesn't smile when you say vodka sauce!) and it comes together in just 30 minutes, making it a great weeknight meal option to boot.
Penne is the traditional pasta shape used in this vodka sauce-based dish, but any other type of ridged, tubular pasta such as rigatoni or cascatelli will work great here. The rigate or "ridges", in Italian, help the sauce to cling to the pasta and makes for a very satisfying bite. To make this recipe both dairy and gluten-free, substitute a chickpea or rice based pasta for a traditional semolina-based pasta. 
Cashew cream is an ingredient that's popular in dairy-free recipes and for good reason. It's easy to make from scratch  and adds a deliciously creamy texture to anything it's stirred into. It combines very well with tomato sauce, making it a great addition to this recipe. 
This dish is best served right out of the pot, topped with fresh basil and paired with a light Italian red wine or a cold glass of prosecco. Leftovers reheat beautifully the next day in a skillet on the stovetop with a splash of water.
Technique Tip: A high-powered blender is the best tool for homemade cashew cream. If you don't have one, soak the cashews in water for at least 2 hours or overnight, drain and continue with the directions below. 
Swap Option: Use vegetable stock in place of water or sundried tomato paste in place of regular tomato paste for added flavor.
Ingredients
1/4

cup olive oil

1

large yellow onion peeled and finely diced (about 1½ cups)

3

cloves garlic, peeled and finely chopped

1/4

cup plus 1 teaspoon kosher salt, divided

1/2

teaspoon freshly grated black pepper

1/2

teaspoon crushed red pepper flakes

2

tablespoons tomato paste
1

cup vodka

1

(28-ounce) can crushed tomatoes

2¼

cups water, divided

2

sprigs basil, plus more for garnish

1

cup raw whole cashews

1

pound penne rigate
Preparation
1.
In a large pot set over medium heat, add olive oil and heat until it ripples, 2 to 3 minutes. Add onions and allow them to soften, stirring often, 3 to 4 minutes. Add garlic, 1 teaspoon salt, black pepper and red pepper flakes and stir to combine. Cook until the garlic has softened, 2 to 3 minutes. Add tomato paste and cook, stirring occasionally, until the tomato paste begins to smell fragrant, 1 to 2 minutes. Deglaze the pan with vodka and allow the sauce to reduce by half, 3 to 4 minutes. Once reduced, add crushed tomatoes, 1½ cups water, basil springs and stir to combine. Bring sauce to a boil, then immediately reduce heat to simmer. Let the sauce simmer for 20 minutes, scraping down the sides and stirring often, until thickened.
2.
Bring a large pot of water to a boil.
3.
While the sauce is simmering and the water is heating, make the cashew cream. In a blender, add cashews and 3/4 cup water and blend on high until the sauce is completely smooth and resembles the consistency of heavy cream.
4.
Add 1/4 cup of salt to the boiling water. Add the penne and cook to al dente according to package directions.
5.
Remove basil springs from the sauce and discard. Turn the heat off the stove and add cashew cream to the vodka sauce, stirring until combined and mix until the sauce is light pink.
6.
Once the pasta is cooked to al dente, drain the water and transfer the pasta into the sauce. Stir to combine. To serve, top with thinly sliced basil leaves.
How to shop TODAY recipes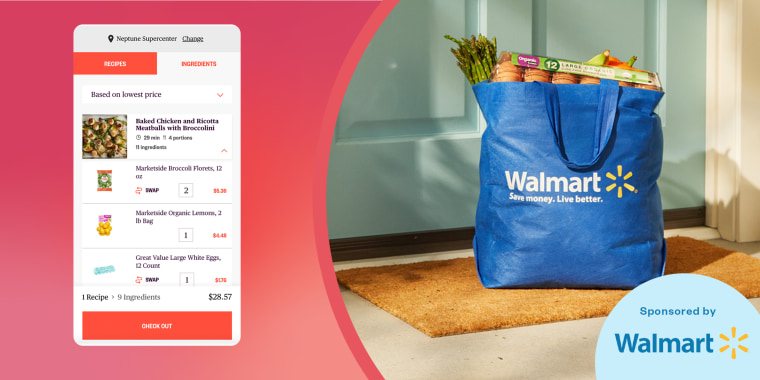 How to shop TODAY recipes
Here's everything you need to know about the cool new feature.
Learn More