Ingredients
Casserole
4

eggs

1 1/2

cups milk

½

cup cream

½

cup brown sugar

1

teaspoon ground cinnamon
1

teaspoon ground nutmeg

3

tablespoons butter

1

teaspoon pure vanilla extract

1

loaf challah, unsliced (other bread options: Hawaiian sweet bread, French loaf or panettone)
Cinnamon sugar topping
2

tablespoons granulated sugar
Whipped ricotta topping
1

8-ounce container whole-milk ricotta cheese

1/2

teaspoon pure vanilla extract
2

tablespoons confectioners' sugar
Optional
3

tablespoons chopped pecans
Preparation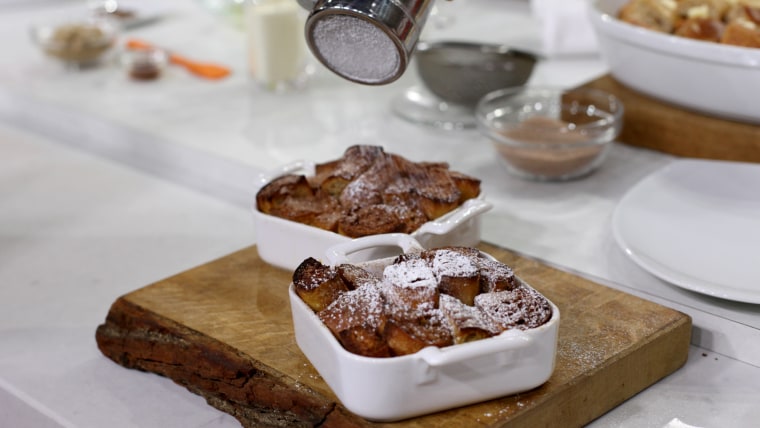 Spray a deep dish casserole with cooking spray.
Cut bread into thick slices then into cubes, and distribute in the pan, filling about ¾ full.
In a large bowl, whisk together the eggs, cinnamon and nutmeg until well blended. Whisk in milk, cream, granulated sugar, brown sugar and vanilla. Pour evenly over the bread and stir gently. 
Cover the pan tightly and store in the fridge for an hour or overnight.
Preheat the oven to 350 degrees F. Remove the casserole from the fridge and sprinkle cinnamon sugar over top with sieve.
Bake for 45 minutes for a softer, more bread pudding texture or for 1 hour-plus or more for a firmer, crisper texture.
Cut or scoop out individual portions, about 2" x 2". 
Mix whipped ricotta ingredients.
Top portions of french toast casserole with a dollop of whipped ricotta and drizzle with warm syrup and chopped pecans.