Chef notes
You heard us right – make-ahead soufflés! Whether you're meal prepping a week's worth of breakfast for your family or hosting a casual brunch for a crowd, these baked egg soufflé tarts are sure to satisfy.  Think of these make-ahead pastries as a slightly less dense version of a quiche, but in individual portions. 
The crust of these soufflé pastries is made with store-bought puff pastry. Whether you are using individual tart pans or a standard muffin tin to create these soufflés, cut the pastry into squares and fit it into the tins. Don't worry if the corners of the dough hang over the edge — you want to have some wiggle room so that you have enough dough to keep the filling enclosed as the eggs puff in the oven. The filling is made with a combination of eggs, Pecorino cheese, sour cream, baking powder and some spices. You can also stir in any vegetables or cooked meats you like. We kept this recipe vegetarian-friendly with frozen spinach, jarred artichoke hearts and fresh bell pepper, but you could add shredded rotisserie chicken, leftover chopped ham or crumbled bacon. 
You can certainly bake these soufflés off and serve them warm, but the beauty of this recipe is that they can be made-ahead. They can be fully baked and rewarmed in the oven or microwave, or they can be par-baked and finished off in the morning.
Variations
Spinach and Bacon: Replace the artichoke hearts with 1/4 cup chopped cooked bacon (from about 2 slices of thick-cut bacon). Omit the red bell pepper.
Ham and Swiss: Replace the spinach and artichoke hearts with a scant 1/2 cup chopped sliced deli ham (about 1/8 pound), and replace the Asiago cheese with 4 tablespoons Swiss cheese. Omit the red bell pepper.
Four Cheese: Replace the spinach and artichoke with 1/2 cup shredded Cheddar cheese; use a combination of Pecorino Romano cheese and Parmesan cheese.  
Ingredients
Ingredients
1

sheet puff pastry (from one 17.3-ounce package), thawed

3

large eggs

1/4

cup finely grated Pecorino Romano cheese or Parmesan cheese

2

tablespoons sour cream or Greek yogurt

1/2

teaspoon baking powder

1/4

teaspoon kosher salt
1/4

teaspoon garlic powder

1-2

dashes hot sauce (optional)

1/4

cup frozen chopped spinach, thawed and drained of excess water

2

canned artichoke hearts, chopped

1

tablespoon finely diced red bell pepper

4

tablespoons grated Asiago cheese
Preparation
1.
Preheat the oven to 400 F.
2.
If using individual tart pans (about 4 inches in diameter), cut the puff pastry into quarters with a sharp knife or pizza cutter. If using a standard 12-cup muffin tin, cut the puff pastry into 9 squares. Line 4 tart pans with the puff pastry squares, letting the corner points drape over the edges of the pan. Or grease 9 of the muffin tin wells and gently press a puff pastry square into each. They will not reach to the top of the tin.
3.
In a medium bowl, whisk together the eggs, Pecorino cheese, sour cream, baking powder, salt, garlic powder and hot sauce (if using) until blended. Stir in the spinach, artichoke hearts and bell pepper.
4.
Divide the filling evenly between the tart pans. Sprinkle 1 tablespoon Asiago cheese on each tart, then gently and loosely fold the 4 corner points over the filling.
5.
Bake for 25 minutes, until the pastry is browned and the eggs are puffy. Cool completely, then remove from the pans. Serve immediately or refrigerate in a covered container up to 4 days, or freeze up to 2 months. 
To reheat: Microwave refrigerated soufflés for 2 to 3 minutes and frozen soufflés for 5 to 6 minutes until warmed through, or heat in a 300 F oven for 10 minutes (refrigerated) or 15 minutes (frozen).
To par-bake the tarts for a next-morning brunch:
1.
Bake for 10 minutes, until the pastry is matte instead of shiny and raw-looking. Cool completely. Wrap each tart or the entire muffin tin in foil or plastic wrap, and refrigerate overnight. 
2.
To reheat: Preheat the oven to 400 F. Remove the foil or plastic wrap and bake the tarts for 15 minutes, until the pastry is browned and the eggs are puffy. Serve warm.
How to shop TODAY recipes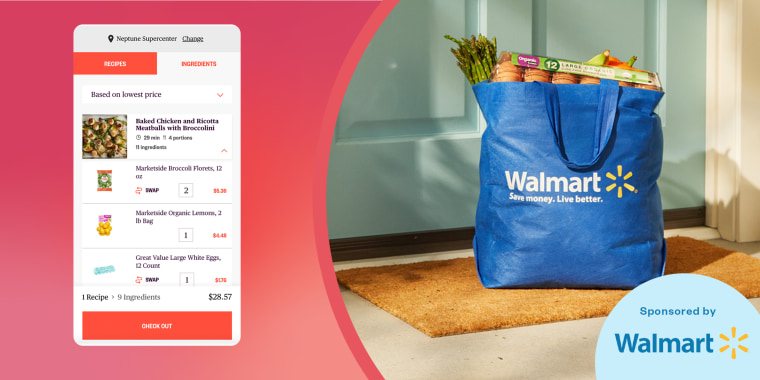 How to shop TODAY recipes
Here's everything you need to know about the cool new feature.
Learn More