The 2023 Academy Awards kicked off with glitz and glamour on a champagne carpet. All eyes were then directed to the stage for Jimmy Kimmel's monologue to see how — or if — he would address last year's infamous Oscars slap.
It had been a year since Will Smith smacked Chris Rock after the comedian made a joke about his wife, Jada Pinkett Smith. The actor, who went on to win the Oscar for best actor, apologized for his action, but was banned from the ceremony and Academy of Motion Picture Arts and Sciences' events.
The references at this year's ceremony were plenty, with Kimmel announcing what would happen if any violent acts were committed during the telecast.
"If anyone in this auditorium commits an act of violence… you will be given the best actor Oscar and allowed to make a 19-minute speech," he said, referencing Smith's 2022 win for "King Richard."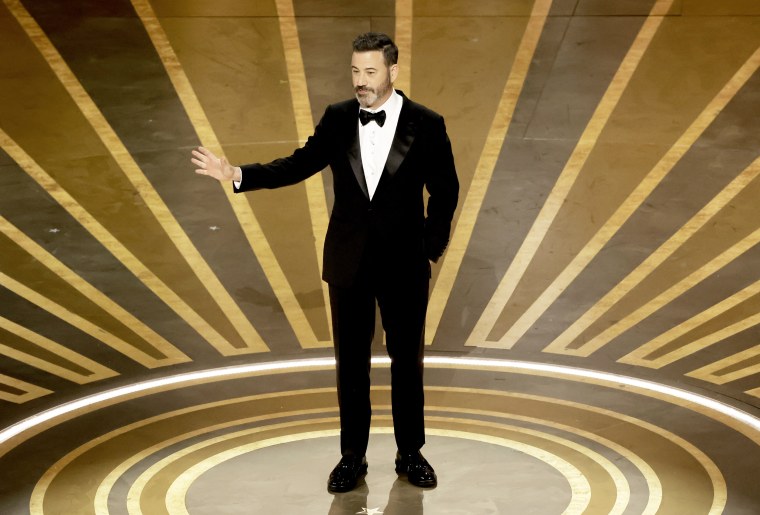 He then brought up the Oscars' crisis team and the measures that they will take — or lack of action. "If anything unpredictable or wild happens during the ceremony, just do what you did last year: nothing."
The references didn't stop there, as the emcee of the night seemingly couldn't hold back.
"The next category is documentary feature, which, as you may recall, is where things went off the rails last year," he said. (Smith hit Rock as he was presenting that same category the year before.)
"Hopefully, tonight it goes off without a hitch...or at least, without Hitch," Kimmel continued, referencing Smith's 2005 film.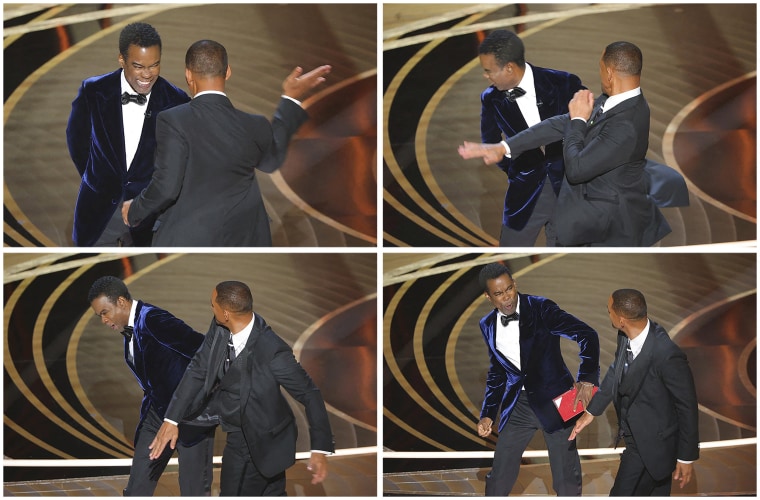 Two hours into the ceremony, Kimmel once again quipped: "This point in the show kinda makes you miss the slapping a little, right?"
While the jokes invoked laughter from the audience, viewers took to social media to express they were tired of the bit.
"So y'all was SO SCARED when the slap happened but keep laughing at every joke about it???? #Oscars," one person tweeted.
"If I have to hear another Will smith slap joke #oscars," another added with a GIF.
One person couldn't help but wonder: "For people so traumatized by the slap, they keep talking about it."
Someone also suggested they should boo every time a slap joke happens.
"There's zero reason to talk about the slap this much. Unfortunately it was the most interesting thing to happen at the Oscar's in decades," writer Amil Niazi tweeted.
One person also pointed out a particularly negative aspect of bringing up the moment: "Considering how many Black films weren't recognized this year, and a high probability that a Black person wont receive an award tonight… probably not the best idea to make the running bit of the show making fun of the Black person who did win last year. #Oscars
And the tweets kept going:
"Okay, enough with Will Smith slap jokes. We get it, y'all were the same ones whining last year when it happened. Move on," one more person concluded.
Hosted by Jimmy Kimmel for the third time, the 2023 Oscars are broadcast live from the Dolby Theatre in Hollywood in Los Angeles at 8 p.m. ET/5 p.m. PT, with the red carpet starting earlier. The 2023 Oscars are available to watch on ABC and various streaming platforms. 
Leading the list of nominees include "Everything Everywhere All at Once" and "The Banshees of Inisherin."
The list of performers and presenters includes Rihanna, following her Super Bowl halftime show, and the viral Telugu-language hit "Naatu Naatu."
Follow TODAY.com for complete Oscars coverage, including this year's winners and unexpected moments.