Jimmy Kimmel returned to the Oscars stage — or should we say parachuted in — to host the 2023 Academy Awards with jokes aplenty, covering everything from Nicole Kidman's AMC commercial to the infamous slap, which made headlines at the 2022 Oscars.
The "Jimmy Kimmel Live!" host dropped onto the stage attached to a parachute, simulating an emergency exit from a plane alongside Tom Cruise in "Top Gun: Maverick."
While Cruise and "Avatar" director James Cameron were not in attendance, he did credit the film with bringing audiences back to the theaters before joking, "The two guys who insisted we go to the theater, didn't go to the theater."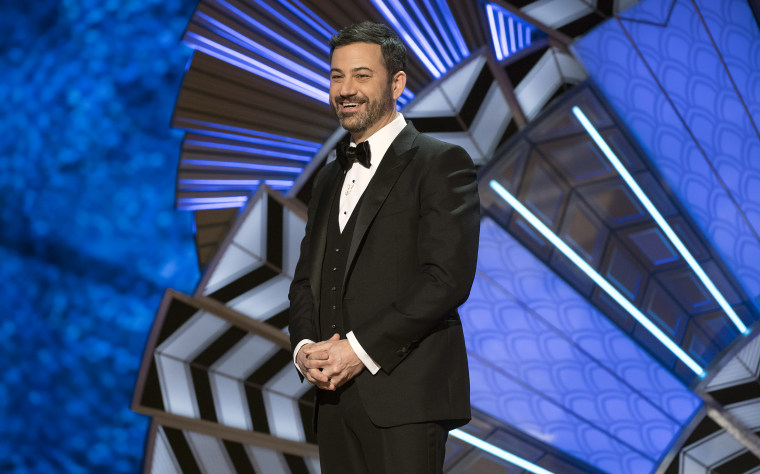 Of course, Kimmel had to take a shot at the infamous slap, as he previously said he would. Specifically, he took aim at the fact that, after Will Smith took the stage and hit presenter Chris Rock at the 2022 Oscars, the show went on seamlessly. Smith went on to accept the award for best actor. He apologized to Rock the next day; Rock responded a year later in a Netflix special.
"If anyone commits an act of violence during the show, you will be awarded the Oscar for best actor and permitted to give a 19-minute speech," Kimmel said.
Kimmel then took a moment to inform the audience of the crisis team in place, before taking a parting joke at the slap's aftermath.
"If anything unpredictable or wild happens during the ceremony, just do what you did last year: nothing," he said.
He also called out some people who might be able to offer him protection, naming fictional characters rather than the actors who play them: Adonis Creed (Michael B. Jordan), the Mandolorian (Pedro Pascal) and Spiderman (Andrew Garfield).
Kimmel first called out Nicole Kidman in his opening monologue, who attended with ceremony alongside her husband, Keith Urban. He expressed gratitude that she was finally "freed" from an abandoned AMC theater, referencing her often-memed commercial.
"She's been held captive for almost two full years now," he said. "It's good to have you back, Nicole. And thank you for encouraging people who were already at the movie theater to go to the movie theater."
He also noted that while Kidman looks beautiful, so does everyone.
"When I look around this room, I can't help but wonder, 'Is Ozempic right for me?'" he said, referencing the treatment for Type. 2 diabetes used as an off-label weight loss medication.
Steven Spielberg also was the target of a few jabs. Kimmel said that the nine-time-nominated director must be running out ideas.
"Poor Steven Spielberg had to make a movie about Steven Spielberg," he said.
He then honored several of the first-nominees in the room, including comeback actors Brendan Fraser and Ke Huy Quan ("Two actors from 'Encino Man' are nominated for Oscars," he joked). As well as Austin Butler, who is famously still speaking like the rock 'n' roll legend.
"He was so convincing as Elvis, still is," he said.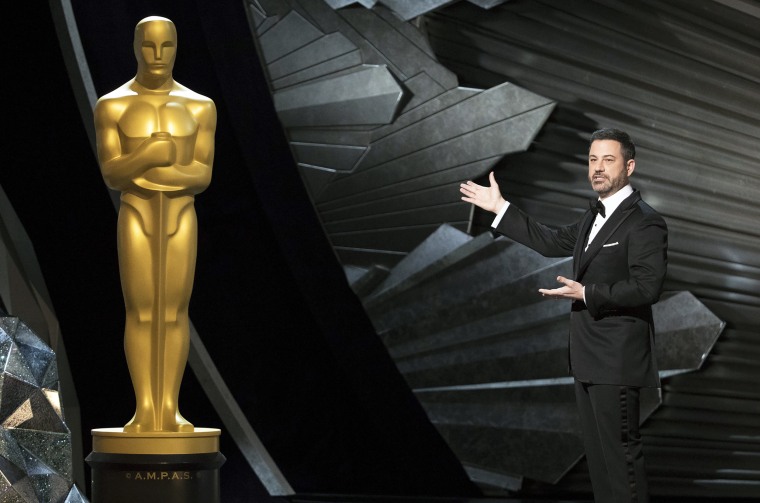 Kimmel also called on audiences to give notably snubbed films, such as "The Woman King" and "Till" a watch, and called out the lack of female filmmakers represented in the nominees for best director.
"As well as a small independent film called 'Top Gun: Maverick,'" he added.
In closing, Kimmel reminded speakers to be brief, warning that they would be ushered off the stage by the dancers of "Naatu Naatu" a best original song nominee from the film "RRR." The dancers then swarmed Kimmel and chased him off the stage.
Kimmel has hosted several award shows throughout his career, from the Emmys to the ESPYs. His game plan for this latest gig was to deliver a dose of snark, but not cruelty, he told NPR.
"I am going to make fun of people," he said. "It's not that I don't enjoy roast-y kind of stuff, like the Comedy Central roasts. I love all that stuff. But this is not that. It's the Oscars."
Kimmel's no stranger to the responsibilities required of the Oscars host, having fulfilled the role in 2017 and 2018.
Memorably, Kimmel hosted the year "La La Land" was incorrectly named the best picture winner instead of the actual recipient "Moonlight." The following year, he opened the show with a jab at the mix-up.
"This year, when you hear your name called, don't get up right away," he said in his 2018 monologue. "Give us a minute."
Hosted by Jimmy Kimmel for the third time, the 2023 Oscars are broadcast live from the Dolby Theatre in Hollywood in Los Angeles at 8 p.m. ET/5 p.m. PT, with the red carpet starting earlier. The 2023 Oscars are available to watch on ABC and various streaming platforms. 
Leading the list of nominees include "Everything Everywhere All at Once" and "The Banshees of Inisherin." The list of performers and presenters includes Rihanna, following her Super Bowl halftime show, and the viral Telugu-language hit "Naatu Naatu." Follow TODAY.com for complete Oscars coverage, including this year's winners and unexpected moments.