Rihanna took center stage at the 2023 Super Bowl in a dramatic halftime performance showing that the singer is definitely not afraid of heights.
Halfway through the matchup between the Philadelphia Eagles and the Kansas City Chiefs, the 34-year-old performer sang a jam-packed, 12-song set with hits from "Umbrella" to "Diamonds."
From a glowing platform stage, decked out in all red, the singer opened with "Bitch Better Have My Money." Before she began singing, she rubbed her stomach, later confirming to NBC News that she is pregnant with her second child.
Then, the stages descended as she smoothly transitioned to her 2011 throwback "Where Have You Been," complete with a dance break.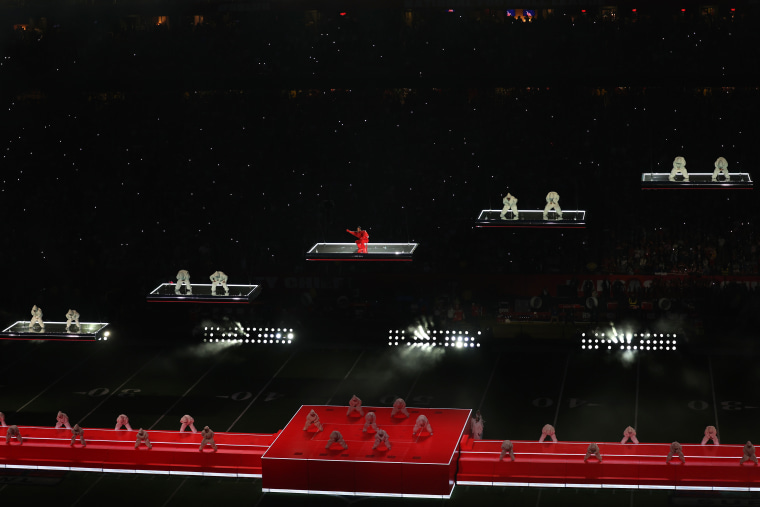 The stage continued to move the singer high above the field at State Farm Stadium for "Only Girl In the World" before bringing her back to the ground. She then belted out "We Found Love" and broke it down to fan-favorite "Rude Boy."
At one point, the singer strutted down the narrow red stage, head held high before singing "Pour It Up."
Towards the end, Rihanna donned a big red puffer jacket and sang "Umbrella" before rising up again on the stage with a soulful finale rendition of "Diamonds" as audience members shined their phone flashlights.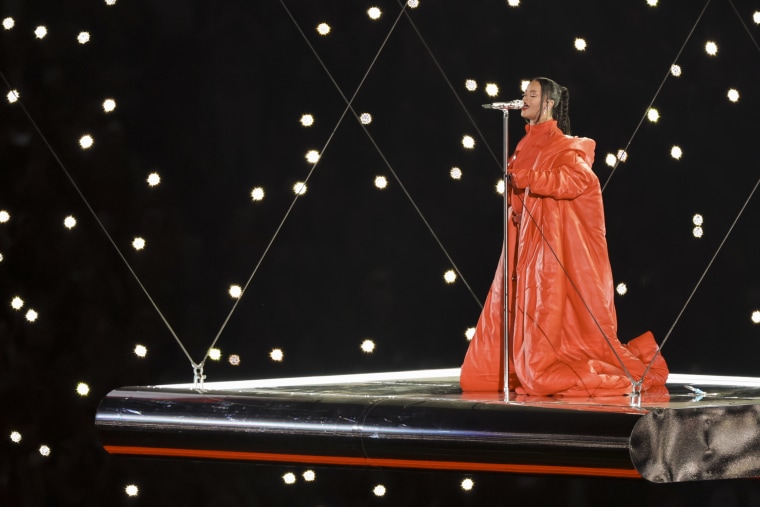 No surprise guests joined Rihanna during the performance. But surrounded by dancers clad all in white suits, Rihanna commanded the stage, strutting back and forth.
The setlist for the show was a mystery to fans leading up to the big night. During a press conference with Apple on Feb. 9, Rihanna said she went through "about 39 versions of the setlist."
Online, fans gushed over how the show all came together.
"That was so simple in the best way. Elegant. Iconic. All timer," one Twitter user wrote.
"didn't realize how much I missed rihanna," another wrote, referring to the fact this marked her first live performance in several years.
Some however pointed out that some of their favorite songs — like "Pon de Replay" — didn't make the cut.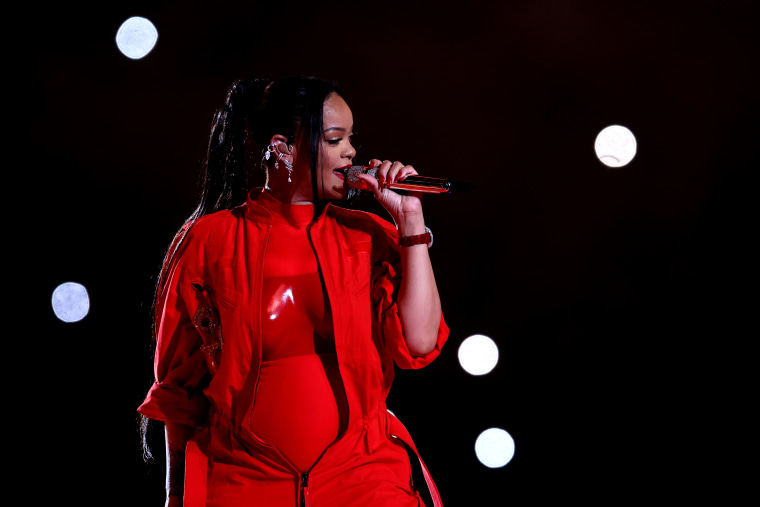 At the Feb. 9 press conference, Rihanna shared the reasoning behind her choice to take on the big performance as a new mom, according to Variety.
"It feels like it could have only been now," she said. "When I first got the call to do it again this year, I was like, 'You sure? I'm three months postpartum. Should I be making major decisions like this right now? I might regret this.'"
"But when you become a mom, there's something that just happens where you feel like you can take on the world. You can do anything, and the Super Bowl is one of the biggest stages in the world," Rihanna said. "So, as scary as that was … there's something exhilarating about the challenge of it all, and it's important for me to do this this year. It's important for representation. It's important for my son to see that."
Rihanna and boyfriend A$AP Rocky welcomed their first child in May 2022, but have not yet revealed a name for the little one.
The 34-year-old reportedly encouraged her to do the show, which marked her first ever Super Bowl performance, after she previously turned it down.
In 2018, the singer was asked to perform at the game, but ultimately turned it down to support Colin Kapernick and other NFL players protesting racial inequality and police violence, which she confirmed in a 2019 interview with Vogue.