I love starting my day with a morning workout. My activity of choice is SoulCycle and has been for years. During the pandemic I invested in the brand's at-home bike to keep my momentum, but now I'm back to in-studio workouts, which I try to cram in before breakfast meetings or weekend brunch. While I've clearly been able to keep up a consistent exercise plan, it comes with a price — one my hair has to pay.
After every biking session, I'm faced with a decision: Do I fight through the throngs of riders to snag one of the few available showers and risk being late to work in the name of clean hair? Or do I rely on a quick cleanse from a body wipe and hope my dry shampoo gets me through the day?
Either way, it often feels like a lose-lose situation. But then I discovered the Swair Showerless Shampoo, which not only helped solve my hair problems, but has also become a dramatic game-changer to my post-ride beauty routine.
What is a "showerless" shampoo?
Simply put, this beauty product combines the elements of a shampoo and a dry shampoo to clean your hair without having to wash it — or even blow it out.
It differs from traditional dry shampoo formulas in a few ways. Most notably, it's not an aerosolized powder, which only works to absorb grease and moisture, but a liquid spray that's designed to do the same thing but also clean your hair of dirt and sweat. And unlike regular dry shampoos, it's actually safe to spray on damp hair. I'll admit, the latter feature had me curious. Since dry shampoos can't be applied to sweaty strands without clumping up, I usually have to hope that my hair air-dries quick enough for me to spritz it down (that or I just accept a less-than-stylish damp ponytail).
How does it work?
For my first try, I started with second-day hair, meaning I hadn't used traditional shampoo in two days. My hair is very straight, so I generally can't stretch wash day any further than this without getting noticeably oily strands. After a particularly challenging 45-minute bike ride, I spritzed the showerless shampoo onto my sweaty head, concentrating on the dampest and oiliest sections of my hair — the back of my head, near the nape of my neck and my roots above my ears. Then, I did as the instructions say and massaged it all in with a towel. (As a seasoned beauty editor, I highly recommend using a microfiber towel or even a T-shirt for this step to minimize breakage and frizz that a regular towel might cause.)
Swair's packaging notes that you can either air dry or heat style after you've fully rubbed in the formula. I opted to air dry because I felt it would be the most accurate test of the product — anyone can hide greasy hair with a bit of help from a curling iron, right? Once my hair fully dried, the results had me pleasantly surprised. Not only did my locks look shinier and cleaner, but they also smelled fresher, too. I wasn't left with a crunchy or sticky residue, or a stiff texture that you might feel after using other styling products — only the soft, fresh feeling comparable to just-washed hair.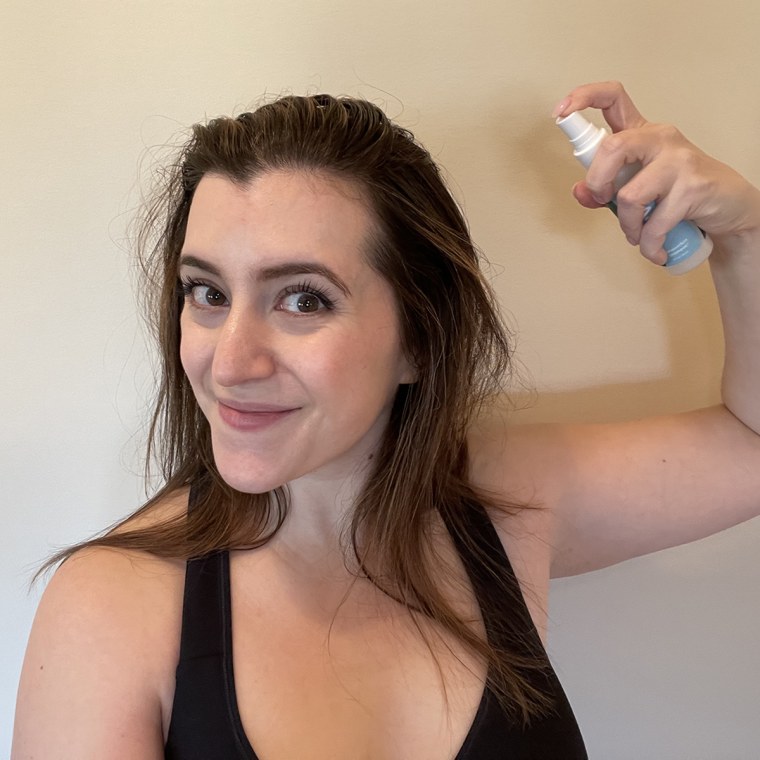 While Swair is marketed as a product that can be used several days in a row to stave off oil and grime, I would not stretch it beyond the two-day mark. The directions say to spritz the product from a distance of about eight to 10 inches, but this made it harder to reach the hairs closest to my scalp. So, the formula did a great job of instantly making my hair look and feel much cleaner, but my roots kept getting oilier. Based on the Amazon review page, many customers seemed to have experienced a similar issue. Still, it's not a dealbreaker for me, as I prefer to wash my hair every other day or every two days at most, so I love this formula for being a quick fix that won't create follicle-blocking buildup on my scalp.
The two-ounce bottle is perfect for travel (it's TSA friendly!) and tucks nicely into a purse or smaller workout bag, unlike full-size cans of dry shampoo. And because the formula is a liquid, I've noticed that it lasts longer than a traditional dry shampoo, which is mostly air.
The only slight detractor is the price. At $14, it's a bit more expensive than most drugstore dry shampoos (and the full-size bottle will run you $38), but if you have luxury taste in beauty products (guilty), it's not too steep. Especially if it continues to help me save time and keep me on schedule — and my hair on point.