With March in the rearview mirror, we're officially shedding our winter layers and stepping into spring. As the season of growth and newness, now is the perfect time to freshen up around the house and breathe new life into your routines. If you need a little inspiration, we're giving you a peek into the carts of our readers lately.
Last month, Shop TODAY readers were officially in spring cleaning mode, snagging home organization tools, smart cleaning solutions and viral gadgets. Thanks to the first-ever Shop TODAY Beauty Awards, readers also stocked up on award-winning favorites, from "miracle" skincare to "ride-or-die" makeup products.
Ready to hit the refresh button for spring? Scroll on to see the full list of products that made the Shop TODAY readers' bestsellers list in March.
Shop TODAY March bestsellers
If your garbage disposal is stinky, you need this foaming cleaner — and if it doesn't, you still need this to keep it that way. Regular use can help get rid of bacteria that linger inside your garbage disposal and deodorize it. Rest assured, there's no bleach in this kitchen-safe cleaner, and the brand gives the green light to use it in all plumbing systems, septic systems and disposals.
This "tinted hydrator" with over 9,000 perfect, five-star ratings is a true beauty multitasker. The formula delivers seamless, buildable coverage, intense hydration, and a silky, semi-matte finish for your best skin with or without makeup. Plus, the price can't be beaten.
The Shop TODAY team loves a multitasker, and this kitchen gadget does the job of five utensils in one — it's a slotted spoon, solid spoon, spatula, turner and a cutting tool. With over 5,000 perfect, five-star ratings, this dishwasher-safe, space-saving kitchen hack is worthy of a spot in your shopping cart.
Anyone who uses hot tools to do their hair knows the struggle of trying to balance their curling irons, straighteners and more on the counter without burning themselves or their tabletops. This handy silicone mat protects your countertops from heat damage up to 460 degrees, grips onto your tools to keep them from sliding off the table and even doubles as a pouch for storage and travel.
When was the last time you cleaned your coffee maker? Experts previously told Shop TODAY that if you don't clean your coffee maker at least once a month, it can affect the taste and slow down the brewing time.
As someone who has tried cleaning their Keurig with homemade vinegar concoctions, I can confidently say this option is a much easier — and far less smelly — solution. Just run your brewer for a cycle with one of these single-use cleaning cups popped in, followed by one more cycle with just water to rinse out any buildup.
Don't have a Keurig? We found a cleaning product that will do the dirty work for your traditional coffee maker, too. These tablets can be popped right into the water reservoir, where they'll dissolve and remove any residue and buildup in just two brew cycles.
These nifty hooks help you save space and organize your car. According to the brand, these convert your headrest into a convenient storage space to hang groceries, clothes, handbags, hats and much more. They've got over 15,000 perfect, five-star ratings on Amazon, and reviewers love how easily accessible it makes their purse — no more twisting and reaching to the backseat to dig around for your bag!
Like it or not, we're constantly on our phones, typing, scrolling and liking. To avoid getting stuck without power halfway through your day, a portable charger is essential. This option is a favorite because it comes with cables for different devices built right in, so you don't need to remember to pack a separate cord wherever you go.
One verified reviewer called this skincare ingredient a "miracle in a bottle." This serum addresses a number of skin concerns, from fine lines and wrinkles to dryness and dullness. Other customers claim it helps to heal acne scars and prevents stretch marks. It can even be used in your hair to boost moisture and promote a healthier scalp.
Skip buying a bottle of over-priced water at the airport and grab this reusable option that folds flat instead. According to the brand, it's water-resistant so you don't have to worry about leakage. Plus, it comes with a convenient strap, so you can easily carry it or attach it to your bag.
We've all been there — working on something in the dark, straining our eyes and struggling to get the job done without adequate lighting. For anyone who has resorted to holding a flashlight in their mouth, these gloves will be a game-changer. They've got a built-in LED light that stays angled exactly where you need to see. It also makes a neat gift for Father's Day, which will be here before we know it.
This one's for my fellow accident-prone people — cleaning your kitchen knives just a got a whole lot easier. This cutlery cleaner fits right into the palm of your hand and allows you to get into the grooves, nooks and crannies of utensils in your sink while reducing your risk of injury, thanks to its smart design.
Consider your search for the perfect mascara over. This budget-friendly option was a Shop TODAY Beauty Awards winner, impressing our reviewers with its ability to curl, lengthen and lift — without clumping or smudging. It even replaced one TODAY staffer's ride-or-die mascara.
"I have very straight and thin eyelashes and there is only one mascara that I've always used that leaves them curled and up," Reporter and Editor Liz Calvario says. "However, this one did the same thing and worked wonders AND it was less clumpy. I liked the thick wand and how my lashes didn't feel clunky and messy."
"It was also easy to remove," Calvario adds. "It's a waterproof formula and didn't rip off my eyelashes as I tried to wipe off my makeup."
Battling seasonal dryness? This body lotion was one of the winners in Shop TODAY's Beauty Awards and will be a savior for your skin, thanks to its "triple threat" abilities — that's resetting the skin's microbiome, refreshing its lipids and rehabilitating its protective barrier.
Today Digital Senior Entertainment Editor Elena Nicolaou reviewed the product and admits that this helps her "scabbing and peeling and itchy dry skin," blessing her with "normal people skin" for a while. She also notes that it gives her a luxurious feeling without a large price tag.
Life happens, which means your furniture doesn't always stay looking as flawless as it did when it was brand new. If you've got a bit of damage to some of your most-loved pieces, grab a pack of these furniture markers to easily camouflage stains, chips and scratches on your wood floors, tables, chairs and more. One Shop TODAY writer put them to the test, fixing up everything from an antique desk to a leather couch.
Over 10,000 shoppers have given this kitchen gadget rave reviews on Amazon. Instead of pouring olive oil out from the bottle, this smart dispenser transforms it into a mist, so you can avoid wasting oil and mind your calories. In addition to being a useful tool to cook with, it's great for dressing salads.
Doing a little spring cleaning? Don't forget to replace your toothbrush. If you're due for an upgrade, over 15,000 reviewers gave this option a perfect, five-star rating. It has a 90-day battery life and the smart case design makes it super travel-friendly.
While we love the elbow grease-less approach of the Wet & Forget shower cleaner, sometimes a bit of scrubbing is required. Enter: This viral TikTok tool, which the brand says is designed to clean twice as fast as a manual scrubber. This gadget can work its magic on grout buildup along the bathroom sink, mud caked onto car tires, dirty golf clubs and more hard-to-reach places.
If you dread cleaning your shower, you're going to want to scoop up this genius cleaner that does all of the hard work for you. According to the brand, you simply spray down your shower while it's still damp and let it sit for up to 12 hours before rinsing it down — no scrubbing required. Hallelujah!
The Shop TODAY team lives for spring fashion, but the volatile, in-between weather of the season can make navigating transitional outfits tough. Solve this sartorial puzzle with a lightweight outer layer, like this open-front "coatigan" — the look of a coat with the feel of a cardigan. In addition to being cute and budget-friendly, it's got hundreds of perfect, five-star ratings on Amazon.
Has your product been featured?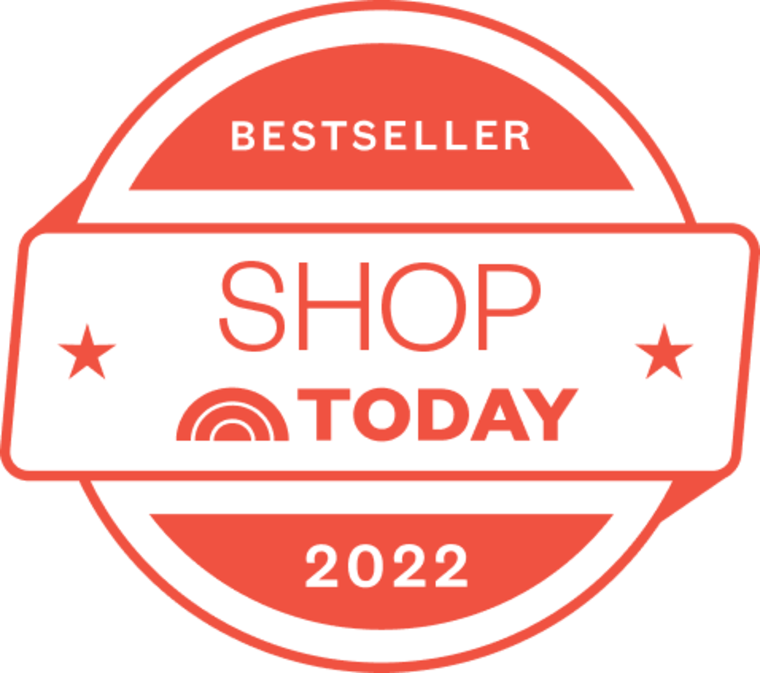 Shop TODAY works hard to pick the best products to share with our readers and viewers. We may license our logo to brands or products that were bestsellers, editors' picks or otherwise seen on Shop TODAY. Click here if you're interested in licensing your inclusion in Shop TODAY content or learn more from our licensing partner, Wrights Media.