I've always considered myself a morning person, someone who rarely needs an alarm and is immediately ready to hop out of bed and start the day. But that all changed last spring when I moved to a new apartment and traded my sun-soaked bedroom for one with limited natural light.
At the new place, the window in my room looks out onto the wall of the building next door, so I only get a little sun, mostly in the afternoon. Without natural light to wake me up, I had to start setting an alarm on my phone, and being jolted awake in the darkness by the "radar" tone would leave me feeling confused, grumpy and ready to crawl back under the covers every morning — a big change from what I had been used to.
Thankfully, my miserable mornings didn't last, because in my search for a solution, I discovered the Jall Wake Up Light Sunrise Alarm Clock, which wakes me up gently with a soft light that gradually increases.
It's super handy for people like me who have little natural light in their rooms, but it's also a good option for anyone who wakes up before the sun rises or those who have been struggling with their sleeping and waking routines since Daylight Saving Time ended.
It's super handy for people like me who have little natural light in their rooms, but it's also a good option for anyone who wakes up before the sun rises or those who struggle with losing an hour of sleep at the start of Daylight Saving Time, which is just around the corner.
It mimics the sunrise to wake you up gently
Sunrise clocks like this one brighten over time to wake you up naturally with a gradual change in light. It starts lighting up either 10, 20 or 30-minutes before your alarm and slowly changes from a dim orange color to a bright white light. There are 20 brightness levels and you can customize the maximum brightness to your liking.
It wakes me up just as well as the sun does, and because there's no harsh alarm jolting me awake mid-dream, it helps me start the day feeling more alert and refreshed. It has an alarm function, but I've found that I don't even need it. If you're a heavier sleeper though, you can choose from the seven alarm sounds including birdsongs, ocean waves, streams and piano music, which go off at the end of the set time.
It's not just an alarm clock
Along with the "sunrise" function, you can also set it up to have the opposite effect and gradually dim over the course of 10 to 30 minutes as you wind down for bed. I've been using this feature pretty often over the last few weeks, since the days that I'm able to go outside and see the actual sunset are now few and far between.
It can be used as an FM radio and has a USB port in the back, so it doubles as a charger. Plus, you can switch between seven bright colors, which makes it perfect for kids. If they need a nightlight, just set to your preferred light level and dim the clock and they'll sleep soundly throughout the night.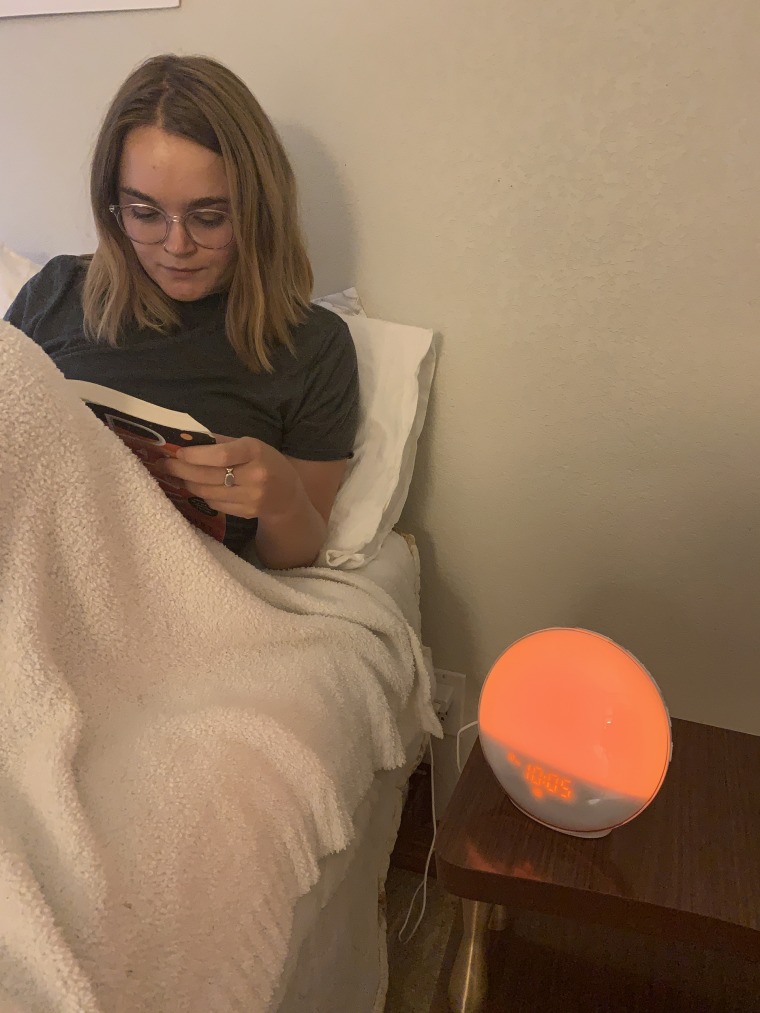 I also love to use it as a reading light. I'll usually wind down before bed with a good book, but sometimes the bright light from my lamp makes it harder to fall asleep later. With this, I set it to one of the low light levels and have it gradually dim, so I can still see, but the warm, soft light doesn't keep me awake.
Though, because it has so many features — there are about 12 buttons along the top — it can be hard to remember what each one does at first. If you find that's the case, you can add on the labeled stickers that come in the box to make them easier to identify.
It has helped thousands of reviewers wake up easier
I'm not the only one who can happily call myself a morning person again. The alarm clock is currently a bestseller in both the clock radio and alarm clock categories on Amazon and it has an average 4.4-star rating from more than 18,200 reviews who love waking up with it.
"I wake up much more naturally rather than to the blaring honk or passive aggressive chiming of a traditional alarm (looking at you Apple)," wrote one verified reviewer who said she would pay twice the price for this clock. "The light settings are so fun as well! I love having it on a low setting in while I'm journaling, reading, watching TV, anything really!"
Another reviewer echoed the sentiment, saying that they appreciate the sleep and wake-up functions and how affordable it is compared to similar models. "So far, this clock has been my best purchase of 2020," they wrote. "After several weeks of using it, my sleeplessness and chronic fatigue have diminished greatly. I am one happy customer. For the price, I highly doubt you'll find a better wake-up light clock."
For more things we're loving, check out:
Subscribe to our Stuff We Love and One Great Find newsletters, and download our TODAY app to discover deals, shopping tips, budget-friendly product recommendations and more!