Compared with the skin on our face and bodies, the lips may not be high on our list of self care concerns. But they should be, according to skin experts, who say they can be one of the first places on your face to show signs of aging, such as fine lines, as well as moisture loss in the form of dry, flaking and cracked lips. The latter is especially true if you live somewhere where winters are dry and cold.
One big reason is because the skin on our lips doesn't have sebaceous glands, so "they can't produce the protective oils to keep themselves moisturized," dermatologist Dr. Tiffany Libby previously told Shop TODAY.
Luckily, whether you're chapped from the cold or just trying to stay ahead of fine lines, there are a slew of treatments that are focused solely on nourishing and moisturizing your lips (and perhaps even giving it a youthful appearance in the process).
But there are a lot of lip products out there claiming to do the job. So we did the research, poring through star ratings, reviews, market analysis and our own previous coverage, to narrow down the choices to these 28 best lip treatments of all types, from ointments to tinted lip balms. We also include experts' tips on what to look for when shopping and how to keep your pout hydrated.
What to look for | How we chose | Best daily lip products | Derm-approved lip treatments | Best lip products with SPF 30 | Best lip masks/patches | Best overnight lip treatments | Best lip exfoliants | Tinted lip products and lipsticks for dry lips | Chapped lips FAQs
What should I look for in products for dry and chapped lips?
Whether it's a gloss, balm or oil, there are scores of different types of hydrating lip products out there — and even more brands that offer them. Focusing on what the active ingredients are and what you're using a certain lip treatment for is key to not getting overwhelmed.
Luckily, over the course of covering the top hydrating and repairing lip care products on the market, the Shop TODAY team has spoken with dozens of skin care experts, from makeup artists to dermatologists. Here are the top ingredients you should look for when shopping for treatments for dry and chapped lips:
Best daily-use products for dry and chapped lips
This lip balm by La Roche-Posay is formulated to soften and soothe very dry and very chapped lips, and the ingredients show it. The balm contains a moisture-retaining ceramide that mimics the one our skin produces, sustainably sourced shea butter, plant-derived glycerin and a synthetic form of vitamin E to help prevent free-radical damage.
It's safe for sensitive lips, too, thanks to its lack of fragrances, and it's designed to go on non-greasy, according to the brand.
Rave review: "It is icy and cold here in NW Indiana. So my lips are always dry and chapped in the winter. I am always looking for a good lip balm that does not make my lips feel waxy or taste bad. This lip balm does not burn like some do when you put it on." La Roche-Posay reviewer
Many of the editors here are fans of this so-called "barrier-building" lip balm by Ilia. We'll let Shop TODAY senior SEO editor Jess Bender explain why.
"Its formula includes a moisture-boosting blend of hyaluronic acid, prickly pear oil and sea succulent, and it leaves a subtle sheen after application — which is great when I need to elevate my face while in a rush to catch a Zoom meeting."
This moisture-drawing and retaining lip booster does double duty with its anti-aging formulation: hyaluronic acid, peptides and squalane. The peptides have firming properties that are said to help slow thinning and minimize fine lines and wrinkles, and emollients like squalane combined with several butters offer an extra boost of hydration and smoothness.
Rave review: "I needed something to keep my lips moist and hydrated as they dry out easily. I am amazed at how nice my lips feel - no more chapping dry lips. If PC could add sunscreen to this product, I would LOVE it even more than I already do." Paula's Choice reviewer
This all-around amazing treatment is one of the pricier ones on this list, but if its average rating of five stars on the brand's site is any indication, it's worthy of adding to this roster.
This balm is for those who like the dewy, 'no makeup' makeup lip look. It checks all the boxes with moisturizing butters and waxes so lips appear plumper and smoother. But it also has two additional bonuses: the brand's signature TFC8 complex, a special blend of anti-aging ingredients that promotes cell renewal, and plant-derived collagen to support elasticity.
Rave review: "It goes on so smoothly, I can add lipstick right afterwards and not have it creep all over my mouth. My lips no longer peel or wrinkle up in the winter and they stay hydrated all day long. One swipe in the morning and one at night and my lips are softer than ever before, love it and will definitely be repurchasing when it runs out!" Augustinus Bader reviewer
This "universal salve" by Glossier is a cult-favorite for a reason. It's formulated to soothe, hydrate and nourish dry or chapped lips, thanks to its ingredient blend of emollients like beeswax and lanolin. We'd be remiss not to mention the moisturizing fatty acids found in Cupuacu fruit extract, as well as the free radical-fighting antioxidants in the rice bran and rosemary leaf extract.
Rave review: "My lips have been so dry and flaky this winter, not just because of the weather but also due to a medication that causes dry mouth. Nothing has worked, but this does! I have coconut (my favorite!), mango, and cherry. Coconut and mango go on clear, cherry gives a nice wash of very natural color." Glossier reviewer
Best dermatologist-approved products for dry lips
Another "cult classic" that we think deserves the name, this all-purpose ointment comes highly recommended by Dr. Dendy Engelman, a board-certified dermatologic surgeon in NYC.
The ointment, which the brand says holds a whopping 400 percent of its weight in moisture, does a lot, Engelman told us in a previous story: "from soothing chapped lips to healing dry, cracked hands to saving dry elbows and heels. [It also] softens hand skin and nails with vitamin E and shea butter and leaves behind a light vanilla scent," she said.
Dr. Diane Madfes, assistant professor of dermatology at Mount Sinai School of Medicine, shared this lip balm by Kiehl's as one of her favorites for chapped lips.
"It is packed with lipids derived from olives, aloe and vitamin E. You actually see it in many airplane travel kits, too," she explained.
Its star ingredients are plant-derived squalane, soothing aloe vera and vitamin E.
This one is Dr. Shah's favorite for relieving dry and chapped lips: "Colloidal oatmeal in this balm helps to soothe and repair, while glycerin, hyaluronic acid, shea butter, squalane and oils hydrate and soften chapped lips," she explained.
She also highlighted its antioxidant properties, as well as its semi-matte" finish that makes it great for layering under lipstick.
Best of all? This product is free from alcohol, artificial colorants and synthetic fragrances.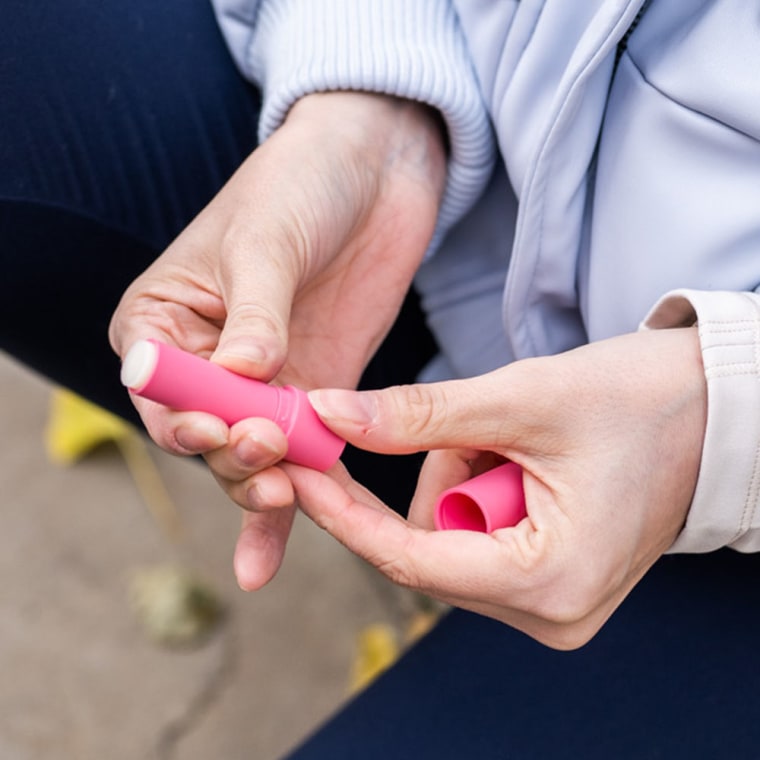 Best products with SPF 30 for dry and chapped lips
Aquaphor is a household name for many of us who struggle with dry skin. One of the reasons is the efficacy of its moisturizing lip products, including this one that also has SPF 30 to protect sensitive chapped lips from UV rays. It's also got the usual suspects: shea butter, petrolatum and nourishing vitamins like C and E.
As a long-time sufferer of dry, chapped skin, my ingredient preference when it comes to moisturizing my sensitive lips is petroleum. I tend to steer clear of products that have SPF because they tend to slightly irritate my skin — not ideal because my cold sores get triggered when my lips are cracked, red and exposed to the sun.
This lip protectant doesn't do that, and in fact it's now my preferred daily lip moisturizer. Go for it if you have sensitive lips.
This mineral-based broad-spectrum sunscreen lip balm has the good stuff our experts like in an SPF 30 lip product: zinc. It also has emollients and occlusives like almond oil, jojoba oil and beeswax. Plus, it's formulated to be lightweight and go on non-greasy. Best of all, it rings up at under $5.
Rave review: "Almost all SPF lip balms out there have avobenzone instead of mineral sunscreen. The problem is that avobenzone dries my lips out badly (unsurprising, because avobenzone also irritates my face). This stuff goes on very smoothly and feels moisturizing — it's not at all chalky, unlike the other mineral lip balms I've found. It does have a scent, but it dissipates quickly." Ulta reviewer
Another affordable pick that's also a crowd-favorite (it's got an average of 4.6 star ratings from almost 600 Ulta reviewers), this broad-spectrum SPF 30 lip balm comes in both non-tinted and tinted versions — and it's water-resistant, which helps if you're exercising (or swimming, which we hope you aren't in the winter!).
It's also scented with natural ingredients and includes hydrating and soothing ingredients like Cupuaçu and raspberry and jojoba seed oils. A note, however: This uses avobenzone, not a mineral, for its sunscreen, so we suggest steering clear if you have related allergies.
Rave review: "My boyfriend gets really bad chapped lips when we are out and about in the sun all day and it did a wonderful job protecting his lips. I believe the waterproof probably helped since we did spend some time in the water." Ulta reviewer
Best lip masks and patches for dry and chapped lips
Board-certified dermatologist Dr. Marisa Garshick recommends BioRepublic's lip mask to help soothe and moisturize chapped or sore lips in the winter. (Editor's note: Dr. Garshick is a BioRepublic partner.)
"BioRepublic's lip mask moisturizes for days, as well as smooths and conditions both lips and smile region," she says.
This luxe-feeling gel patch comes in one piece, but the neat thing about it is that it features a contoured split in the middle, hugging your lips and delivering serum to every crevice. It's even wide enough to encompass smile lines. It's also safe for all skin types. The mask's powerhouse ingredients? Hyaluronic acid and antioxidants.
Just make sure to lie down when using, as it does have a tendency to slide down if you're upright or moving, according to reviews.
Rave review: "I have been experiencing dry lips to really bad lips. This cold weather hasn't been good to me, but this lip mask sure has. It applies very easily, however it does slide down. ... I love how it smooths out my lips and definitely helps with how dry they were." BioRepublic reviewer
While this "mask" is more of a balmy gloss, it's packed with hydrating vegan ingredients (e.g., avocado, jojoba and argan oils), firming hyaluronic acid, long-lasting hydration from plant-derived squalane, and marine plant extracts that smooth skin. It's also available in three flattering tints. Plus, it's formulated without parabens, phthalates and other unwanted ingredients.
Rave review: "Heals lips quickly. I got this because I wanted something moisturizing with slight color payoff, but now it's become my go-to whenever my lips feel chapped; I put this on and my lips are softened in no time!" Tarte reviewer
Cracked, peeling lips are no match for this magical golden salve. It's filled with nourishing ingredients that include evening primrose and sea buckthorn (which even sound magical, don't they?). Its yellow hue may make it ideal for bedtime, although some reviewers like applying it before lipstick as a plumping primer.
Rave review: "I put it on before bed every night, and have noticed my lips staying much more moisturized the next day. Also if my lips are really chapped from being outside in the cold all day this stuff solves it all & smells so good." Henne reviewer
This five-pack of gels smooths, softens, hydrates and plumps with green tea, niacinamide and peptides that promote collagen production. Reviewers say that you have to carefully apply the sheets so they don't rip, but the plumped result is worth the effort.
Rave review: "I have struggled with dry lips my entire life, especially the last six months as I was taking medication that dried my lips out even more. I have tried a plethora of products. ... These are incredible!! My lips don't flake or crack, and feel comfortable. These effects last for a couple days after I use them." Ulta reviewer
This vegan lip mask touts 12 hours of lasting hydration after infusing your lips with a blend of oils that include olive, argan, rosehip and raspberry seed, alongside antioxidant vitamin E. It comes in four delicious fruit-inspired shades that give your lips a slight tint, so it can work double duty whether you apply in the morning or evening.
Rave review: "I really love how soothing this is. It stays all night long and really helps the eczema on my lips." Tarte reviewer
Best overnight lip treatments for chapped lips
This Ulta-exclusive lip mask is loved by reviewers and packed with good-for-your-skin ingredients, such as ceramides, shea butter, coconut oil, castor seed oil and jojoba seed oil. Apply before bed and let it do all the work overnight so you can wake up with smooth, supple lips.
Rave review: "It has no smell. ... For all my sensitive-to-smell girlies, this is safe! But guys … this stuff is seriously so amazing; I actually wake up with soft, plump-looking lips, and they look so good too, not that expensive compared to other lip masks." Ulta reviewer
This product has a major cult following and countless positive reviews, and for good reason. Laneige's lip mask is a low-maintenance, sleep-in overnight product, meaning it gets to work on dry, crackly lips while you get your zzz's.
You simply apply a generous layer of the thick balm, and its hardworking ingredients — like brightening vitamin C, hydrating hyaluronic acid and moisturizing antioxidants — leave your lips super supple by morning. It also comes in five yummy flavors!
Rave review: "This has become a staple in my routine, to the point where I don't know how I survived the winter without it. My lips typically become a flaky mess once the cold weather hits, but applying this mask every other night has kept them smoother than ever. I'm also a bit obsessed with the vanilla scent, it smells just like pudding and I have to stop myself from eating it." Daniel Boan, former associate Shop TODAY editor
If your pout is feeling dull and deflated, re-energize it with this hydrating lip jelly made from Japanese peach extract (which soothes damaged lips), Japanese camellia oil (chock-full of vitamins and omegas) and squalane. Shoppers rave about how this non-sticky formula goes on before bed and leaves them with a pillowy pout by morning.
Rave review: "I used to have dry, dull lips. A little goes along way! I've used mine twice a day for over a month, and I've barely put a dent into it. My lips are now super hydrated and plump! My lip products go on so much better after using this product." Amazon reviewer
This lip mask is formulated precisely to tackle dry, flaky lips. It's got an A-list of hydration heavy hitters, like shea butter, coconut oil and wild mango butter, which work overnight to restore the moisture barrier of your lips. It's also got the Clean sticker at Sephora, so you know there won't be any unwanted ingredients, especially if you have sensitive lips.
Rave review: "My favourite lip product for dry, chapped lips. I have the Laneige in rotation and will wear that during the day, but I find this to be a more intense hydration. I use it at night. A must have during Ontario winters!" Sephora reviewer
Great alone or underneath lip color, this ultra-rich, leave-on mask has moisturizing hyaluronic acid and exfoliating papaya enzymes that help enable emollients — like mango butter and sea succulent — to absorb into skin. And when lips are well moisturized, they appear fuller.
Reviewers also like that it doesn't go on sticky or thick.
Rave review: "My lips get so dry and flaky, and sometimes they crack. Ouch! After using this treatment for one night, I noticed a huge difference. Upon the first application, my lips felt smoother and softer. After wearing overnight, my lips not only felt smooth, they looked so much better! Still a little dry, but not nearly as bad, and the flakiness is gone. ... It also has a lovely lavender chamomile scent that I love." Ilia reviewer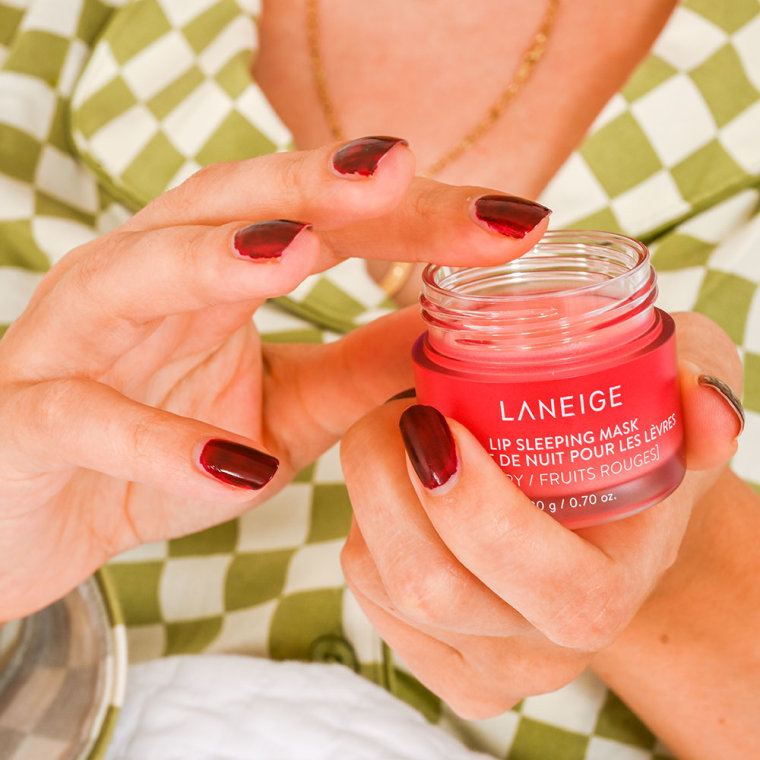 Best exfoliating lip products for dry and chapped lips
If you like something a little grittier to actively feel it at work, you can't go wrong with a lip scrub and exfoliator. Brown sugar crystals work to remove flakes and chapped skin, while shea butter and jojoba oil cover newly smoothed lips.
Rave review: "For the last few years, I have been suffering from extreme chapped lips. My lips don't crack, just that the skin would peel off. I have tried everything. I haven't been able to wear lipstick because after a few minutes, my lipstick would flake, and I could literally peel the skin. ... After reading the reviews, I decided to give this a try. Yes, it works and now I can wear lipstick again, feeling confident!" Nordstrom reviewer
A portable, easy-to-use scrub that's $5, gently exfoliates (thanks to the sugar formulation) as well as deeply moisturizes and nourishes with its blend of vitamin E, shea butter, and avocado, grape and jojoba oils? There's a lot to love.
To use, the brand instructs to rub the formula in circular motions, then gently wipe off any excess sugar.
Rave review: "The scrub has a thick, waxy consistency and the exfoliating granules have a super-fine texture, so they don't feel harsh on the skin. ... For a second try, I decided to apply much more product to my lips. ... To my delight, this immediately got rid of those unsightly patches and even made the dry lines on my lips appear less prominent." Julie Ricevuto, Shop TODAY editor
Best tinted lip balms and lipsticks for dry lips
Ilia's gloss features plumping and moisture-attracting hyaluronic acid, but that's not the only show-stopping ingredient here. It also includes Salicornia herbacea extract that's derived from a salt-marsh succulent from South Korea. The brand says on its website that this ingredient "improves hydration by up to 6,000 percent."
Rave review: "It glides on smooth, giving my lips a more plump experience and a more cushioned feeling. While it's not sticky like other glosses, knowing it's on my mouth prevents me from licking them (licking is not good for chapped lips!). So while the outside world won't be able to appreciate this beautiful color on me every day, I know I'm at least getting skin care benefits." Alicia Tan, former Shop TODAY associate editor
Texture can be a concern with some lip treatments; however, reviewers love that this formula is glossy-but-not-sticky and has a refreshing minty tingle. Hyaluronic acid fights fine lines, and shea butter and avocado oil lock in moisture.
Rave review: "I had really dry lips that were painful and wouldn't heal, and this balm was the only thing that finally helped. I was hesitant about the price, but it ended up being well worth it because it not only hydrated my lips but actually helped them heal. The balm is nice and thick and stays in place. It also has a slightly tingly feeling." Sephora reviewer
Bicoastal celebrity makeup artist Jeannia Robinette is a fan of this gloss that's actually more like a lipstick, because it lasts so long, she previously told Shop TODAY. It has hyaluronic acid as an active ingerdient, which Robinette also likes for its plumping properties.
Unsurprisingly, the gloss, which is available in a wide range of colors, is deeply moisturizing; reviewers also like that it offers shine and sheer color without going on sticky or waxy. Make sure, however, if you have sensitive lips, to top it off with a moisturizer.
Rave review: "I was surprised. This gloss was surprisingly hydrating and felt amazing on the lips. The color was exactly as said and really came through. My new go-to for an affordable dream." Ulta reviewer
Celebrity makeup artist Neil Scibelli previously shared with Shop TODAY that Milani is his "drugstore go-to" hydrating lipstick. The matte lipstick, which rings up at just under $10 and comes in six coy-sounding shades, delivers deep hydration in the form of hyaluronic acid, all while giving the lips a highly pigmented color.
Scibelli also highlighted these lipsticks' creamy application, adding that they're always in his makeup kit for regular use.
Rave review: "I love the color range and I love how it feels on my lips, it doesn't crack or dry them out. I already want to buy more in other colors." Ulta reviewer
This subtle, non-sticky lip gloss contains three moisturizing heavy hitters: squalane, shea butter and coconut oil. The vegetable-based squalane has the omega fatty acids that dry lips crave while locking in moisture; the coconut oil adds nourishing proteins and vitamin E to the mix.
Rave review: "I noticed that despite drinking hot coffee for the entire ride to my house, my gloss had stayed on my lips and was still keeping them sleek and soft. ... All three shades of this decadent lip gloss make your lips look sparkling and moisturized. And they stay on even through all-day water sipping or evening glasses of wine." Terri Peters, TODAY.com writer and editor
Your questions about dry and chapped lips, answered
Why are my lips always chapped in the winter?
"Chapped lips are common in winter because of constant exposure to cold air outside and dry, centrally heated air inside. This can lead to a loss of moisture and disruption of the moisture barrier, which can lead the lips to become dry, sore and cracked," Dr. Garshick explains.
What can I do to heal my chapped lips?
If your lips are susceptible to cracking, Dr. Garshick advises applying a non-irritating lip balm or lip moisturizer several times a day, as well as before bedtime.
"If your lips are very dry and cracked, try a thick ointment, such as white petroleum jelly, like Vaseline, which helps to lock moisture in," she says, adding, "Always remember to apply SPF daily before going outdoors, which can be found in certain lip products as well."
What products should I avoid if I have dry or chapped lips?
Dr. Cybele Fishman, a board-certified dermatologist in New York City, previously shared with Shop TODAY some of the top ingredients to steer clear of if you've got chapped and sensitive lips. These include mint, menthol and cinnamon.
"While that cooling feeling may seem like a good thing, these ingredients are often just initially masking what may become worse problems," Fishman told us, adding to make sure to also throw away old or expired lip products, which can dry out or grow bacteria.