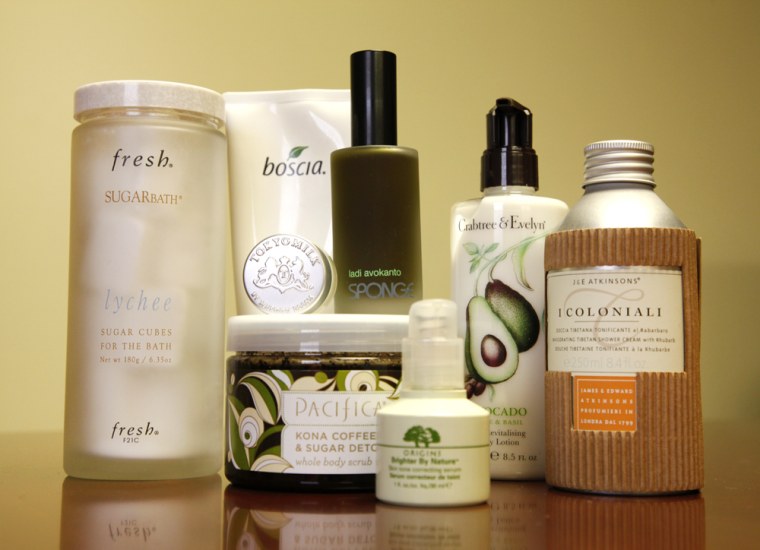 Aloe, shea butter ... snooze. Next time you're looking to freshen up your beauty cabinet, why not turn to uncommon fruit and plant ingredients, like avocado, blackberry, corn or even prickly pear? We rounded up a few great buys that won't break the bank:
Avocado
While avocados (technically a large berry) are known for their delicious flavor, Crabtree & Evelyn has focused on their subtle, elegant scent for a new collection. The lumpy fruit is transformed with their new Avocado, Olive & Basil Collection (bath gel & body lotion duo, $38, crabtree-evelyn.com), which combines a slight scent of avocado with olive blossoms, sage and Mediterranean herbs for a soft, unexpected buttery finish.
It's good for your taco, and — it turns out — for your skin. While its mostly known for its guacamole prowess, avocado also contains essential healing and moisturizing properties. The Avocado + Olive facial serum by SPONGE ($60, sephora.com) takes advantage of the fruit's restorative benefits along with antioxidants and vitamin D and E. Without a greasy feel, the oil swiftly smooths out skin with just a kick of energizing nutrients.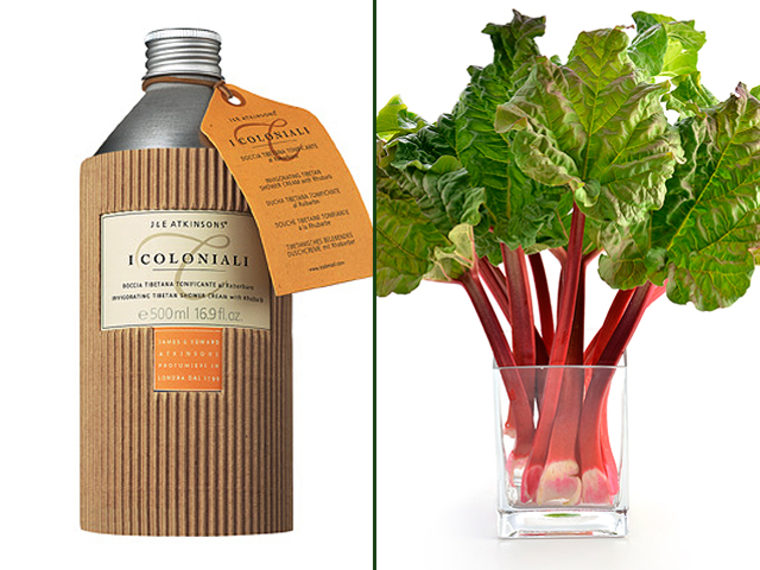 Rhubarb
The pie staple is slowing baking its way into the beauty market, thanks in part to the I Coloniali Tibetan Shower Cream with Rhubarb ($29, Birchbox), which draws on the tart fruit's medicinal ability to draw out toxins. The luxurious, exotic-smelling cream leaves skin soft and supple – not something you'd think the tangy fruit was capable of.
Need to tip toe into rhubarb? Test out its fragrant properties by opting for the Archipelago soy candle ($30, archipelago-usa.com), which fills a room with a refined scent that smells less like grandma's kitchen and more like an upscale hotel lobby.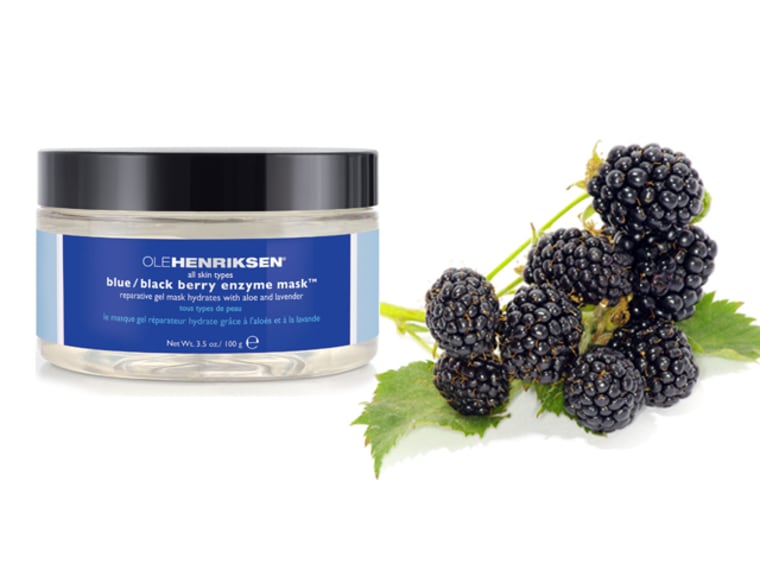 Blackberry
Could your face use a little pick-me-up? The Ole Henriksen Blue/Black Berry Enzyme Mask ($32, olehenriksen.com)features blackberry fruit extract and papaya enzyme to refine skin texture and renew cells, while the soothing powers of lavender are supposed to reduce inflammation and relieve stress. Hydrating and calming,  it's like giving your skin a big hug after a long, hard day.
Lychee
This tropical treasure is generally regulated to fancy cocktails, but Fresh took the fleshy fruit — chock-full of vitamin C — and made it into a fragrant beauty cult classic. Sugar Lychee Eau de Parfum ($38, fresh.com)features just the right amount of lychee mixed with notes of grapefruit, Italian lemon, mango flower and freesia for a smell that's sweet without being overwhelming.  You can help layer the elegant, citrus scent with the gorgeously packaged SugarBath Lychee Bath Cubes ($38, fresh.com), which contain brown sugar for its conditioning healing properties and bicarbonate of soda for a soft exfoliation.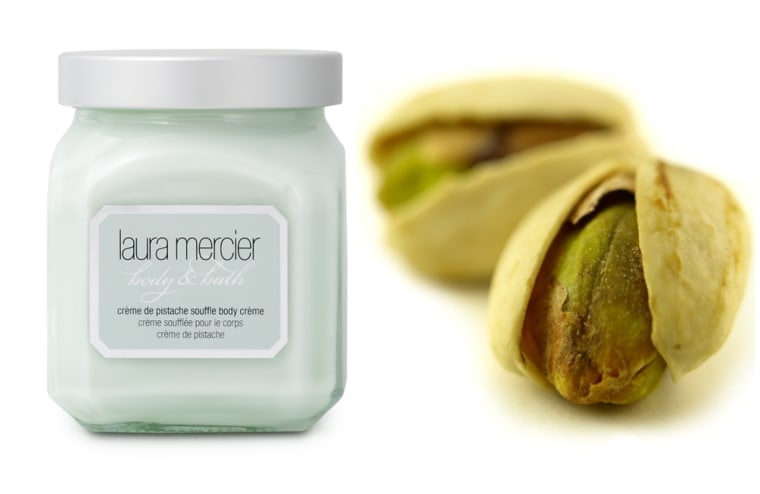 Pistachio
Fancy some luxury? The decadent Crème de Pistache Collection by Laura Mercier blends the soothing, emollient properties of pistachio nuts with a bit of almond, praline and hazelnut flavors for a creamy and moisturizing treat. ($45, lauramercier.com). Boasting just a subtle hint of nuttiness, this addictive bath product of gourmande ingredients smells like a 5-star restaurant dessert.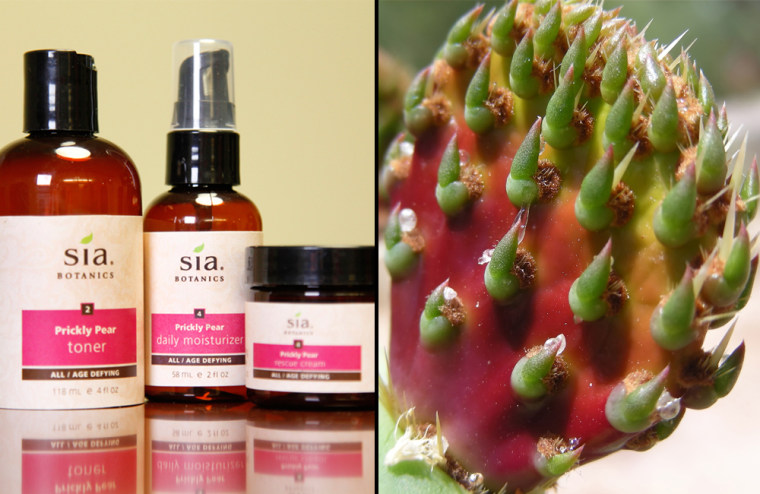 Prickly pear
The desert isn't where you'd typically expect your beauty products to hail from, but Sia has done just that with their Prickly Pear Collection, calling on the cactus' hard-working antioxidants to fight free radical damage and detoxify the skin. Ideal for sensitive or allergy-prone skin, the Sia Botanics Prickly Pear Moisturizer ($22, available late May, siabotanics.com,) helps fight the good fight against aging without the help of parabens, sulfates or often skin-irritating fragrances.
Coffee bean
It already does such a great job in your morning coffee, so why not extend it to the A.M. shower? The Pacifica Kona Coffee & Sugar Detox Body Scrub ($28, Sephora) utilizes the energizing properties of the coffee bean with the many beloved talents of coconut oil, sugar and sea salt to exfoliate your body for an ultra smooth, bright body finish. The hefty tub really does smell like coffee, so we suggest having your cup of Joe prior to your shower — as you might be tempted to consume this addictive, fragrant bath product.
Satsuma
Not to be confused with its dear cousin orange, the satsuma better resembles a seedless and delicate mandarin (according to Wikipedia, this citrusy prima donna "cannot withstand the effects of careless handling"). The Body Shop bottled the fresh-smelling fruit for its Satsuma Shower Gel and Soap Bars ($8 and 4 bars for $10, thebodyshop.com), utilizing the peel oil to moisturize skin and leave it with a refreshing scent that's halfway between a tangerine and a grapefruit.
If you're looking for a fresh summer perfume, you might want to try TokyoMilk's Satsuma Parfum Solide ($18, tokyo-milk.com), featuring a medley of citruses: honeyed grapefruit, sun-ripened tangerine and Brazilian orange.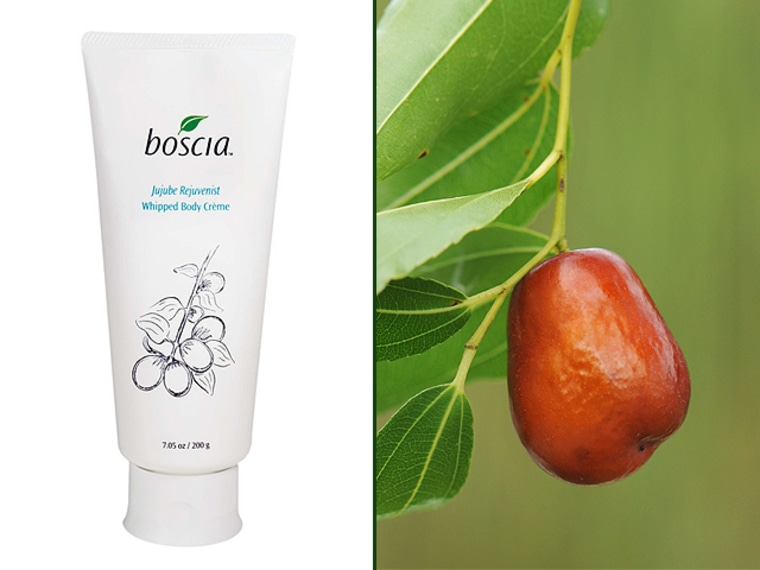 Jujube
If you need a cleanse from the overly ambitious scrubs, body washes and creams screaming of complex or girly ingredients, consider the Jujube Rejuvenist Whipped Wash/Crème by Boscia (each $30, Sephora.com). Enriched with vitamins and botanical brighteners, the natural products tout the skin cell-rejuvenating properties of the jujube fruit, often used in Chinese and Korean traditional medicine for their stress-reducing and anti-inflammatory abilities. With help from Jojoba leaves' antioxidants and moisture from rosehip oil, these creamy and paraben-free products leave skin soft, supple and with just the slightest hint of a soft citrus scent.
Corn
Corn on cob is just so deliciously perfect, that DHC bottled up the state fair favorite for your showers. The Olive-Corn Body Scrub & Polish ($16.50, dhccare.com) is packed with granular corn cob powder to gently exfoliate away dead skin, with nourishing vitamin E taking on the tough job of hydration and lavender leaving a soothing, calming scent. You'll start seeing "corny" as a compliment.
Basil
Regarded as "the elixir of life" in Indian communities, basil has been known to help even out skin irritations and balance out redness. The Brighter by Nature Fruit Acid Peels and Correcting Serum by Origins ($37.50 and $42, origins.com) use the respected herb along with cucumber, peony and vitamin C to brighten and smooth out uneven skin. Like a glycolic peel (but not as harsh), used together, this dynamic duo slowly but surely restores radiance without irritation, the maker states.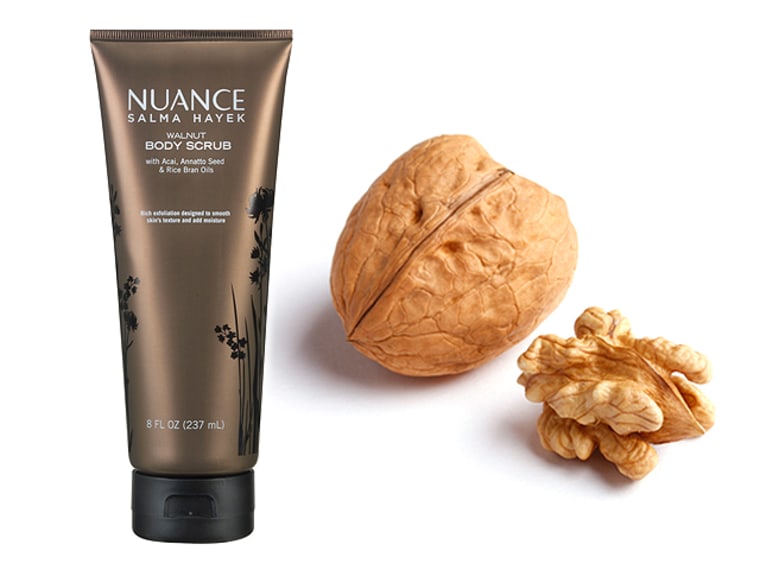 Walnut
Sounds nutty, but Salma Hayek (yes, that Salma Hayek) has a new line of beauty products featuring one hard-working Walnut Body Scrub (Nuance Salma Hayek, $7.19, CVS.com).The affordable drugstore item contains crushed walnut shells to remove dead skin, while acai, passion flower seed oils and rice bran oil are said to improve skin's elasticity and retain moisture. Even better, a kick of caffeine helps firm and tone skin, hopefully leaving you with a skin texture worthy of a Mexican movie star.
Rina Raphael is a TODAY.com editor who spent most of her childhood attempting to eat her raspberry-flavored Bonne Bell chapstick.
More: Our 12 favorite nourishing oils — for face, hair and body
Video: 6 foods that will make your face, skin look better
Want more great style picks? Follow us on Pinterest!