Embracing your naturally curly hair is a personal journey. As women with different textures of curly hair, we've had various points in our lives when, in our quest to figure out what "embracing" means for us, we ended up causing more harm than good to our hair.
For example: Jill started straightening her hair on a daily basis in the fifth grade, but didn't realize how damaged, dry and lifeless it made her curls. Kristina used to have retexturizing relaxers done from about 4 years old until her college years, when she realized those treatments weren't just an equivalent to an intense, deep conditioner.
We discovered that patience is the name of the game when it comes to bringing damaged curls back to tip-top shape. The first step? Start with getting to know your hair type and curl pattern.
What is my hair type and curl pattern?
Nailing down your hair type will help you figure out which particular ingredients and products keep your hair the most healthy and defined. There's a wide spectrum type and pattern combinations:
Type 2A . A loose 'S' wave pattern that's typically easy to style and manage.
Type 2B. A soft 'S' pattern slightly tighter and more defined than Type 2A, with more volume and a tendency to frizz.
Type 2C. A distinct 'S' curl that tends to resist styling and is more prone to frizz.
Type 3A. Well-defined, springy curls with a wider circumference, and natural shine and bounce.
Type 3B. A tighter, spiral-like 'C' shape curl that is voluminous and prone to frizz, with moderate spring and definition.
Type 3C. Tight, densely packed coily curls with significant volume and texture.
Type 4A. Defined coils with a tight 'S' pattern, dense texture, and a tendency to be fragile and prone to dryness.
Type 4B. Zigzag-patterned coils with less defined curls and a denser, fluffier texture that significantly shrinks once dry.
Type 4C. The coiliest hair texture without a lot of natural definition, and with a high level of shrinkage, density and fragility.
Jill's curl pattern falls somewhere between 2B and 2C, while Kristina's curls have a mix of 3B, 3C and even 4A. Your particular curl type depends on factors like health, age, damage, environment and more.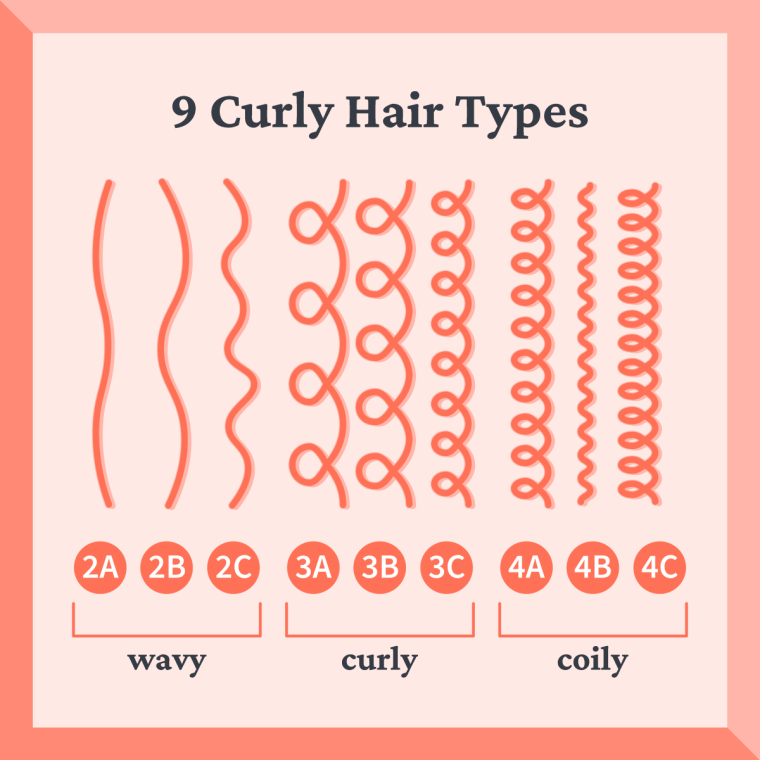 What type of damage do my curls have?
Another concern to keep in mind in your search is whether your curls are damaged, and how. Mechanical damage is one of the most common for curly hair, especially when you're just beginning to figure out what brushes, tools and treatments work best for your locks. In Jillian's case, for instance, the years spent using various hot tools on her hair negatively affected her curl pattern.
Kristina, on the other hand, experienced chemical damage: The longstanding routine she thought was nourishing her hair instead led to breakage in the long term — due to years trying dozens of products with the wrong ingredients, not to mention living in different climates.
Luckily, we've learned from our experience, and we're here to guide you through the process of creating a hair care routine — one that will repair damage and encourage healthy growth. Based on years of trying an array of products, days of research, and hours of sifting through ratings and reviews, the Shop TODAY team curated a list of the best curly hair products that'll make you fall in love with your curls all over again. Scroll on or use the links below.
Best cleansers | Best leave-ins | Best gels for curly hair | Best lightweight stylers | Best refreshers | Best treatments | Best hair tools | FAQs | How we chose | Meet our expert
Best cleansers for curly hair
KRISTINA: When I received this as a sample to try out, I didn't think it would work for my thick, curly hair — but I'm glad I was wrong. Though I don't use the shampoo every wash day, I find to be a great clarifying shampoo at the two- or three-week mark. My scalp feels clean but doesn't dry out as quickly as when I use sulfate shampoos. The scent smells like a spa, but the real gem is the probiotic-rich fulvic acid that balances my scalp's microbiome.
Formula: Creamy | Key ingredient(s): Glycerin, fulvic acid, carrot & raspberry seed oil | Scent: Lightly herbal, musky | Best for: Fine to medium hair, loose curls, waves
JILL: I space out my shampoos, and I love using Ouidad's cleansing conditioner on the days when I wash my hair. I was worried that the "cleansing conditioner" (I had never tried one before) would dry out my hair; fortunately, it delivered intense hydration instead.
The formula is just creamy enough to still feel like a conditioner, so it feels like the product is actually cleaning my hair rather than just sitting on my strands. I apply it in a scrunching motion to help form my curls while I'm in the shower. Then, I brush the conditioner out with a wide-tooth comb and let it sit in my hair for a few minutes before rinsing. My hair is practically detangled by the time I step out of the shower, making it less of a pain to style.
Formula: Creamy | Key ingredient(s): Rice bran oil, resurrection flower | Scent: Fruity, floral, warm cashmere, slightly woody | Best for: Fine to medium hair, loose curls, waves
KRISTINA: I love exfoliating when I can. Not only do I find Cermonia's Papaya Scalp Scrub a gentle one with super nourishing ingredients, but as a Latina, I also feel connected to the brand's mission to connect sustainable ingredients and cultural recipes with modern day rituals and healthier hair.
This whipped shampoo comes with exfoliating fruit enzymes like papaya extract, guava leaf and prickly pear cactus. The Bolivian pink salt gives a satisfying exfoliating sensation. It's great at removing product buildup, as well as both balancing an oily scalp and hydrating a dry scalp (like mine!).
Formula: Whipped scrub | Key ingredient(s): Bolivian Pink Salt, papaya fruit ferment, prickly pear extracts | Scent: Woody, zesty, subtle violet and brown sugar | Best for: Medium to thick hair of all textures
Best leave-in conditioners for curly hair
KRISTINA: It's hard to find leave-in conditioners with the right amount of slip and moisture. This was one of the first leave-ins where, after use, I could actually feel and see the difference in my curls' manageability, shine and definition.
The certified organic blueberry extract and coconut oil fortify my curls when they need some extra love. I definitely lose less hair when I detangle and style with this product. It also pairs well with quite a few gels, so it's convenient to mix-and-match when I'm in a pinch.
Formula: Cream | Key ingredient(s): Organic blueberry extract, organic aloe vera juice, glycerin | Scent: Light blueberry fruit | Best for: Medium to thick textures, curly to kinky dry hair
JILL: I started using this leave-in conditioner one summer to revive my heat-damaged and color-treated hair, and it worked its magic in just one use.
After having straightened my hair frequently during the winter, my hair became more frizzy than curly, and I nearly lost my curl pattern. Because this product is packed with nourishing ingredients such as shea butter, apple cider vinegar and Jamaican black castor oil (JBC), it was able to effectively repair and smooth out my hair without leaving a greasy feeling afterward.
I apply it in a scrunching movement after I wash my hair, and then comb through with a wide-tooth comb to detangle my hair once more.
Formula: Cream | Key ingredient(s): Shea butter, apple cider vinegar, Jamaican black castor oil, peppermint oil | Scent: Vanilla, peppermint | Best for: Medium to thick textures, curly to kinky
Best gels for curly hair
JILL: Years ago, I thought gel that made my hair crunchy was the only product I needed in order to lock in my curls. I eventually learned that it's actually supposed to be the final touch for your styling routine, and should leave your tresses bouncing instead of standing still.
I finally swapped out my gel for this hair jelly from Ouidad. The formula is lightweight, and even when I fear I've used too much, my hair says otherwise. Even after it dries, my hair still feels like hair, not straw. It also helps give my curls some volume — even though it is meant for finer hair — and I like using it on second-day hair to help tame frizz.
Formula: Cream gel | Key ingredient(s): Organic blueberry extract, organic aloe vera juice, glycerin, chamomile extract | Scent: Crisp floral, musk | Best for: Fine to medium textures, straight to wavy hair
KRISTINA: This curl control jelly is highly rated for a reason: It holds my curly hair style like no other. It also doesn't flake, it promotes shine and enhances my spirals.
The organic blueberry extract helps prevent breakage, and the formula seems to hug my curls, rather than just coat them. I like to use it on wet, conditioned hair; I rub it in my hands first, then smooth it onto each section. You'll save on product if you section your hair in four to six parts first, and then use enough product to layer onto each section
Formula: Gel | Key ingredient(s): Organic blueberry leaf extract, raw castor oil | Scent: Light, fruity scent | Best for: Medium to thick textures, curly to coily types
KRISTINA: Florida humidity is real, speaking as someone with high-porosity hair. Needless to say, I need a stronger hold when hurricane season starts.
Ouidad is known as the curl experts, and I get it now! This Stronger Hold version of their original Climate Control Heat and Humidity Gel is a game-changer as my go-to gel when my curls need that extra hug against the elements. It's also great if I diffuse my hair with low heat and a little goes a long way when I style in sections.
Formula: Gel | Key ingredient(s): Sericin silk protein, bio-based polymers, wheat proteins | Scent: Clean, crisp florals | Best for: Medium to thick textures, curly to coily high-porosity hair
Best lightweight stylers for curly hair
JILL: Stumbling upon this curl mousse was a blessing in disguise. Mousses I've used in the past because the formula was were either too thick and made my hair crunchy or left behind a lot of residue. The formula SheaMoisture uses, though, is lightweight and airy, making it easy to style my locks while dramatically enhancing my curl pattern.
I usually divide my hair into four or five sections and apply two to three pumps of the mousse to each. Though I find it works best when I apply it to wet hair, I also like mixing this with a little bit of water and misting my hair with a spray bottle; this helps minimize frizz and offers my curls a bit of a boost.
Formula: Aerated mousse | Key ingredient(s): Shea butter, coconut and neem seed oil | Scent: Tropical, hints of fruit | Best for: Fine to medium textures, wavy to curly hair
JILL: I couldn't be more pleased with this serum from Trader Joe's. While this formula can only be purchased in stores or on Amazon, the coconut oil serum from SheaMoisture, another one of my go-to brands, boasts similar ingredients and can be purchased online.
I typically apply this to the ends of my hair as the final step in my routine. Not only does it offer my curls some much-needed hydration, but it also tames frizz when it seems like no other product is helping.
Formula: Gel-like | Key ingredient(s): Coconut oil, shea butter, argan oil, Vitamin E, Pro-Vitamin B5 | Scent: Vanilla, hints of fruit | Best for: Fine to medium textures, wavy to curly hair
Best curly hair refreshers
KRISTINA: This booster is the only product I've tried from this brand, but it has made me a believer to go out and try more.
The botanical ingredients include Kakadu plum and Vitamin B5, which are both curl-enhancing powerhouses. It can double as a lightweight leave-in if you have a finer hair texture that needs a healthy dose of moisture. I also use it as a first layer before my leave-in for extra moisture and protection when my curls are feeling extra-dry.
Formula: Spray | Key ingredient(s): Aloe vera leaf juice, Kakadum plum, panthenol (vitamin B5) | Scent: Light and clean | Best for: Fine to thick textures, wavy to curly hair
KRISTINA: My go-to refresher spray is this botanical boost by Ouidad. It's one of the few that I don't have to layer other products onto to get that same hold from my first-day wash-and-go. It also doubles as a great detangler if I need to extend my style or change it up, since it works on both damp and dry hair.
My curls love the key ingredients of hydrating aloe vera, soothing centella asiatica, anti-inflammatory rosehip extract, and curl strengthening Pro-Vitmain B5 and ginseng. They also have travel-size, so it's a great one-and-done refresher to bring on your next trip.
Formula: Spray | Key ingredient(s): Aloe vera leaf juice, rosehip, centella asiatica, ginseng, pro-Vitamin B5 | Scent: Herbal light musk | Best for: Fine to thick textures, wavy to coily hair
Best curly hair treatments
KRISTINA: I was a huge fan of this particular hair product before it went TikTok-viral. Rosemary essential oil has been scientifically proven to stimulate hair growth. It's also been proven to help reduce the progression of grey hairs and make curls more manageable. Here are some ways you can incorporate rosemary into your hair routine:
As a pre-treatment scalp massage: Combine rosemary oil with a carrier oil like jojoba or sweet almond and massage onto your scalp for five to 10 minutes. Let it sit for about 30 minutes and then do your usual wash routine.
As a daily treatment: Put 10 to 20 drops inside a continuous spray bottles. Fill it with cool water and shake it up. Use this every time you style or refresh your hair. (You can add lavender essential oil for an extra boost and an amazing spa scent!)
Formula: Essential oil | Key ingredient(s): Rosemary essential oil | Scent: Herbaceous | Best for: All textures and hair types
KRISTINA: Bond-building products have become super popular in recent years, but they're not created equal. Plus, some popular ones are just a little too pricey for my budget.
I found this salve and took the leap when I saw it was specially designed for curly hair. I saw less breakage after using this and my hair felt smoother while styling. The triple-active bond complex has plant protein from chia seeds, vitamin E-rich sweet almond oil, and nutrient-rich superfoods like pumpkin seed, prickly pear, guava, kale, mushrooms and blackcurrant. I get a bang for my buck and stronger curls that are now more defined and less frizzy.
Formula: Cream | Key ingredient(s): Organic chia protein, sweet almond oil | Scent: Fruity and herbaceous | Best for: All textures, wavy to coily hair
JILL: Curly hair thrives on moisture and sometimes needs helping hand to deliver full volume and definition. This masque from SheaMoisture was an accidental find, but the results I saw from just one use made my jaw drop. I left it on for 30 minutes in a plastic cap, trapping heat and moisture that catalyzed the results. It's formulated with natural ingredients and free of sulfates and parabens, giving it the chance to fortify and repair hair without disrupting natural moisture on the scalp or hair.
Formula: Creamy | Key ingredient(s): Organic shea butter, argan oil, panthenol, avocado oil | Scent: Natural shea butter and botanical herbs | Best for: Medium to thick textures, curly to kinky hair
Best curly hair tools
KRISTINA: Sometimes the simplest tool can make a huge difference in your routine. I used to have a regular stream-spray bottle, but it took forever apply hair treatments and just made a mess. Now, I save so much time using this continuous mister spray bottle, which I can even use it upside down (this helps when I need 360-degree access to my voluminous forest of curls).
I also add rosemary (and sometimes lavender) drops into the bottle so each spray smells amazing. I like knowing that every strand, from my roots to my coily ends, is nourished.
KRISTINA: Curly hair is delicate, and some of the worst breakage has happened over time, especially when I toss and turn in my sleep. I do use a satin pillowcase already to protect my curls, but this headscarf offers an extra layer of protection at home and when I travel.
I've found that it's best to fold the scarf diagonally first, then using it to either "pineapple" your hair at night or wrap your protective style. For the pineapple, you can lean forward and place the long side at the base of your head to tie it forward into a headwrap. For protective styles, you can lay it along your edges and wrap it around the back of your head and tuck in any excess.
KRISTINA: Feeling fancy and while experiencing less breakage is a win-win for me. I was always wary about satin scrunchies since my thick hair needs something that will hold it together, and most others I've tried loosened easily. This 12-piece set has different sizes, so I use the bigger scrunchies at night to keep my hair up but loose (no twisting around). The smaller ones are great to have in my bag when it gets too hot and I want to put my hair up without flattening my curls. The colors are neutral, so it goes with practically everything, and I've even gotten complimented when I wear them on my wrist.
Questions about curly hair products, answered by experts
What order should I apply my curly hair products?
The best order to apply your products is determined by your hair porosity and texture. Professional curly hair expert Marissa Jackson shares her insight on how to figure this out.
"When it comes to product choice, hair typing can be useful but confusing. You want to examine your hair first because two women with 3A hair can have two completely routines," she esays.
For example, a woman with finer strands is more likely to have higher porosity because the cuticle layer is overall thinner and can absorb product more easily. "She would do better layering lightweight, moisturizing creams that have emollient properties to keep ingredients locked in," Jackson explains. A hair mousse is great for lightweight hold since it won't weigh down finer hair.
If you think in terms of diameter, thicker strands typically have lower porosity. According to Jackson, "Low-porosity hair does best with liquid-based products, because the cuticle layer is thicker. The viscosity of liquid can get into the hair shaft easier and allows ingredients to work more effectively without just sitting on top of your hair."
Thicker strands do best with layering products like moisturizing leave-ins with gels or setting lotions for a stronger hold.
Is mousse or gel better for curly hair?
Mousses and gels typically have different levels of hold, so start by identifying what your curls need for the style you want.
Mousse is more pliable, with ingredients that are more liquid-based, so it's important to know whether you want to layer it with something like a gel for a wash-and-go, or as a lightweight hold in protective styles.
A gel is going to coat the entire strand rather than soak in, so it's great for frizzy curls, more intricate styles, and for textures that need that weight of the gel to hold the style in different levels of humidity and heat or various climates.
What's the best way to dry curly hair?
The best way to dry your hair depends on your hair type and lifestyle. Porosity also plays a role, as you want to be mindful of the heat and cool settings of your hair dryer.
With high-porosity hair, the products you use can either help seal moisture in when diffusing or can actually make it feel brittle and dry. With low porosity, you may need that diffusion to ensure the products stay on your hair and don't drip off because your hair is likely slower to dry.
If you need to dry soaking-wet hair, it's not advisable to use a regular bath towel. Instead, find material that is smoother and breathable, like an old t-shirt or microfiber towel that won't cause frizz or suck all the moisture out at once.
How do I make my hair curly and soft naturally?
Deep conditioning is non-negotiable if you want your curls to be naturally soft. Add a heat cap to let those ingredients seep deep into those curls.
"Deep conditioning helps maintain hydrated hair because it opens up the cuticle and gives consistent moisture to every curve of your hair [which are the driest parts]," shares Jackson.
Oils can give your curls the elasticity it needs in those very dry parts. Find oils that work with your hair; some options include jojoba oil (which is closest to your scalp's natural sebum), argan oil, sweet almond oil and moringa oil. If used lightly, they can be a great sealant for high-porosity hair. You can also add them to your deep conditioners for stronger and softer hair.
What's the best way to sleep if I have curly hair?
Smoother materials like satin, silk and TENCEL lyocell (sustainably sourced eucalyptus) are ideal as they won't snag the finer hairs that become frizz over time. Sleeping with a headscarf or bonnet designed to be gentle on curly hair is also a must, especially if you travel often and don't want to lug around a big satin pillow everywhere you go.
You can incorporate some nourishing practices in your bedtime routine, like doing a nightly rosemary oil scalp massage or a adding light touch of vitamin-rich oil to your curls before tying them up for the night.
How we chose the best curly hair products
At Shop TODAY, we understand that thorough research, combined with our personal experience, are important when it comes to giving you the best shopping advice. The team drew upon a combination of personal experience, hours of research and insights from our curly hair expert. We also took into account non-sponsored positive reviews, high customer ratings, and consistent bestsellers. From there, we parsed out the most valuable and relevant information about each of our picks to help you make the best decision.
Meet our expert
Marissa Jackson is a curly hair expert who owns the Beverly Hills salon Marissa J Curls.