When the temperature starts to drop, I firmly lean into sweater weather season. I'm talking cozy knits, jeans, boots and tons of layers every day until spring rolls back around. So, when a fall dress does catch my eye, it has to be both very cute and deeply versatile. (Bonus if it also happens to be affordable.)
When I discovered this long-sleeve swing dress from Amazon, I was intrigued. Not only was it a bargain compared to what I've spent on other fall pieces, but it also has thousands of reviews with shoppers raving about its flattering look, "soft and stretchy" material as well as how many compliments they receive while wearing it. So, I grabbed one for myself to see if it lived up to my high expectations.
It's super soft and comfortable
The first thing I noticed about this dress is how comfy it is. The jersey material feels like a slightly thicker T-shirt; it's ultra-soft and cozy, but not too thin. The A-line silhouette and round neckline are flattering, and I love that it has fairly large pockets, which I use to hold my phone or lip balm during walks.
I also like the length of the dress. I'm about 5'7", and a lot of dresses I like are too short for work environments. This is perfect for me because it hits right at the knee (but it might be a little long if you have shorter legs).
It's easy to layer for winter
One of my requirements for a cool-weather dress is that it has to be versatile. This dress is adorable on its own, but perhaps even better when paired with a cute coat. I first wore it during the fall season with a classic denim jacket, topped with an oversized plaid scarf to add to the autumnal vibes.
I finished the look with a pair of black booties that happen to be very comfortable, despite a three-inch block heel.
Editor's note: The product above has sold out, but we found a similar option below.
During the winter months, I opt for a similar look but with fleece-lined tights and a puffer coat.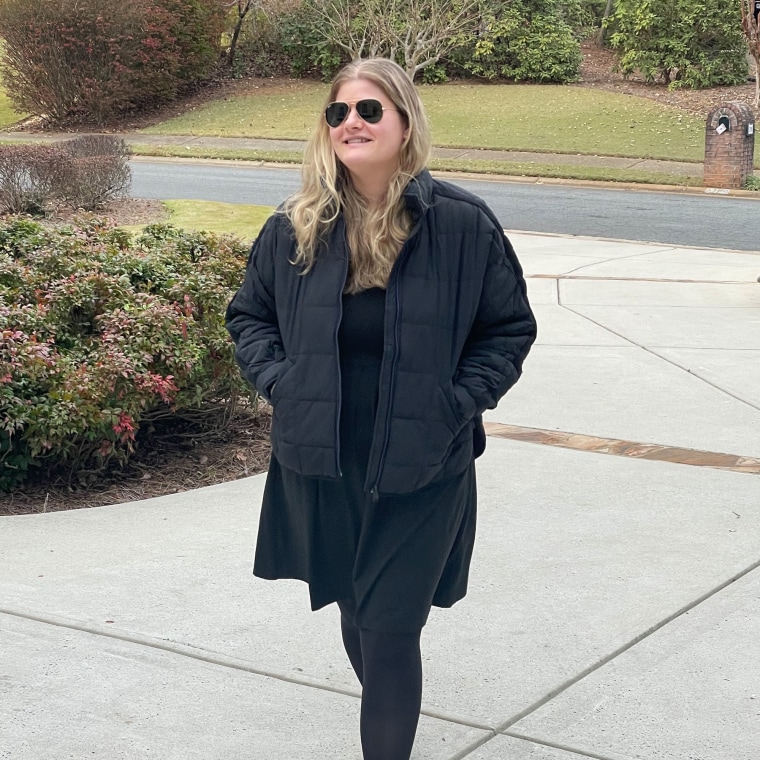 It comes in dozens of colors
I opted for LBD versatility, but don't worry if black isn't your thing. The dress comes in 25 — yes, you read that right — colors and prints. There's a fun leopard pattern, a few different florals, and classic solids like red, white, and army green. A few of the options even have a wrap-style neckline rather than a scoop neck if you prefer to show a bit more décolletage.
Although this dress is designed for casual wear, a lot of Amazon shoppers are dressing it up. One buyer wore the Auselily piece to a wedding and claimed it was "absolutely perfect," while another added that she "matched it with a waist belt to get that cinched look." However you choose to wear it, I have a feeling it will be a go-to piece in your wardrobe all season long.