TODAY Table is sponsored by Walmart. Our editors independently created this recipe. If you purchase the ingredients through our links, we earn a commission. Learn more about Shop TODAY.
Ingredients
8

tablespoons salted butter (1 1/2 sticks)

1

pound mini marshmallows, from about 1 1/2 average size bags

1/4

teaspoon almond extract (optional)

1/8

teaspoon kosher salt
6

cups crispy rice cereal, such as Rice Krispies

1

cup freeze-dried blueberries, coarsely chopped

1

cup freeze-dried raspberries, coarsely chopped
Chef notes
Sweet and crunchy freeze-dried berries add a patriotic pop of color to these gooey marshmallow and cereal bars. I love blueberries and raspberries, but feel free to pick and choose your favorites. Note that you do need the freeze-dried berries for this recipe; fresh or frozen berries will add too much liquid to the treats, and regular dried berries are too chewy.
Technique tip: Removing the marshmallows from the heat before they are fully melted will keep them from overcooking and will make for chewier marshmallow treats with a few delicious pockets of unmelted marshmallows.
Swap option: Substitute freeze-dried strawberries or cherries or a mix for the freeze-dried raspberries.
Preparation
1.
Grease a 9x13-inch baking pan with baking spray. Set aside.
2.
 Melt butter in a large pot over medium-high heat. Add the marshmallows to the melted butter, reduce the heat to low and stir continuously, just until marshmallows are 80 percent melted. Remove from heat, add the almond extract and pinch salt, followed by the cereal. Stir until completely combined, then fold in the freeze-dried berries.
3.
 Transfer mixture to the prepared baking pan and use a damp spatula to gently press into the pan. (Don't pack too tightly — a gentle hand will keep the treats soft and gooey). Let cool 20 to 30 minutes, then cut into rectangles for serving.
How to shop TODAY recipes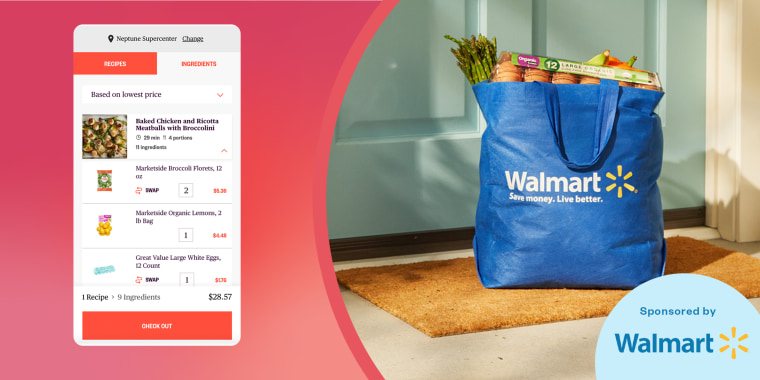 Here's everything you need to know about the cool new feature.