TODAY Table is sponsored by Walmart. Our editors independently created this recipe. If you purchase the ingredients through our links, we earn a commission. Learn more about Shop TODAY.
Ingredients
2

cups (7 ounces) rolled oats

1/2

cup (2½ ounces) raisins

1/2

cup (2 ounces) dried cranberries

1/4

cup (1½ ounces) pepitas

1/4

cup (1½ ounces) sunflower seeds

1/4

cup (1 ounce) shredded coconut (preferably unsweetened)

1/2

cup (5 ounces) sunflower seed butter
1/4

cup (5 ounces) brown rice syrup

1

teaspoon cinnamon

1/2

teaspoon kosher salt

2

tablespoons millet

1

tablespoon chia seeds

1

tablespoon amaranth

1

tablespoon sesame seeds
Chef notes
If you're nuts for nuts, there are many of energy bars on store shelves that cater to your tastes and desires—tasty creations packed with almonds, cashews, peanuts and more. But, if you're allergic to nuts and legumes, you don't need to be left out.
Grains like amaranth and millet, and seeds like sunflower, pumpkin, chia, and sesame, also provide the same energy-boosting protein you'll find in nuts. These nut-free bars don't skimp on flavor or nutrition, and you'll feel great about knowing what goes into each bite.
If you don't have allergies, feel free to replace some of the seeds in the recipe with your favorite chopped nuts, or to use almond or cashew butter in place of the sunflower seed butter.
Preparation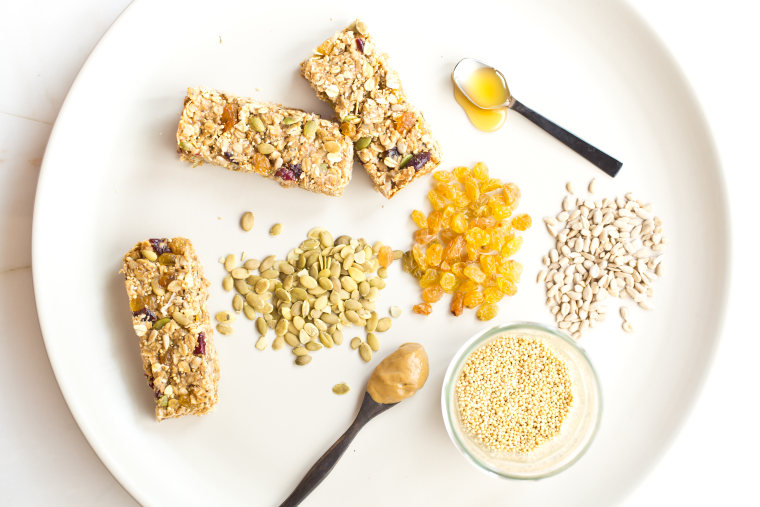 1.
Preheat the oven to 325°. Line a square baking dish with parchment paper and spritz lightly with nonstick baking spray.
2.
In a large bowl, add the oats, raisins, cranberries, pepitas, sunflower seeds and coconut. Stir to combine.
3.
In a small bowl, add the sunflower seed butter, brown rice syrup, cinnamon and salt. Stir to combine.
4.
Scrape the mixture from the small bowl into the large bowl. Gently stir the together until mostly combined, working slowly as the wet ingredients will be thick and sticky.
5.
Add the millet, chia seeds, amaranth and sesame seeds. Mix with your hands until all ingredients are evenly combined.
6.
Press the mixture into the prepared pan and bake for 20 minutes, until the edges are just starting to turn golden brown. (The bars will still be slightly soft to the touch.)
7.
Leave the bars in the pan and allow them to cool completely on a wire rack.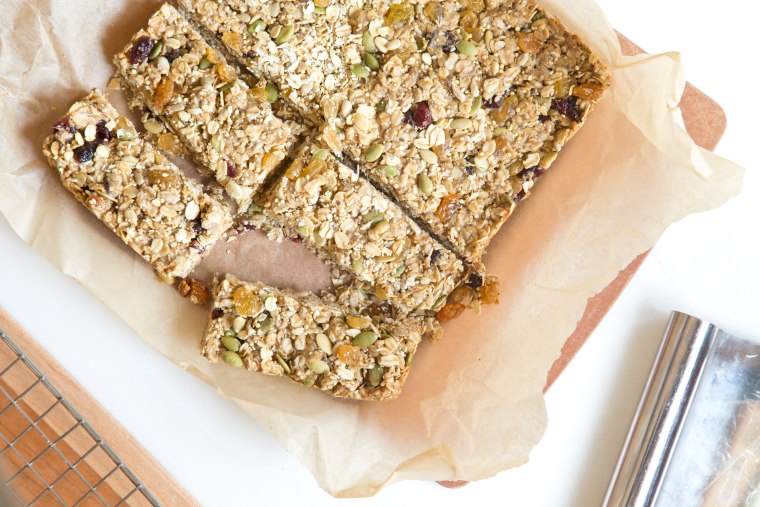 8.
Lift the cooled bars out of the pan and slice into 10 bars with a sharp knife or bench scraper.
9.
Store in an airtight container for up to 1 week.
How to shop TODAY recipes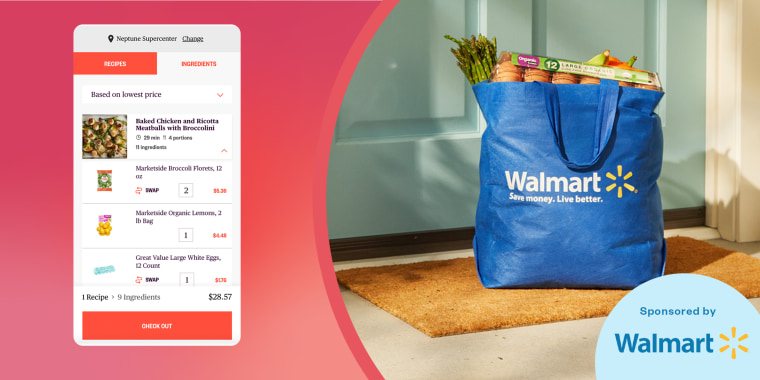 Here's everything you need to know about the cool new feature.