Chef notes
A bag of frozen peas should be as much of a pantry staple as a carton of eggs or a box of pasta. That's because they can be used in everything from soup and shakshuka to risotto and fried rice in a flash. They add an instant pop of color and wholesome vegetable goodness to just about anything. When you're low on fresh produce, they're truly a lifesaver. This quick pasta is proof. It calls for just five ingredients, comes together in under 30 minutes and is sure to be a hit with your entire family.
To make it, you'll prepare the sauce for this pasta while the farfalle boils. Simply sauté sliced mushrooms and minced garlic in a large skillet before adding frozen peas, which are blanched before they're frozen so they'll cook in just a minute or two. Next, pour in light cream or half-and-half to make things saucy. Light cream is a bit richer than half-and-half but both aren't as decadent as heavy cream, ensuring the resulting pasta is luxurious without being cloying. Add the al dente pasta with a splash of its starchy cooking water to help the pasta combine with the sauce then serve.
While farfalle is called for in this recipe, any short pasta shape such as  orecchiette, penne, fusilli and cavatappi would all work well here. Up for adding a sixth ingredient? Garnish each bowl of pasta with a healthy shower of freshly grated Parmesan cheese.
Ingredients
1

tablespoon kosher salt

1/2

pound farfalle or other chunky pasta

2

teaspoons olive oil, divided

1

pound cremini mushrooms, cleaned, stemmed and thinly sliced
1

large garlic clove, minced

2/3

cup frozen peas

1/2

cup light cream or half and half
Preparation
1.
Bring a 6-quart pot of water to a boil for the pasta. Add 1 tablespoon salt to the water and when it dissolves, add the farfalle and stir.
2.
While the pasta cooks, heat 1 teaspoon olive oil in a large saucepan or skillet over medium-high heat. Stir in half the sliced mushrooms, then cook without stirring for 3 to 4 minutes until the mushrooms have browned. Push them to the side of the skillet and add the remaining olive oil and mushrooms.
When the mushrooms have browned, reduce the heat to medium. Stir in the garlic and cook for 30 seconds until fragrant.
3.
Stir in the peas and cook, stirring occasionally, until completely warmed through. Add the cream and cook until mostly absorbed by the vegetables, about 2 to 3 minutes.
4.
When the farfalle is al dente, add it to the vegetables along with 1/4 cup of the pasta cooking water. Toss to combine and let the pasta cook for 30 seconds more to absorb the sauce. Divide the pasta between 4 bowls and serve immediately.
How to shop TODAY recipes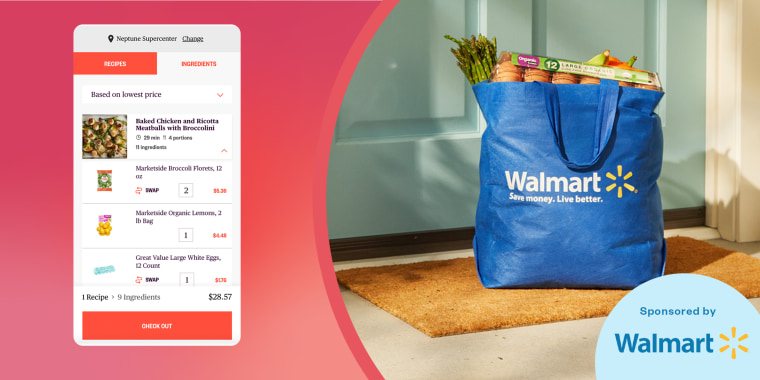 How to shop TODAY recipes
Here's everything you need to know about the cool new feature.
Learn More